Show trucks builders choose Banks
Among the field of thousands of vehicles that were showcased at the SEMA 2021 this year, larger 3/4 ton and 1-ton diesel trucks were the most popular type of customized vehicles. There were a select few vehicles in the field that were rocking the brand-new Banks RAM air diff cover for 2019+ Ram and 2020+ Chevy/GMC, with 12″ 14-Bolt AAM Rear Axle. Here are some of the builders that were in attendance this year. 
Stan Nizairo 2021 GMC Duramax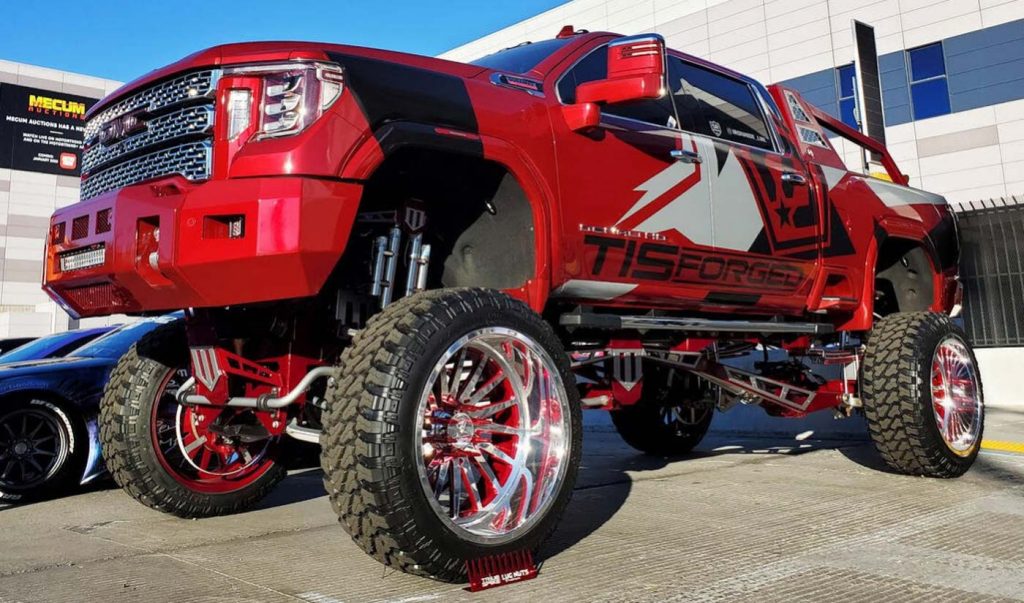 Representing TIS Wheels here at SEMA from Augusta Georgia, Stan Nizairo's 2021 GMC Duramax L5P is anything but stock. Built over about 2 weeks before the SEMA show, the truck was transformed from a boring red, to the Red Burgundy Monster that is today. It's running this is an 18-19 custom one-off kit built by BMC Off-Road in Houston Texas, specifically for this truck that's actually the first truck in the US with this suspension set up rolling on wheels are TIS 28-16 wrapped in Fury Tires.

"Proportion we're looking for as opposed to a really tall truck with really big wheels we wanted something to make it look," Stan says. "Two other additions to the truck with the Banks 5″ Monster Exhaust and pre-production Ram-Air Diff Cover. We got the 5" Monster Exhaust because we have a really large truck and we wanted something that fits with the size and the style of the truck as well as the performance. We kept some of the chrome out and so that 5" chrome tip to match the accents of the truck.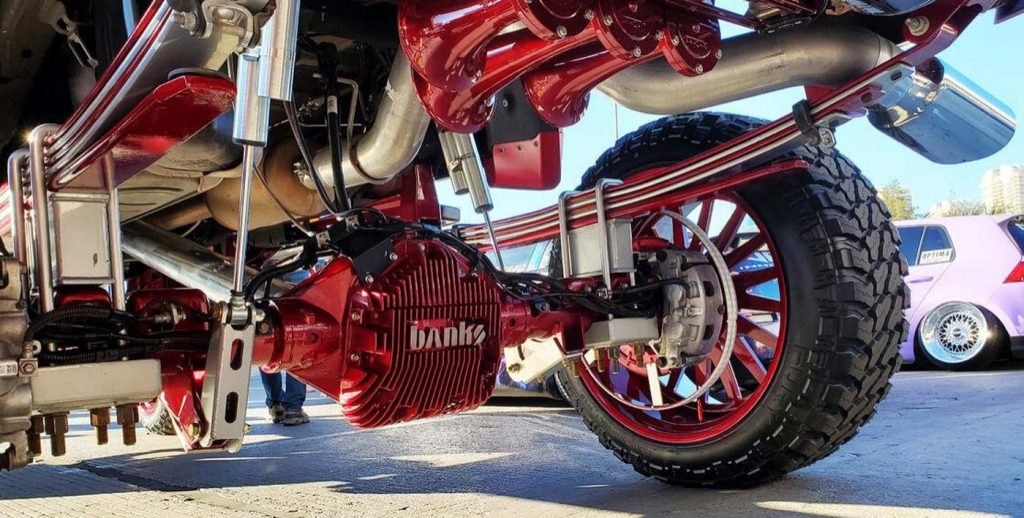 The Bank Diff Cover was another thing that we wanted. I actually did a lot of research and watched the videos on Banks researching the flat back covers and I was kind of hooked at that point. See the fluid dynamics on why the Banks cover was built like that was really interesting. We needed to protect our investment, you can only do that with the Banks Ram-Air Diff Cover. 
Cris Payne AKA Truck Guru 2021 RAM 3500 Cummins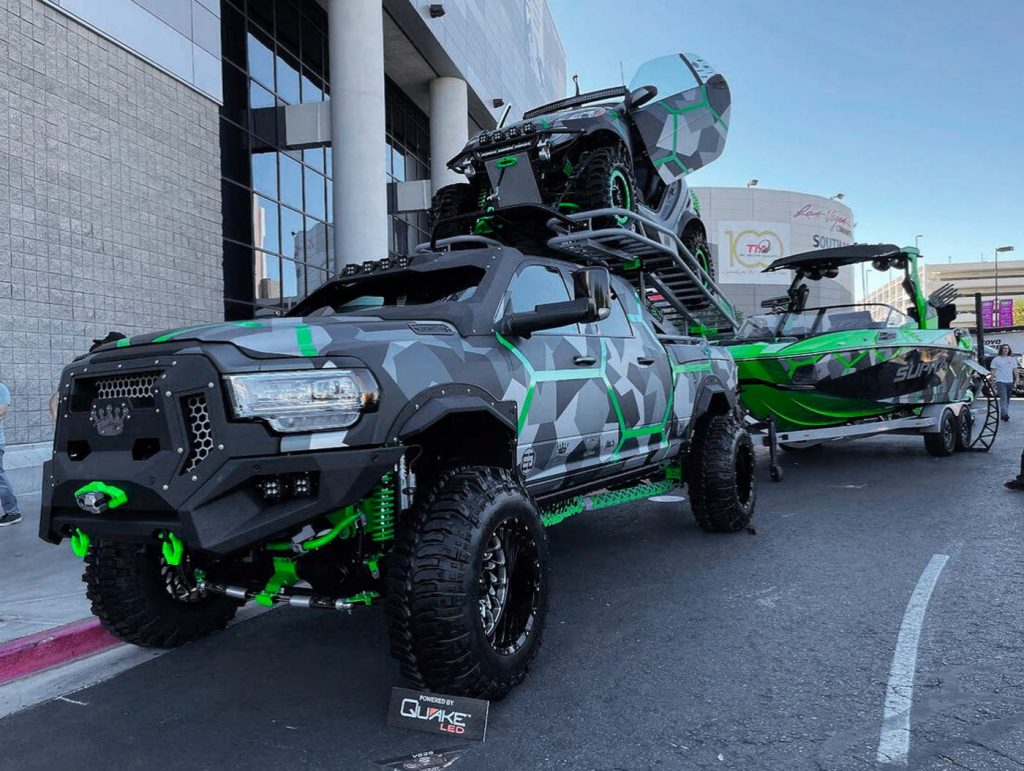 Cris is the owner of Truck Guru. Represented 64 trucks at SEMA this year, Truck Guru is an agency that manages show placement, product allocation, promotional marketing, pretty much anything that entails the build. Even finding shops to handle all the build work to make it happen. His latest build is a 2021 Ram 3500 Limited that's outfitted with the latest pre-production Banks Ram-Air diff cover.
"As you see, this is not just a single stage build we have three builds in one. I've got a brand-new 2022 Supra boat that I'm towing behind me plus a Smart Car that's turbocharged, mid-traveled, and Lamborghini doors."
The Ram itself is decked out with No-Lift 40 fenders, a custom lift from KM metalworks featuring an 8″ front coilover lift kit, the rear suspension is a coilover 4-link triangulated with airbags, and a custom graphics package with electroluminescent lighting. The wheel and tire combo are another awesome addition to the build, 22″ Works Force Wheels wrapped around the 42″ boggers from Interco.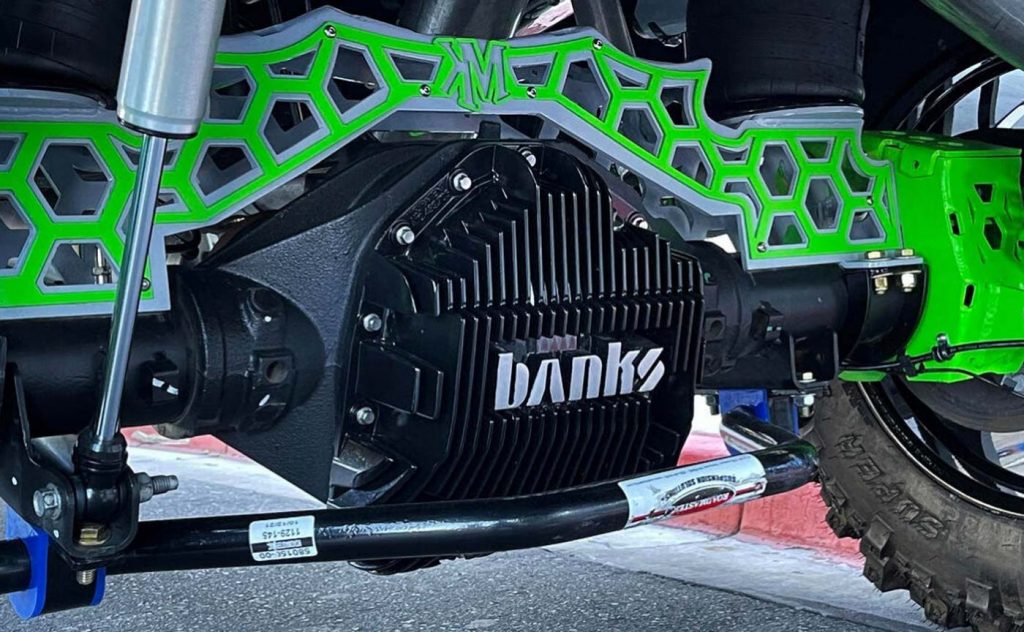 Lastly, The Banks Ram-Air Diff Cover tops it all off. "Last but not least the brand new Banks rear diff. It's got all kinds of cooling fins. It does the job better than any other diff cover on the market. If you guys are in the market for a diff cover and you're not looking at Banks you're absolutely doing it wrong."
Matt Ingle, 2020 GMC Duramax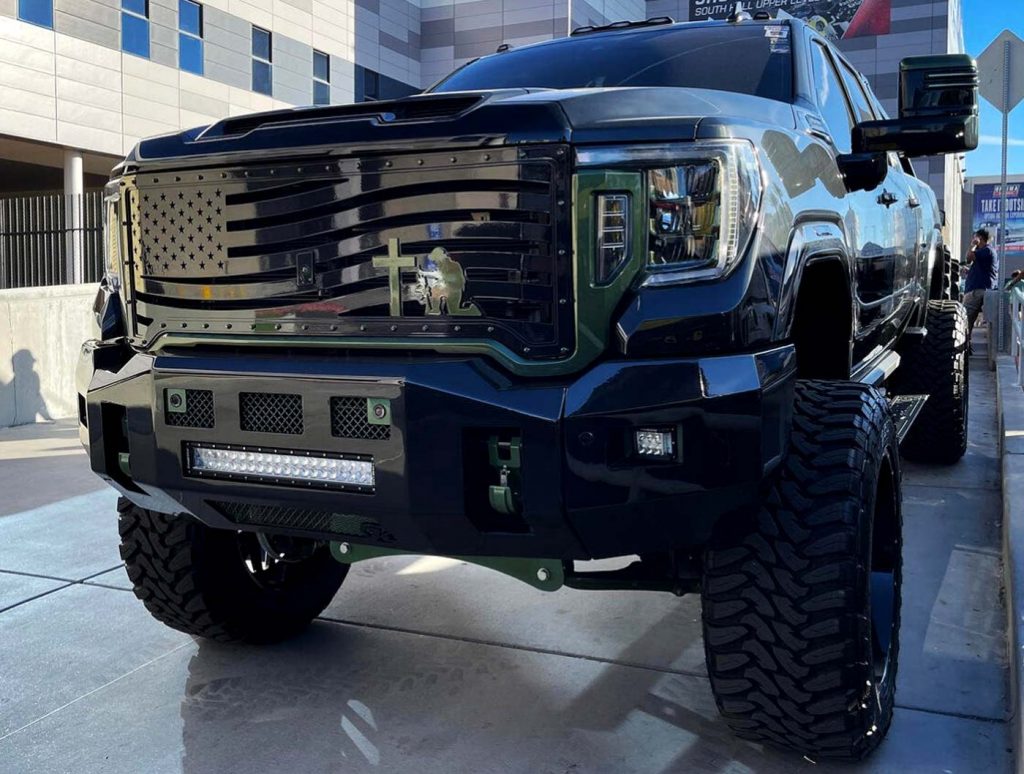 Built with North Augusta Customs, Matt's truck, 2020 GMC L5P Duramax, is sitting on a Kelderman 9″ lift with a set of brand-new Hostile H128 Diablo wheels. He started building the truck last year. His inspiration was to pay tribute to those who sacrificed their lives and had to make the ultimate sacrifice. The build itself started around May of '20 and he finished by October of last year with only a few small modifications done since. What changes you may ask? A Banks 5" Monster Exhaust system and Ram Air Diff Cover.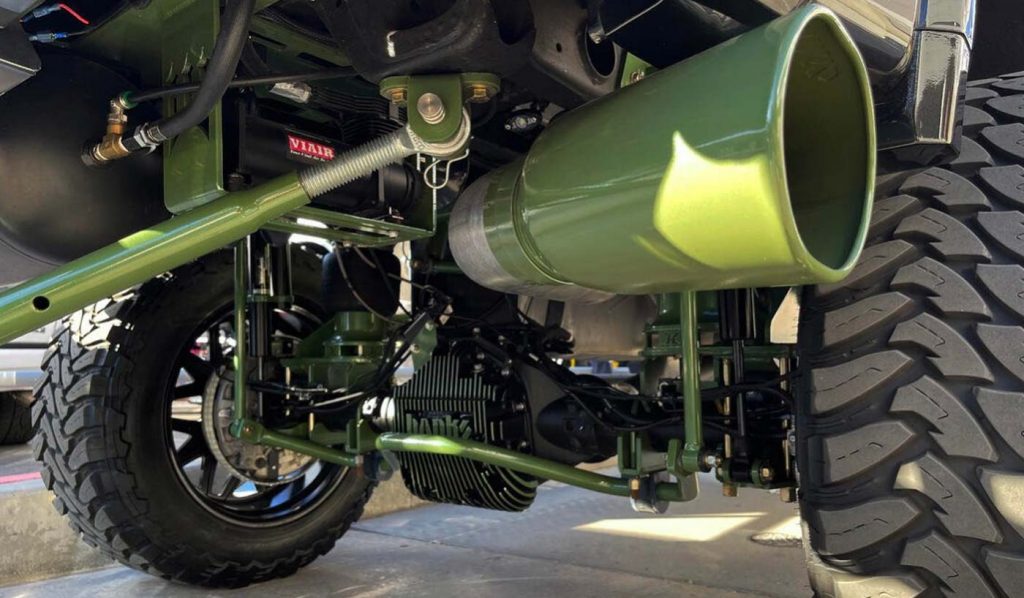 "We are staying emissions compliant. We wanted to change up the exhaust system because we didn't really like to look of the factory exhaust. I found out Banks was coming out a 5″ Monster Exhaust so we're like, hey let's run it. Banks is a good company with proven results so why not go with them, and it's the same with the differential cover. We got our Ram-Air differential cover, keeping the diff fluid cool and protecting the drivetrain because Banks shows the proof with their testing on online!"