Pikes Peak – Uphill Racer
A report on the race, the racer, and the race car, including the stories "Two-Decade Evolution" and "Bringing The Record Back Home."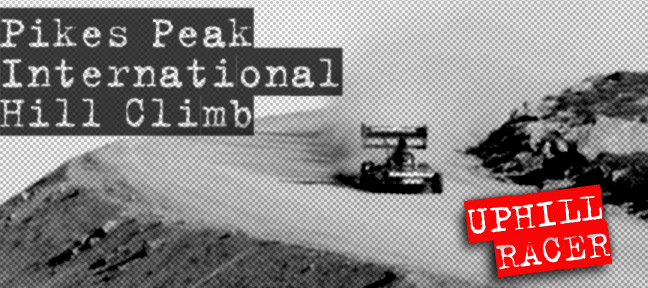 One of Robert Redford's best efforts is "Downhill Racer," about a professional skier. Like Redford's character, Paul Dallenbach races on a Colorado mountain. Dallenbach is the polar opposite of a ski racer, however. Instead of using gravity to go as fast as possible, Dallenbach fights the laws of physics in Leonard Arnold's purpose-built racecar. This race goes against gravity – and oxygen.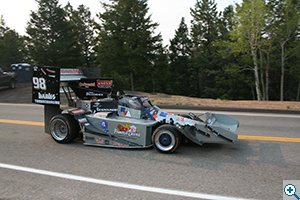 Son of Indy 500 competitor and racing announcer Wally Dallenbach Sr., Paul assaults the Lower 48's most famous mountain almost every summer. He and Leonard Arnold's Famous Dave's Bar-B-Q team spend the better part of the year preparing for a race they hope will take less than 10 minutes.
Dallenbach knows what it takes to win the Pikes Peak International Hillclimb (PPIHC). He's a former course record-holder and six-time class winner in Arnold's car, which is sponsored by Famous Dave's and Banks Power. In an attempt to reclaim the King of the Mountain title and beat the course record of 10:01 set by Nobuhiro "Monster" Tajima in a twin-turbo Suzuki SX4, Dallenbach moved up to the Unlimited Class last year.
Two-Decade Evolution
The Famous Dave's car is unique (and always has been), even in Pikes Peak's anything-goes Unlimited Class. The car was originally built in 1991 specifically to conquer the mountain named for explorer Zebulon Pike. Indy car mechanic Mitch Daniels built it for Dan League. The Indy-inspired chassis included a Wells tub and Lola/Penske PC10 suspension uprights. Older Indycar wings controlled the aerodynamics.
Driver Paul Dallenbach debuted the car to a fifth-overall finish. The car returned unchanged in 1992, but Dallenbach sustained a DNF.
Later in 1992, contractor/vintage racer Leonard Arnold attended a Colorado Hillclimb Association race. Dallenbach crashed Dan League's car in practice. Leonard Arnold helped attach the wings and realign the wheels. These pit-fixes allowed Dallenbach to finish second. Later that year, Arnold cut a deal with League to lease the car for $1 -under the understanding that it would set a Pikes Peak course record in 1993.
Arnold disassembled the car. He personally reworked the aerodynamics, changed the suspension geometry, and paired a new Chevy V-8 to the 4-speed Weismann transverse transaxle. As promised, Dallenbach won the 1993 PPIHC, setting a new record of 10:47. Dan League signed the car over to Leonard Arnold.
Chevy sponsored the 1993 PPIHC and had a front-row seat for Dallenbach's record-setting run. The company approached Leonard Arnold with a sponsorship package that included two small-block V-8s from their Trans Am program and several sets of NASCAR-intended SB-1 heads. With the new Chevy power, Dallenbach drove Arnold's car to many PPIHC Open Wheel class wins from 1993-1998. Then Paul Dallenbach took three years off to focus on other forms of racing, stunt-driving, and high-performance driving instruction.
During Paul's hiatus, Leonard Arnold and current crew chief Kevin Kidwell built a second car, using an older Wells Coyote as a starting point. A GM engineer raced what was known as "red car" at the 1999 PPIHC.
Paul Dallenbach returned to pilot the original silver car in 2003, winning the Open Wheel class. In 2005, Leonard Arnold pitted the Dallenbach brothers against each other: Paul in the silver car and Wally Jr. in the red car. They finished 1-2 overall, with Wally winning by a few seconds. Afterward, Wally taunted Paul with some brotherly trash-talk: "Mom will love me more. I won."
Although the Famous Dave's/silver car's foundation is two decades old, its combination has evolved. Paul Dallenbach says that only "maybe three or four" of the original components are still on the car from 1991. As a racer, he always wants to go faster: same setup equals same speed to Dallenbach.
The car's current incarnation dates back to 2008. The Pikes Peak toll-road/race course now has more miles of asphalt than dirt, so Leonard and Kevin reengineered the car to make it more pavement-biased. This included adding a '96 Lola transverse 6-speed sequential transmission. The gearbox was originally set up for Indycars' 12,000+ RPM input shaft speeds and 200+ MPH top speeds. Coincidentally, Arnold has easy access to one of the world's largest collections of 1990s-era Indycar parts locally, so his team was able to regear the Lola box for hillclimbing. During the process, Arnold decided to delete 6th gear and add a Reverse – deemed valuable for those occasional "oh, sh#*" moments on the hill.
A 7.25-inch Quartermaster clutch mates the Lola transmission to the Chevy small-block. The SB-1 short-blocks were replaced with lightweight Rodeck blocks in 2002. The car's primary race engine displaces 445 c.i. and has a raised camshaft to provide increased room for stroke.
The back-up engine is 406 c.i. It puts out only 50 fewer HP on the dyno than its big brother but has significantly less torque. Still, the smaller engine has seen race-day duty in years when the big engine suffers valvetrain problems during practice.
Arnold kept the SB-1 heads. He prefers their torquier (under 7,000-RPM) powerband compared to the current higher-winding Cup-based heads.
To accommodate the Lola transmission, Kevin Kidwell cut off the car's back half. The suspension and aero wings were also modified during reassembly, biased more for pavement than dirt now.
The car continued to evolve in 2009. Leonard Arnold tweaked his personally hand-crafted carbon-fiber bodywork with new side pods. Larger radiators and larger interior tunnels were also added.
In 2010, bored with either winning the Open Wheel class by 30 second or more (or breaking in the process), the team stepped up to the Unlimited Class. This opened the door for power-adders and a shot at reclaiming the course record. Nitrous oxide and nitromethane were tried, but the perfect combination proved elusive: Dallenbach finished second behind record-holder Tajima by 30 seconds.
The main change for 2011 is a twin-turbocharger system from Banks Power which is permitted in the Unlimited Class. The Banks turbochargers and engine tuning increased output from last year's naturally aspirated 745 horsepower to a peak of 1,307. For the best balance of power, traction, and durability, the engine is tuned to put out 938 horsepower at the rear wheels. Because aerodynamics aren't restricted in the Unlimited division (Open Wheel mandates keep the aero additions inside the wheels), downforce can be maximized. The wings can be configured for optimal traction so that the huge power is actually usable instead of traction-breaking.
Downforce also keeps the car on-course – the Pikes Peak road lacks guardrails, and an uncontrolled drift can launch the car thousands of feet down the mountain. The Famous Dave's car actually has significantly more downforce than a Formula 1 car. The huge wing maximizes downforce at mid-speed, between about 40 and 120 MPH, where most of the race is run. Dallenbach will top out around 150 MPH at a couple spots on the course.
Bringing The Record Back Home
Throughout its evolution, the Famous Dave's car has remained somewhat of a throwback, true to Leonard Arnold's passion for vintage racing. The Pikes Peak International Hillclimb, a uniquely American event first run in 1916 and traditionally held on or around July 4th, has been overrun recently by foreign teams. The factory Suzuki team currently has bragging rights, although the Kiwi Millen family, racing for Hyundai, has also been in the PPIHC spotlight. (The All-American Albuquerque Unsers' glory days on the hill that inspired the lyrics for "America The Beautiful" are becoming distant memories.)
Grouped with the current crop of foreign factory-backed technology and talent, the Famous Dave's team is grassroots Americana at its best. The mostly volunteer crew includes Kevin Kidwell's sons Jason and Cory, who are adults now but have worked on the car since they were about 10 years old. Kevin's wife, Linda, and daughter, Kelly, also assist the team.
Most other top competitors drive rally-inspired all-wheel-drive cars. Not Paul Dallenbach. The Famous Dave's machine is part classic American hot rod (V-8-powered, rear-wheel-drive), part World of Outlaws sprint car, and part Indy 500 car. Paul's brother Wally Jr. describes the car as "apocalyptic monster-winged." It's a light-beer entry in a field of chardonnays fermented from genetically engineered grapes.
The home-grown Famous Dave's team is on track to break the 10-minute barrier on June 26, setting a course record in the process. Dallenbach shattered section records during a practice run earlier this month. He considers Pikes Peak his Indy 500, and Dallenbach is so familiar with the road that he's able to approach on-track practice somewhat like pro hoopster Allen Iverson: "Luckily, with my experience, I don't need a lot of practice," he says. "I can only do whatever the car and the road is going to give me."
Gale Banks figures that his turbochargers will give Dallenbach plenty this year, enough to break the hallowed 10-minute mark, "if the Pikes Peak Gods cooperate".
The main question will be if Paul Dallenbach can also beat the high-dollar, factory-backed teams piloted by favorites Monster Tajima and Rhys and Rod Millen. It'll be the ultimate uphill battle.
Check bankspower.com/pikespeak for constantly updated info including event coverage.