Pikes Peak Part 2 – Mountain Testing Video
Watch the latest video from Pikes Peak showing the results of the most recent engineering upgrades. Talk about edge of your seat (and edge of the cliff) driving!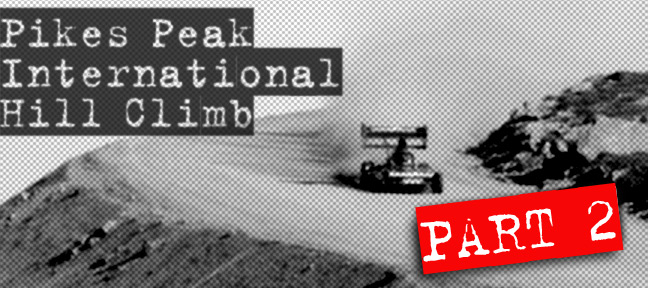 The latest video from Banks Power, "2 Turbos 1 Mountain: part 2 Testing on the Mountain," shows the results of the most recent upgrades done to Leonard Arnold's Pikes Peak racer by none other than Gale Banks himself and ace engineer/engine calibrator Matt Trainham. With driver Paul Dallenbach putting the engine's newly twin-turbocharged might to the test, the car now has the horsepower to accelerate quicker and to go much faster than ever before. Although Paul's been driving this car for years now, the newly added power has made this familiar old horse into a stampeding beast. It's a new ball game as he learns what the car can do all over again.
As you watch the video, ask yourself if you'd ever be crazy enough to try something like this. I mean, look how close Paul gets to the edge of those dropoffs!
Banks Power has made adjustments to its twin-turbo system and equipped the car with an altitude compensation system that its military division (Banks Defense) has been working on for armored vehicle use, infinitely varying the boost pressure to match both demand and the rapidly changing environment on the hill. Matched with the engines ECU it created a complete engine management system that is ahead of the pack, giving the driver all the firepower he needs in any situation at a moment's notice.
Even with the driver putting the power down conservatively during this practice run, the car rocketed through the upper portion of the course at 4.56 (a record we're told for that section).
The car is rather unique in the "Unlimited" category as it's a pure American hot rod powered by a twin turbo Chevy engine and being rear-wheel driven. It's more like an angry Indy car than the small displacement all-wheel drive rally-like racers in the field.
Keep your seatbelts buckled… there's more to come with further engine calibration tweaks from Banks' Matt Trainham and chassis tuning from crew chief Kevin Kidwell and team continuing during practice June 21st to the 24th, with race day being on the 26th!
Check bankspower.com/pikespeak for constantly updated info including event coverage.