Pikes Peak – Turbos in the Clouds
A report on the car's specs, the driver's history, and what's expected on the mountain.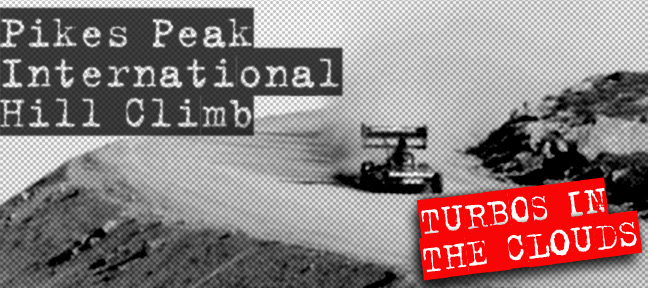 At Banks Power, the motto is, "Banks… we provide life after wide-open throttle." That attitude explains why pro racer/stunt driver Paul Dallenbach and car owner Leonard Arnold contacted Banks for their 2011 assault on the Pikes Peak, "The Race To The Clouds."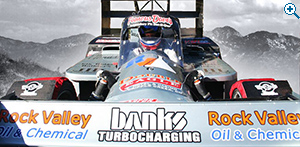 Son of famous Indy 500 racer Wally Dallenbach Sr., Paul is a three-time Pike's Peak International Hillclimb overall winner. He's also a former course record-holder and six-time class champion.
Because Dallenbach has mastered the Open Wheel class in his Famous Dave's Legendary Pit Bar-B-Q-sponsored car, he and car owner Leonard Arnold decided to move up to the Unlimited division last year. Paul finished second behind new course record-setter "Monster" Tajima by 28 seconds. At that race Paul only had 745 bhp on tap
This year Banks Power is helping Dallenbach challenge Tajima's record of 10:01 for the 12.42-mile climb, hoping to reclaim Paul's 1993 status as course record-holder. This project also marks a return to Banks' involvement in twin-turbocharged racing. The company introduced its original Chevy small-block Twin-Turbo system in 1978. Record-holding cars with the system included Banks' Pontiac Firebird GTA set the FIA doorslammer land-speed record of 268 MPH at Bonneville in 1987, which then went on to break its own record the following year, achieving 283 mph.
Dallenbach's Famous Dave's car is a proven Pikes Peak commodity. Naturally aspirated, the car's Chevy SB1 block produces about 745 SAE-corrected horsepower. But the higher the car climbed on The Hill, the more the lack of air density choked off the power — the Pikes Peak race starts at 9,390 feet elevation and finishes at 14,110 feet, where air density is about 58 percent of sea level. In other words, the altitude strangles about 42% of the naturally aspirated power.
As a coincidence, turbocharging to cure automotive altitude sickness is squarely in Banks' crosshairs these days. The company's military division, Banks Defense, is making armored HMMWVs more nimble with its altitude compensating turbocharger systems that maintain sea-level power for high-altitude missions in theaters such as Afghanistan. For the street Banks Power is also developing a Jeep turbo kit so their inline 6 and V6 engines won't suck wind at sea level or higher elevations.
Turbocharging Above Timberline
The Pike's Peak car received an off-the-shelf Banks Power Twin-Turbo kit." Banks' point person on the engine's turbo upgrade, Advanced Engine Systems Group Lead engineer Matt Trainham, says, "Kevin Kidwell, the team's fabricator and lead mechanic, has integrated the turbochargers, wastegates, intake chamber with integrated shuttle/blow-off valve straight from the standard kit, adapting them to this one-off application. Some parts wouldn't work – the SB-1 cylinder head has a Ford / BBC-style non-paired exhaust port pattern, so the standard kit's cast exhaust manifolds were out – Kevin fabricated a set of tubular headers and turbo mounts specifically for the car, as well as building a pair of intake boxes to house a pair of Banks Ram-Air filters."
The car's 445 CID Chevy SB-1-headed small-block engine is a rare bird. It was originally developed for NASCAR but never got green-lighted for the Cup series. Approximately 200 engines worth of SB1 parts were manufactured; educated guesses have about half of those still in existence. Some SB-1s found their ways into SCORE Trophy Trucks and other one-off applications – Leonard Arnold, the car's owner, procured several ex-Trans Am series blocks and extra sets of heads through previous Chevy racing sponsorships.
Banks' engineer Matt Trainham set up the engine's turbocharging system for maximum response and reliability under horrendous atmospheric conditions. The high-altitude 12.42-mile course still has a few miles of dirt, includes 156 turns, and the fastest-ever average speed is about 74 mph. The majority of the race is spent with the driver modulating the engine's power to maintain some semblance of traction on corner exit – the turbochargers must respond as seamlessly as possible to the driver's input.
Initial testing on the roadcourse track at Pike's Peak International Raceway indicated that the chassis dyno-tested 8 PSI boost pressure setpoint (930 wheel BHP) was more than enough to overwhelm the rear tires under any condition – however, as the team sorted out the chassis and aerodynamics to harness the engine's power, and as Paul's comfort level increases, we can put more to the ground.
"The car was traction limited in early testing – however, in the later testing on the hill, we've been able to turn the boost levels up – we're currently set for 12 PSI, with overhead to run up to 28 PSI in the lower sections" says Matt Trainham. "It will still light the tires at will at any speed under 100 MPH, but we're seeing higher straight speeds, and better pull off the corners in every practice section."
Even at these moderately higher boost levels, the engine runs happily without an intercooler – low ambient temperatures, and the fact that the engine ingests huge quantities of pure methanol through its custom, one-off Kinsler / Lucas individual ram tube intake manifold enable this.
Boost control to the liking of the Banks engineers is achieved via some 'modifications' of the Motec M84 ECU's normal control system. "The base M84 wouldn't do what we really wanted it to do – it's a fairly limited system. We need to control maximum turbocharger pressure ratio based on atmospheric conditions to keep the turbos safe, and create maximum power as far "up" the hill as possible while the inlet pressure rapidly falls off with the altitude change. So, we added the required sensors and played rough with the ECU – we've got it barking nicely now" says Matt Trainham.
"When the barometric pressure gets low, we're limited by how fast we can turn the turbos because they have to work so much harder due to the low feed pressure. Each compressor has to do twice the work at that altitude to make the same boost number as sea level. The input pressure to the turbo is nearly half, so it has to run that much harder. The engine's back pressure goes up to make the same boost pressure as the inlet pressure falls. We've set the limits so once we get to a certain barometric pressure, we start pulling boost out to keep the turbochargers safe – this strategy comes directly from the high altitude work we're doing in parallel on certain defense applications." A stand-alone version of this unique turbo control system will be available from Banks Power, soon.
Crisp Colorado air helps (snow flurries aren't uncommon at the Pikes Peak summit, even during the summer) – "The upside to the barometric pressure drop is that it also drives a temperature drop, which helps the aerodynamics of the turbos," Matt Trainham says. "You get a higher pressure ratio with a lower inlet temperature and the same compressor wheel speed, allowing more boost before running into a safety limit. The actual mechanics are: Lower inlet temp = higher pressure ratio at same wheel speed." However, high altitude robs significantly more power than sub-freezing air temperatures give back.
Although Paul Dallenbach's engine is relatively low-pressure boost-wise, the overall project is extremely high-pressure: There isn't a hillclimb series, and most test-and-tune sessions take place on comparatively flat ground at Pikes Peak International Raceway. Because the actual race is conducted on a public tollroad, on-course testing requires closing the road–which is only possible during limited early-morning windows of opportunity. In other words, Paul Dallenbach spends a year preparing for a one-shot event he hopes will take less than 10 minutes. Michael Phelps trains four years for a few minutes of Olympic glory, but at least he gets to do it in pools that resemble where he will race.
Banks engineer Matt Trainham sums up his Pikes Peak Twin-Turbo engine-prep challenges: "You normally don't see that wide of a dynamic change, even on a racecar. Trophy Trucks and World Rally Cars run fairly wide altitude and temperature changes, but nothing like these atmospheric changes. This is about as extreme as you can get."
As Gale Banks says, "This is a uniquely American event run since 1916. The record and overall win are both in our sights. The entire team would be extremely proud to bring the record home to the USA. Several multi-million dollar unlimited race cars are entered and to my knowledge we are the only American entry. Leonard Arnold's #98 Chassis first competed in 1991 with Paul Dallenbach driving; it's not a new car. We're a bunch American racers and hot rodders with no budget, going up against multiple Goliaths. But… we're also carrying some big stones."
Check bankspower.com/pikespeak for constantly updated info including event coverage.