The Banks Sidewinder system proved its mettle during a test session with an up-armored Humvee that weighed in at 14,400 lbs. Chassis dyno testing showed a 58% increase in horsepower…
Since 1985 the High Mobility Multipurpose Wheeled Vehicle (HMMWV or Humvee) has been the mainstay workhorse for our nation's military. Originally powered by a General Motors 6.2L naturally aspirated diesel, subsequently upgraded to 6.5L and ultimately to a turbocharged 6.5L, the Humvee has never been considered a particularly high performance machine. One turbo 6.5L equipped unit recently tested on the Banks chassis dyno produced only 113 horsepower at 3200 RPM and 219 lb-ft of torque at 2600 RPM. Measured at the wheels, these are certainly not stellar numbers, but sufficient to move an average military vehicle down the road.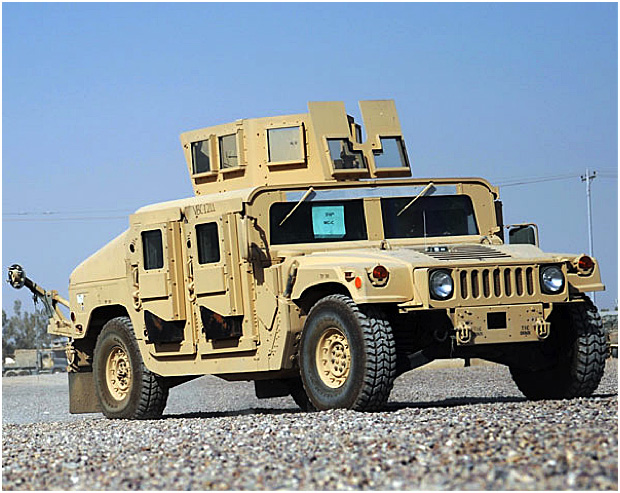 But the latest Humvees have evolved beyond their average predecessors. While the Humvee was originally designed as a basic troop carrier and general utility vehicle, field use has uncovered the need for additional armor, gunnery and communications equipment. Today a fully equipped Humvee can easily tip the scales at double its original design weight. Suddenly 113 horsepower doesn't go as far and as fast as one might like; especially when someone is shooting at you.
The idea of adding power to a Humvee came rather easily to us at Banks. The diesel aftermarket was created when the Banks Sidewinder Turbo System was introduced, in 1981, for GM pickups and SUVs that were powered by the same 6.2L engine that was originally found in the Humvee. When AM General started selling a street version in 1992 (badged Hummer), the 6.2L made yet another appearance. Arnold Schwarzenegger, one of the first owners of a Hummer, brought his to Banks for a boost of power. With a little finesse, the Banks Sidewinder was configured to fit, and the Governator was a happy camper.
Banks expertise in diesel improvement did not go unnoticed by certain military brass. Recognizing the need for their special forces to be able to get in fast, do their job and get out quickly and safely, an elite group of action heroes contacted Banks for advice. These are guys for whom we have a lot of respect. They are willing to put themselves in harm's way to protect Americans around the world and work tirelessly to preserve our freedoms and our way of life. When they came knocking, we jumped at the chance to meet their needs. What could be done with an overweight, underpowered beast like the Humvees that they use in combat on a daily basis?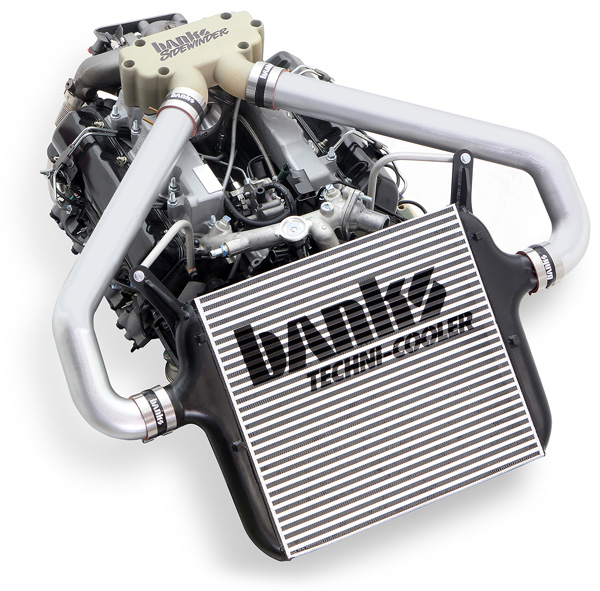 The answer to this question starts with the Banks Sidewinder Turbo System. This is a complete update to the induction system of the 6.5L engine, replacing the factory turbo with an internally wastegated Banks Sidewinder turbo for improved boost control, adding a Banks Techni-Cooler intercooler and ducting to reduce charge air temperature and improve intake manifold density, and a replacement intake manifold for improved air distribution and reduced restriction. The fuel system is amped up to match the new airflow capabilities with a new 4-piston injection pump and high flow injectors. Completing the system is a free-flowing Monster Exhaust system allowing the engine to exhale as well as it inhales.
The Banks Sidewinder system proved its mettle during a test session with an up-armored Humvee that weighed in at 14,400 lbs. Chassis dyno testing showed a 58% increase in horsepower, from a meager 113 at the wheels to 178. This added firepower accelerates the vehicle 46% faster in a 0-60 mph standing start sprint, slashing the ET from 43.0 to 23.1 seconds. While the cumbersome beast would only attain 75 MPH in stock form, it flew to 87 MPH with the Banks kit installed, limited by the speed rating of the tires. We have it on good authority that well over 95 mph is possible, though not condoned.
While the sea level improvement is substantial, the high altitude performance gain is even more pronounced. Testing at Pikes Peak, 14,100', we have developed outstanding altitude compensation into the Sidewinder package. And fuel economy, under all operating and altitude conditions, is improved as well.
Power is awesome, but safety is also imperative. Such a heavy vehicle will naturally tax the on-board braking system. Added braking power is achieved with an integrated turbine-mount exhaust brake for improved vehicle braking performance. The effect of the exhaust brake cuts the stopping distance of the Humvee from 307.6 to 243.3 feet in 60-0 mph braking tests, a reduction of over 64 feet. Perhaps most impressive is the ability of the brake to slow the Humvee to 10 MPH on a 6% grade without the assistance of any wheel braking. In stock form, without the exhaust brake, the HMMWV accelerates to over 60 MPH on the same downhill course. This added braking capability means less wear and tear on the wheel brakes, saving them for those emergency situations when maneuverability relies on the ability to muscle the weight with both power and braking.
After test drives in a Banks "Sidewinder" HMMWV, our special-ops friends were so impressed that they asked us to include other modifications in the package as well (more on that later). The Banks Sidewinder Turbo System breathes new life into an old workhorse. We can't think of a better way to say thank you to the men and women of our military than to supply them with equipment that will help keep them safe when their lives are on the line. And besides, who doesn't like a little hot-rod power under the hood to brag about?