Gale Banks Automotive Technology Exhibit at NHRA Motorsports Museum
The new Banks exhibit directly supports the Museum's education programs in automotive technology and engineering.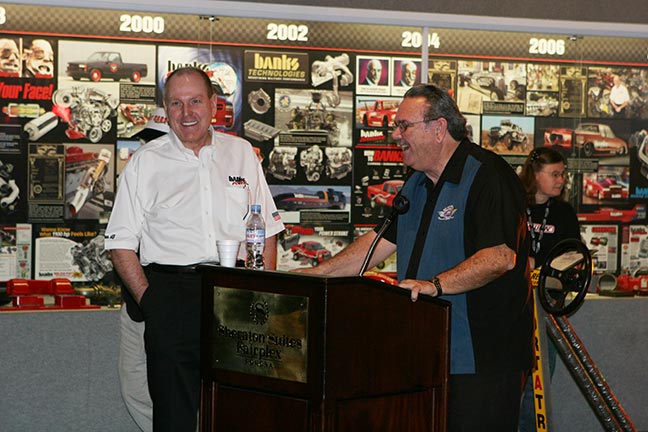 NHRA Museum curator, Greg Sharp, introduces Gale Banks
Gale Banks, president and founder of Gale Banks Engineering, an industry leader in gas and diesel engine development based in Azusa, Calif., is pleased to announce his company's continued support of the Wally Parks NHRA Motorsports Museum presented by Automobile Club of Southern California in Pomona, Calif.
Banks first partnered with the Museum in December of 2008 with the opening of the Banks Power: The First 50 Years Exhibit. Since its opening, the Banks Power Exhibit has been a huge success and welcomed thousands of visitors annually from around the world. In 2010, Banks sponsored another winning exhibit, Mickey Thompson: First American to 400 MPH. "I was a friend and a huge fan of Mickey and his achievements. I'm honored to be able to celebrate his career at the museum," said Banks.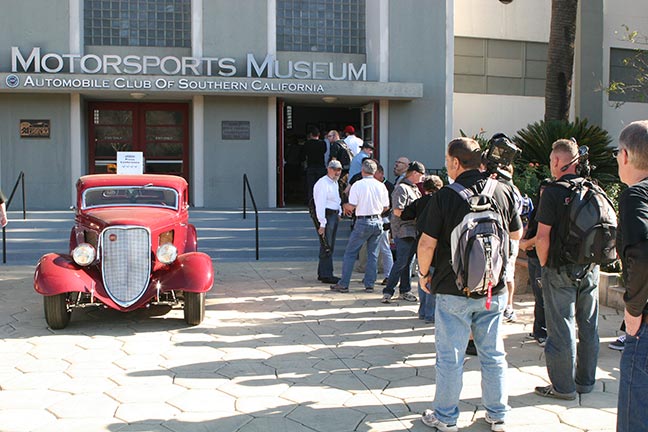 The crowd of automotive journalist lined up to check in for the press conference
Recognizing a shared commitment to furthering education in automotive technology and engineering, Banks announced, "We are very excited to continue partnering with the Wally Parks NHRA Motorsports Museum, and build a strong science and technology education program for visitors."
Tony Thacker, executive director of the Wally Parks NHRA Motorsports Museum, expressed his excitement saying, "The Museum is privileged to continue partnering with Gale Banks Engineering. It was NHRA founder Wally Parks' dream to have the museum be a conduit for drawing young people into our sport. We look forward to a multi-year program of intriguing, educational exhibits exploring automotive engineering, science and technology that will engage a younger audience."
The Gale Banks Automotive Technology Exhibit is scheduled to unveil new material and vehicles in Sept. 2011 for the Los Angeles County Fair. Hands-on activities, vehicles and engines are planned to be included in the exhibit showcasing some of Banks' new engineering innovations, as well as other new and future technology both aftermarket and OEM.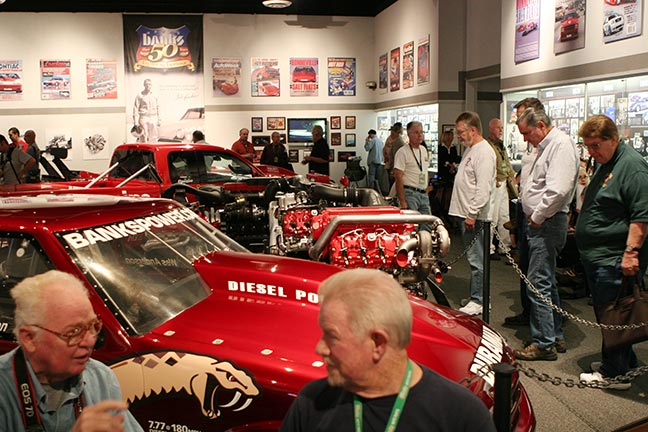 The journalists survey 50+ years of racing and engineering goodies from the Banks Power exhibit (it's open to the public, so go check it out!)
---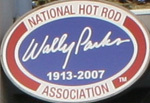 See all the stories from the Wally Parks NHRA Motorsports Museum here »