Baldwin Park Auto Center Grand Opening
From the San Gabriel Valley Tribune: Gale Banks helps launch local area high school's brand new auto shop facility.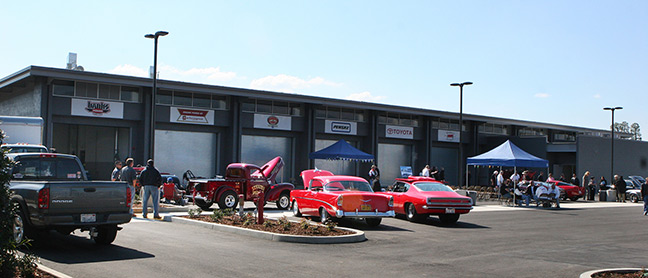 By Claudia S. Palma, Staff Writer, San Gabriel Valley Tribune
With everything from gas prices to unemployment to college fees skyrocketing, many high school students find themselves in need of career inspiration.
At Baldwin Park High School, the newly opened Automotive Training Center just might be the ticket for some. It is now preparing students to seek careers in the high-tech automotive industry, where technicians can earn $50 to $60 an hour to start.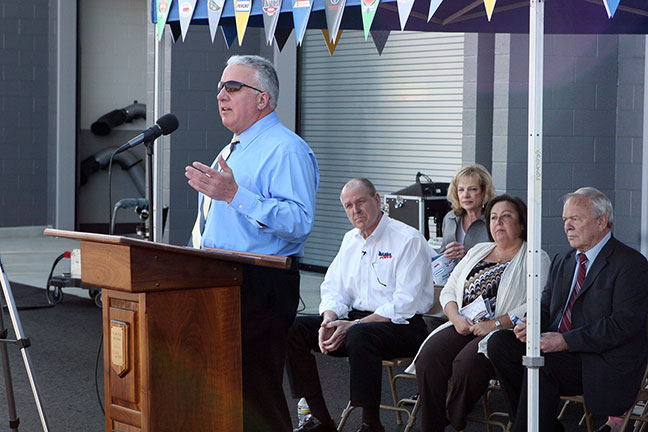 Baldwin Park Unified School District Superintendent, Mark Skvarna, addresses the crowd of students, teachers and supporters.
"This was something we saw wasn't offered anywhere here," said Baldwin Park Unified Superintendent Mark Skvarna. "We went to Gale Banks and Penske Toyota and asked them what they needed in a workforce, and that's what we put together."
Banks, president and founder of Banks Power in Azusa, was one of a few local professionals who helped the Baldwin Park Unified School District put together its Automotive Technology Pathway (ATP) program and garner grants from the California Department of Education's Proposition 1D three years ago.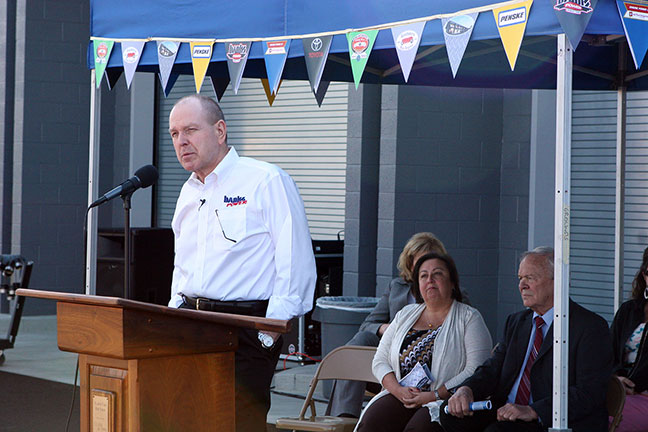 Gale Banks speaks to the issue of preparing students for the future and the importance of skilled laborers.
The state-of-the-art, $3 million center features a classroom area, research/computer area, repair bay with five lifts – one heavy duty and four standard – for hands-on instruction, support facilities and a Dynamometer installation with a 3,000 horse power measurement capacity.
Banks, Penske Toyota and Randy Ritchey, owner of San Dimas-based Performance Associates, are just a few partners that will be lending support.
The program will serve up to 90 students a year from all Baldwin Park high schools as well as offer fee-based certification classes for adult school students.
Through donations and loans of parts and cars, students will get to put what they learned in textbooks to use. Instructor George Luna said he also hopes to get special guests to help teach or speak to students.
"Banks can bring in one of his technicians to show the students and the teacher about new advances like green fuel," Skvarna said. "That's a real nice perk."
The program's first students have been in a classroom but will be able to take advantage of the center starting March 14.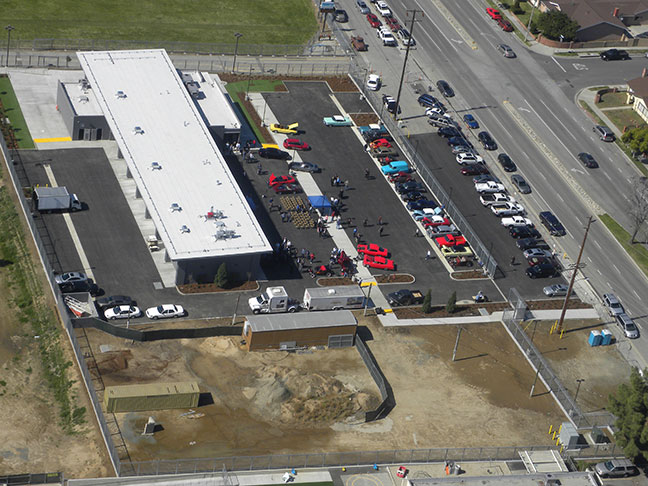 An aerial shot of the Baldwin Park Unified School District's Automotive Training Center. (Photo courtesy of the Baldwin Park Police Department)
"I've never taken anything like this before, so when I had the opportunity I wanted to go for it," said Edgar Gamez, 18, of Baldwin Park. "I've learned a lot about engines and how they work. It's pretty cool."
Gamez, like other students in the program, said he didn't think of automotive technology as a career previously, but is happy to have another option.
Steven Guevara, 17, of Baldwin Park said he had thought about becoming a firefighter or nurse after graduation, but has become more excited about cars lately.
"I want to learn all about the engine, the body… I want to build a car from the ground up," he said.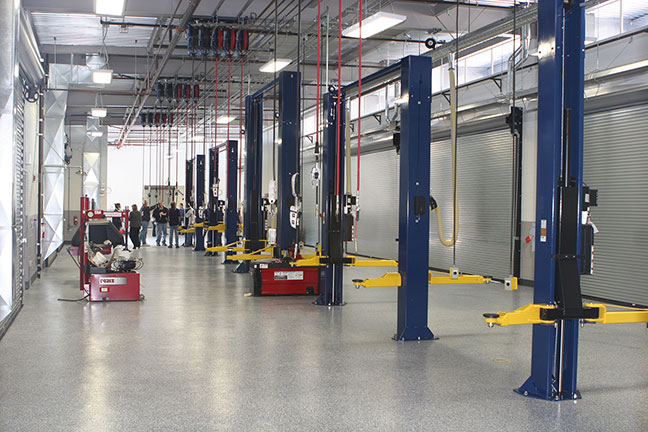 A view of the auto center's five lifts.
Seniors like Gamez and Guevara who will only be in the high school program for one year will have the chance of continuing through the adult school.
ATP students will be able to obtain industry recognized certification by training for Automotive Service Excellence (ASE) Certification in brake systems, suspension and steering, engines, electrical systems, charging/starting systems, air conditioning and engine management controls.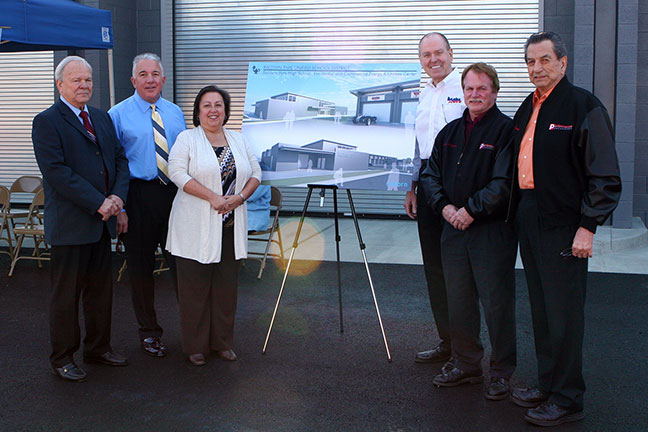 From left: Board Member, Jack White; Superintendent, Mark Skvarna; Board President, Christine Lucero; local business owner, Gale Banks; local business owner, Randy Ritchey; drag racing legend, Gas Ronda.
For more information on the automotive center, contact the district at 626-962-3311 or visit www.bpusd.net.
---
Watch some highlights from the Baldwin Park Automotive Training Center Grand Opening.