Brian Lecere and his Guilt-Free Duramax
Brian Lecere had a specific look that he had in mind for his 2019 Chevy. Even though his buddies warned him, he went with a 4.5" lift and high offset wheels. "Everyone was telling me that I was crazy because I'd kill my mileage, but it was the look that I wanted for my truck. The mileage wasn't bad. I did a lot of research on products for the engine, and countless hours of YouTube. The Derringer really stuck out.
Things that really swayed me were Gale's in-depth talk about what went into making the Derringer, and just how it tested against the competition. I felt good about it and decided to try it for myself buying the iDash SuperGauge and the Ram-Air Intake all at the same time. Even driving with my foot heavily into the throttle it still gets great mileage. The iDash, I love it! It tells you so many things. Towing my 36′ trailer up and down the Minnesota hills— it's pretty darn amazing."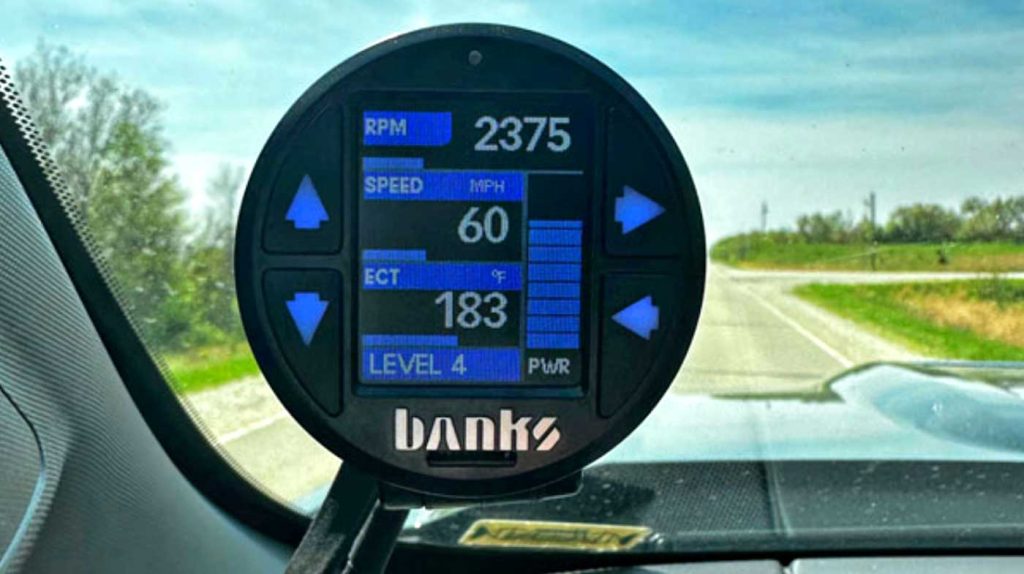 Aside from the performance that Brian Lecere added to his truck, he feels that Banks is also looking out for his investment. "Banks' videos on YouTube do such a wonderful job of explaining everything. You can tell that the Gale and the Banks team are incredibly passionate about what they do. One of the biggest things that sold me was the fact that the Derringer communicates with the truck's computer and adds power only when the engine comes up to operating temperature. That was a huge selling feature! It seems that with other tuners you have to buy other things in order to protect your truck because they aren't looking after my powertrain. With Banks, there's none of that nonsense and it still gives you massive power."
"The PedalMonster is next! I have a friend that I convinced to go with the Derringer. Well, he got everything that I did PLUS the PedalMonster. I'm jealous!"
Banks offers a variety of upgrades for the Duramax.