Banks Breathes New Life into Jeeps
The name "Sidewinder Turbo" has long been associated with incredibly awesome performance upgrades for turbo-diesel trucks, and now that add-on power is available for Jeeps.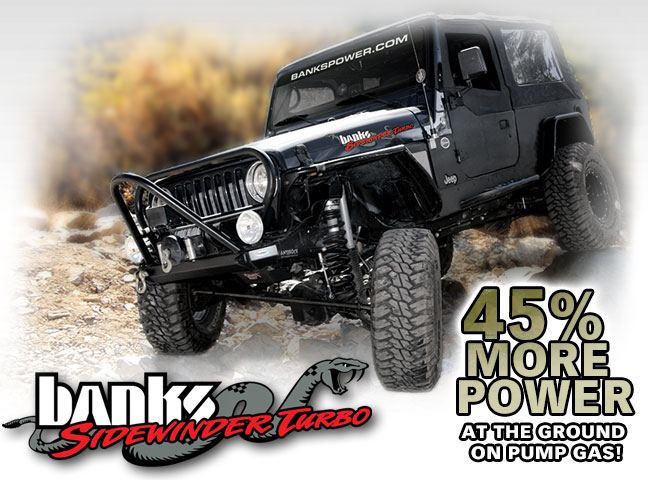 So here's some insider news for you: We're expanding our Sidewinder turbo kit line! First to come out of the chute will be a kit for the '00 to '06 Jeep Wrangler 4.0 liter in-line six. Our Advanced Concepts Engineering group (ACE as we like to call it… our in-house skunkworks) has been trying lots of different turbos to get just the right recipe for low end performance and altitude compensation, and we're there. We have a few prototypes running around out there including one of our own, which is headed for Moab next week. The kit, when released, will come with everything you need to bolt on real power using regular hand tools. The turbo, all the associate pipes, nuts bolts electronics and fuel management will be there right in the box. And it'll be pretty simple to install, so those of you faint at heart will be able to handle it with ease.
You'll notice that I said "first to come out" just above. The reason for that tease is that we have a few more kits on the drawing board, as well as some more surprises. I can't really let those cats out of the bag just yet, but keep on tuning in to our Insider News for some of the latest "spy" shots and information that we can sneak out to you.
---
Features/Benefits:
• Altitude compensation for serious mountain work
• Compact turbocharger provides rapid boost response even in low-speed crawling
• Works with other engine modifications (strokers, headers, cat-back) for even greater power gains
• No internal engine modifications required, kit is entirely bolt-on
• Emissions certification in process
System includes:
Compact Oil-Cooled Turbocharger
• Integrated Wastegate for precise boost control
• Integrated compressor bypass valve for rapid boost blow-off on drop-throttle
• Turbine housing matched for low-RPM boost response
Stainless Exhaust Tubing
• Provides high-flow connection to and from turbocharger in-between the factory catalytic converters
Banks Monster® Exhaust system
Turbocharger-specific Banks Ram-Air® system
New high-flow fuel injectors
New MAP sensor
Turbo-specific engine calibration via Banks AutoMind® Programmer
Integrated turbocharger/alternator mounting bracket
New accessory drive belt
All required fasteners, lines, & fittings for installation
See more photos, videos, tech info, and reviews on this turbo »
---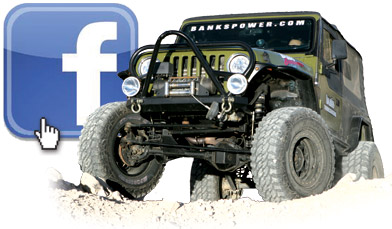 UPDATE!
Check out the Banks Jeep
getting dirty in Barstow!
---
For more information on how you can take your Jeep to the next level, give us a call at 1-800-601-8072.
---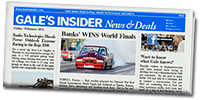 Click here to get "Gale's Insider News & Deals" delivered straight to your inbox so you won't have to worry about missing any events or special offers!