Banks Power Helps Open High School Auto Shop
Gale Banks has a quest: to resurrect technical education in our public schools.
By Tom Moore
Gale Banks feels strongly that resurrecting public-school technical education is vital to California's economic future. Banks and his company's Banks Power division continue to put their time and money where their mouths are. The most recent example is Banks Power's involvement in a state-of-the-art Automotive Training Center at Baldwin Park High School just east of Los Angeles.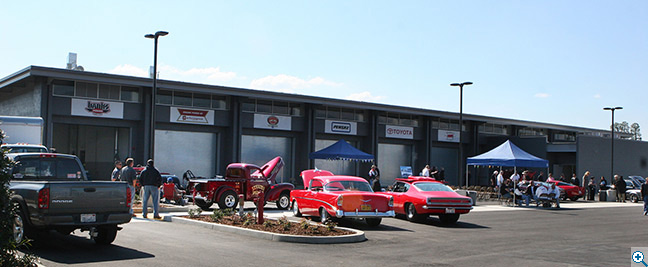 The Baldwin Park High School Automotive Training Center is well-equipped. Corporate partners' logos are mounted over the roll-up doors; Banks Power appropriately IDs the dynamometer bay. The school is supported by two local car clubs: the famous L.A. Roadsters and the Cal-Rods Car Club (founded in 1954).
Gale Banks got involved in the project in a roundabout way. In 2008, the company was mired in new California Air Resources Board (CARB) requirements for certifying its line of aftermarket diesel-performance products. Bureaucratic issues prompted Gale Banks to meet with his district's State Senator, Dr. Ed Hernandez. While discussing emissions regulations and certifications, Senator Hernandez mentioned that Baldwin Park High School had received a grant from the California Department of Education to build a high-tech auto shop. This got Gale Banks' attention. For years, Gale had noticed an ongoing correlation between secondary-school vocational training's demise and a rise in student dropout rates.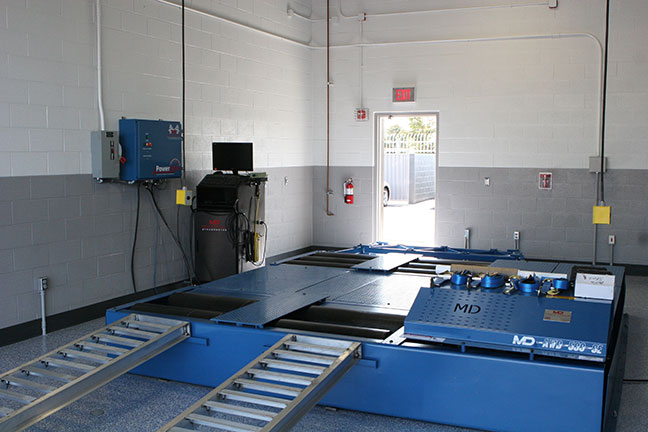 A 3,000-horsepower dyno cell will allow students to put what they learned in textbooks to use.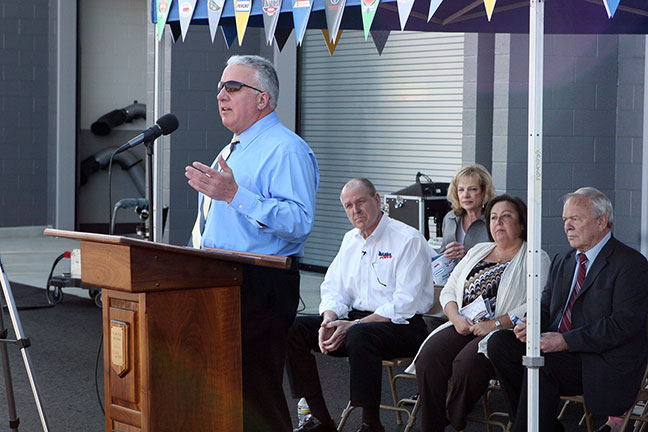 BPUSD Superintendent Mark Skvarna had a distinguished Air Force career prior to entering public education. A gearhead who also understands large-institutional politics, Skvarna successfully secured state funding for the Auto Training Center. A similar facility is in the planning stages for the district's other high school.
A meeting was set up with Baldwin Park Unified School District (BPUSD) Superintendent Mark Skvarna. Superintendent Skvarna asked Gale Banks what he looks for in a workforce.
Banks built a rapport with Skvarna, a fellow gearhead himself who'd served a distinguished career in the Air Force. Banks volunteered resources to help propel BPUSD's Automotive Technology Pathway program. Banks Power's Technical Communications Director, Peter Treydte, attended monthly planning meetings for about a year; he and Gale Banks identified the testing and diagnostic equipment most likely to help students get technical jobs in the automotive industry. The Banks team also helped select the instructor.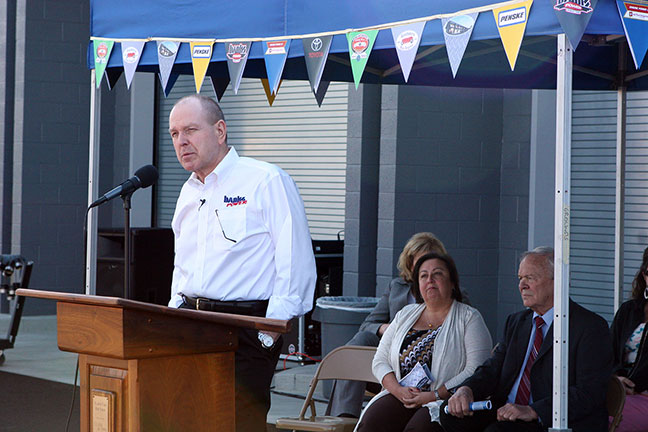 Gale Banks, founder and president of Gale Banks Engineering/Banks Power, has lived and done business in Los Angeles's San Gabriel Valley for more than 40 years. He staunchly advocates reinstituting technical training in our public schools. His company supplied technical expertise for the project and continues to volunteer consulting services.
BACK TO THE FUTURE
The $3 million facility's gala Grand Opening was held February 22, 2011. The ceremony simultaneously celebrated the state-of-the-art facility while paying tribute to the area's high-performance heritage – recalling an era when auto-shop was part of the normal high-school curriculum.
BPUSD Board of Education President Christina Lucero emceed the ceremony. She introduced Superintendent Mark Skvarna, who outlined philosophical changes in public-school vocational education. In the 1980s, Skvarna explained, digital technology began impacting manufacturing and repair. Faced with buying electronic fuel-injection diagnostics for auto shop and computer-controlled machines for metal shop, many districts chose to drop these classes rather than investing in them. Subsequently, high-school dropout rates rose as vocational training declined.
Many Baldwin Park High School students don't matriculate to traditional universities, so the school is a prime proving grounds for this vocational training center. Gale Banks is a vested believer that manual arts are more economically important to California's economic recovery than liberal arts. In his speech at the Baldwin Park High School Automotive Training Center Grand Opening, Banks asked, "Who's going to manufacture, diagnose, and install durable goods – including automobiles? That's how you create wealth. Distributing wealth is called payroll."
An avid sci-fi reader and futurist, Banks added, "Servicing the [coming] 'green' agenda will require knowledgeable, technical minds – people who are both manually and mentally skilled." Turning to the Baldwin Park students, he concluded, "You are the future of California."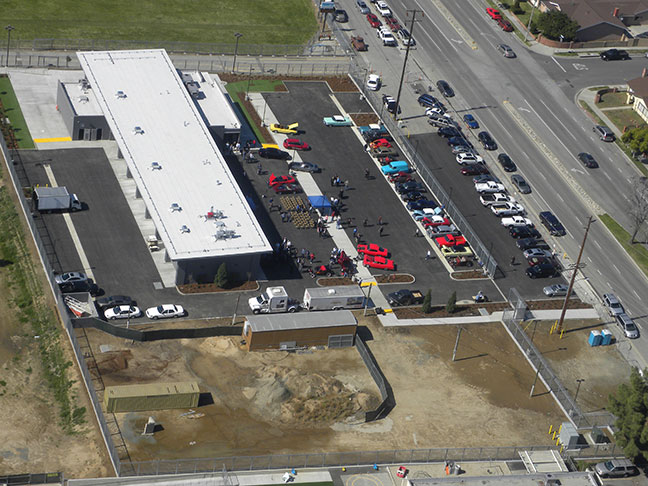 The $3 million facility has a 90-student annual capacity during the day and will also be open for fee-based adult education at night.
In addition to Gale Banks, local automotive celebrities who spoke at the ceremony included Gaspar "Gas" Ronda, a legendary Ford factory A/FX drag racer who remained in the area after retiring from racing. Randy Ritchey, owner of Performance Associates and son of legendary tuner Les Ritchey, also worked the Baldwin Park podium, speaking as a potential employer of the Automotive Training Center students. The Grand Opening culminated in tours of the facility's classroom, research/computer area, repair bay with five lifts, and 3,000-horsepower dyno cell.
The Center has a capacity of 90 high-school students per year. (Superintendent Skvarna pledged that auto-program students must maintain a specified all-class GPA to be in the program.) The Baldwin Park Auto Training Center offers training toward ASE Certification in engines, engine management controls, electrical systems, charging/starting systems, air conditioning, brake systems, and suspension and steering. The program's ultimate goal is placing graduates in high-tech automotive jobs that can pay $50 or more per hour.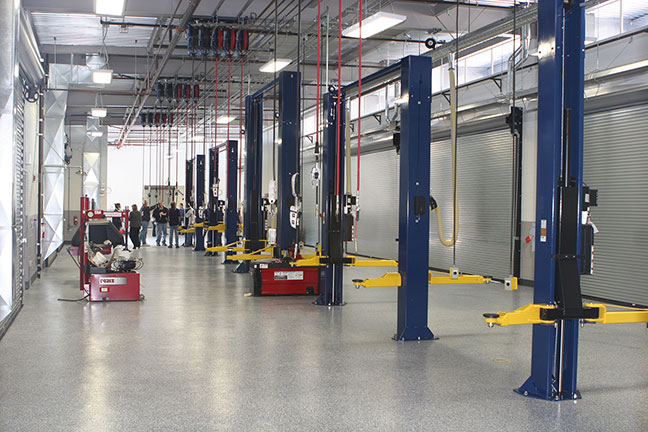 With five lifts, the school looks like an elite independent repair facility.
In addition, the Baldwin Park Automotive Technical Center will teach adults at night as part of the East San Gabriel Valley Regional Occupational Program (ROP). These fee-based classes will provide adults affordable automotive training.
The Baldwin Park program will directly feed nearby Citrus College's Automotive Technology program for students who want to earn Certificates in specific areas and/or an Associate of Science Degree for Automotive Technology.
Gale Banks' ongoing support of the Automotive Training Center includes making his staff available to teach such topics as alternative fuels. Hopefully this facility will serve as a model for future centers.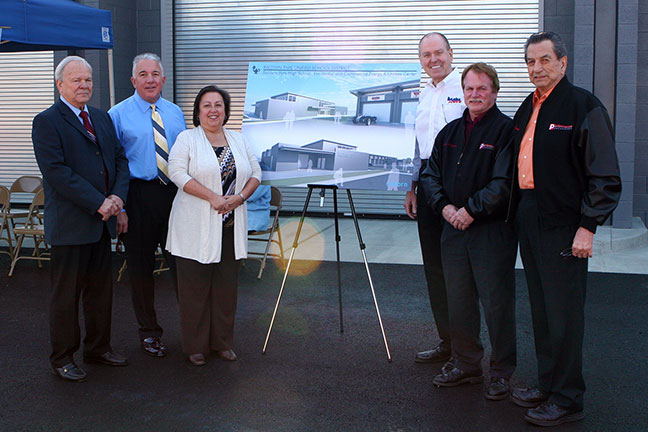 From left: Board Member, Jack White; Superintendent, Mark Skvarna; Board President, Christine Lucero; local business owner, Gale Banks; local business owner, Randy Ritchey; drag racing legend, Gas Ronda.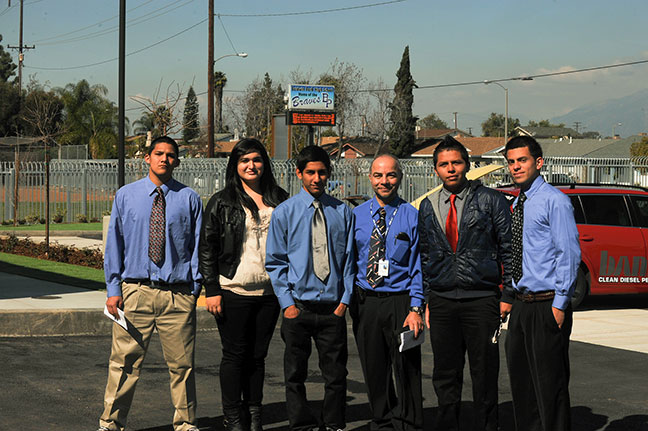 Like many other high-school students, Baldwin Park teens hadn't seriously considered careers in automotive technology – until they had access to cutting-edge training.
---
Baldwin Park High School Automotive Training Center Partners
• Banks Power
• Los Angeles Roadsters Club
• Penske Toyota
• Performance Associates
• Wally Parks NHRA Motorsports Museum
Additional Acknowledgements
• Cal-Rods Car Club, San Gabriel Valley
• Osborn Architects
• Baldwin Park Adult and Community Education
• Construction Planning and Management (CPM)
• East San Gabriel Valley Regional Occupational Programs and Training Center
---
Catch this story on the San Gabriel Valley Tribune's website »