Truck Trend - A Primedia Publication
August 2000
Banks PowerPack for Cummins 24-valve diesel trucks.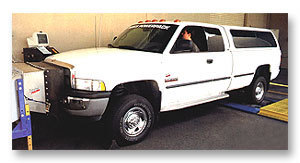 Testing was conducted on a Mustang chassis dynamometer at Gale Banks Engineering.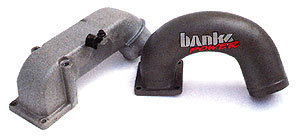 Here's the difference between the stock intake and the Banks High Ram tube on the PowerPack® system. Note the larger tube and less restrictive air path.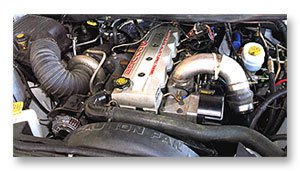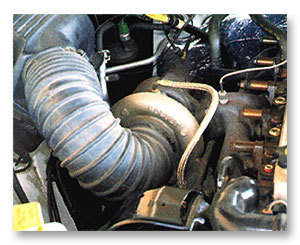 The intake tube shown on this engine is a prototype unit. The new turbo housing also includes a larger wastegate actuator.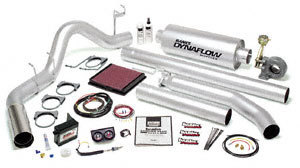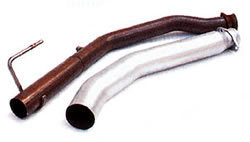 Here's a view of the entire Stinger-plus kit. It comes with all necessary hardware and installation instructions. The Banks exhaust features a huge 4-inch pipe and stainless-steel muffler.
Dodge 24-valve Diesel Hop-up
Dodge's 5.9-liter Cummins diesel engine has been a venerable workhorse since it was first introduced in the Ram lineup in the late '80s. When the 24-valve model debuted in 1998, it served notice to that the inline six-cylinder was still up to the task of towing and hauling heavy loads. Rated at 235 horsepower with peak torque of 450 lbs. in its current configuration, however, the new Cummins ISB engine will be the least powerful of the Big 3 diesels when the new Chevy/GMC Duramax comes out later in the year. The Duramax will be rated with a peak torque of 520 lb-ft while the Ford PowerStroke is rated at 500 lb-ft.
Mopar fans need not worry, there is plenty of room for improvement. Gale Banks Engineering has a four-step program that can add more than 300 lb-ft of torque and 110 horsepower.
The test mule for this project was a '99 Dodge 2500 Quad Cab (manual or auto) owned by a deputy sheriff and used primarily to haul antique tractors. Banks base-lined the truck on a Mustang chassis dyno and recorded a best of 197 horsepower at 2700 rpm with a peak torque of 410 lb-ft at 1800 rpm.
The first upgrade is a Git-Kit that simply adds an Ottomind engine calibration module and larger wastegate actuator. That alone was worth about 40 horsepower and 95 lb-ft. Next came the Stinger kit, which adds gauges, low-restriction intake filter, and 4-inch exhaust system in addition to the Git-Kit components. Those modifications added another 30 horsepower and 80 lb-ft of torque.
The Stinger-Plus system adds a different turbo housing, but that trick picks up another 20 horsepower and 75 lb-ft of torque. Just one more change, a new intake tube called the High Ram, and the total improvement is 111.2 horsepower and 307.1 lb-ft of torque. Final peak numbers are 292 horsepower at 2600 rpm with 704 lb-ft of torque at 1700 rpm. The new torque curve shows at least 600 lb-ft to the rear wheels up to 2500 rpm.
Git Kits start at $879. The Stinger costs $1759 and the Stinger-Plus is $2195 ($30 more for ClubCab models due to the longer exhaust pipes). The PowerPack® system costs $2495. Similar kits are also available for pre-98 models with the 12-valve head.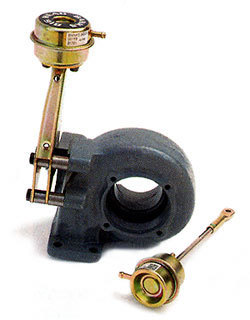 The Stinger-Plus kit features a new turbo housing and larger wastegate actuator.