They Thought Diesels Were All About Fuel Economy…Until I Beat Them by a Mile
Sportsman's Gear
Volume 24 Issue 7
How I Taught My Friends a Thing or Two About Diesel Performance
When I told my buddies I was buying a diesel pickup, they thought I was out of my mind. Leave it to friends to tell you when they think your doing something stupid. They brought up every negative aspect they ever heard about diesels.
Understand, these guys aren't the most technologically advanced. They think the internet was developed by the government for the sole purpose of tracking their every move, and that the dot com bust is proof positive that Americans have become a soft, gullible lot (OK so maybe they're right about that). To try to tell these guys anything different than what they "know" to be true is like crossing an ocean on a lily pad. It's hopeless. I knew their beliefs, like many truck buyers, had become outdated.
Granted, when my dad owned a slow, sluggish diesel pickup it was reserved for heavy work, rode like crap, and was a noisy smoke bomb. Mom would only ride in it as a last resort, and made sure they wouldn't run into anyone she knew. Times have changed.
Today's clean burning turbo-diesels have evolved from those beasts of old into civilized members of truck society. What has contributed most to this evolution? Well, old diesels used to be inefficient at burning fuel, which resulted in soot and a foul sulphur odor. Today's modern computerized fuel control coupled with ultra high pressure common rail fuel injection have virtually eliminated diesel smoke and the offensive smell.
Another technological advance is engine noise. The loud clattering long associated with diesel has been deafened by a feature called a "pilot injection" noise suppression cycle. Many of the new diesels are so quiet that it takes an educated ear to recognize that the engine is a diesel when it goes by or is stopped at a light.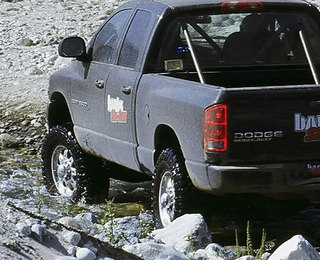 For horsepower and torque, today's turbo diesels can't be beat. They are responsive and powerful, are capable of accelerating quickly, and have high torque output for climbing grades or sustained high-speed operation. Today's turbo-diesels are also super-responsive to performance upgrades that make their performance nothing short of incredible. But to tell this to my buddies? No way. I knew I'd have to show them.
I figured our next camping trip would be a great time to dispel their myths. We were taking the kids out to do some fishing, dirt bike riding and offroading. As the time drew near, I bit the bullet and bought my 2003 Dodge Cummins 235hp Quad Cab short bed 4×4 pickup. Then I got on the internet to check out the latest performance upgrades on he market. There's a lot out there to sort through.
What I wanted was a complete system that wouldn't toast my new truck. That narrowed things down. Among the few companies that offered tuning combined with airflow, only Banks offered a system in which all the components are engineered to work together. People on the forums spoke highly of the company and the products. Those that had Banks-powered trucks seemed very satisfied. And I like being satisfied.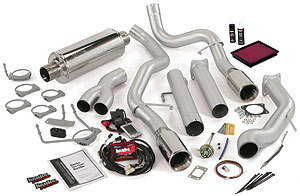 Banks recommended their new Six-Gun Bundle with Speed-Loader along with a High-Ram air intake. This bundle of power comes with a dash-mounted six-level tuner that adjusts timing and fuel pressure. I use the lower levels for towing or regular highway driving, then use the higher levels for offroading or high speed racing.
The tuner includes some unique features such as transmission slip detection, converter clutch lockup protection, coolant temperature monitoring, cold engine protection, and exhaust gas temperature limiting. With the air intake and exhaust system upgrades I never have to worry about overloading my truck. Which is good because if my wife has her say, this one's going to last a really long time.
I had high expectations, but am still blown away with the difference the Six-Gun Bundle makes in every aspect. I tow my RV (and my wife really loads it down, trust me on that) and now cruise up the Grapevine at 75 mph checking my rear view mirror to make sure it's still there. It kicks up my 235hp engine to 360hp and adds 290 lb-ft of torque. What's more, my EGT never exceeds 1,250 degrees no matter how hard I ride it.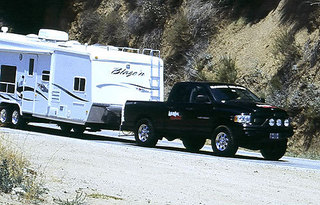 So how was the camping trip? It was a blast. I've never had such a great time teaching my friends a thing or two. It began as we caravaned out of town, I with my RV, Tom with his F150 equipped with a cab-over camper and dirt bike/atv trailer in tow, and Matt with his Silverado 2500LD with toy hauler in tow. Heading over the Grapevine, I continually led the pack by a good mile, running cool as a cucumber. Over the course of the four-day trip, my friends were amazed at the incredible torque and horsepower the truck put out, which really made a difference in the offroading and 1/4 mile racing we did out there. My truck consistently outperformed theirs. They may have expected the hill climb and fuel economy superiority, but the 1/4 mile and offroad capabilities really floored them. To say I'm satisfied would be an understatement.
You know you've got a convert when he starts hinting around for more details. I told Matt and Tom that Banks also has power equipment for gas engines which would help them out until they "stepped up" to a diesel—which may be sooner rather than later.