Super Rod
October 2004
Gale Banks Builds a Road-Racing Diesel Pickup
Gale Banks is determined to prove that diesel engines are the most viable powerplant for the future of transportation. With more than 25 years of experience building the largest manufacturing company of performance products for diesel-powered vehicles in the world, Banks knows diesels.
To further prove his point, Banks has decided to build a road-racing diesel pickup truck. Banks' "road-race truck" is a full-tube framed effort being built completely in-house by Banks and his large staff of engineers and fabricators. Power will come from a heavily modified version of the latest-generation GM Duramax diesel engine. The truck will compete in endurance races, lasting from thre to 25 hours, at selected events on thee West Coast in the Super Production class in the North American Sportscar Association (NASA) series.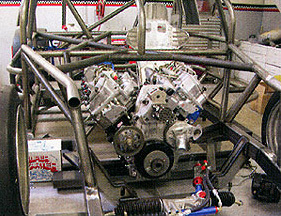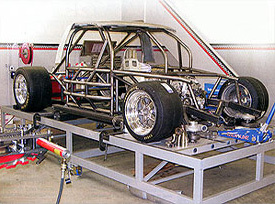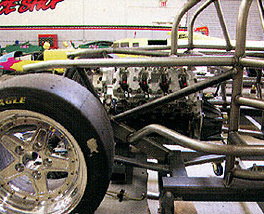 As is typical with Banks, this isn't any ordinary effort, and GM, Bosch, Garrett and Eibach are already "in" on the engine program. General Motors has supplied Banks with numerous complete Duramax engines to develop, and Bosch has computer-modeled and developed a larger fuel-injection pump, higher-flowing injectors and a complete common rail fuel system. Garrett is supplying a pair of gigantic IMSA-style turbocharges, and Eibach is designing and building the valve springs. Eibach is also assisting Banks' engineers with the use of its Spintron for development of the Banks-redesigned valvetrain. By using a Spintron to evaluate valvetrain designs, Banks' engineers are able to simulate entire endurance races before ever attending them.
The 2004-1/2 402.6ci (6.6-liter) Duramax diesels will be fully race prepared and internally balanced and blueprinted. The forged-steel Duramax crankshafts are already fully radiused, but Banks' staff will also lighten, knife-edge and contour their counterweights. The crankshafts will be shot-peened, micropolished and nitrided for the stresses of endurance racing. Currently, Banks-designed rods are being built by Crower, and Banks-designed pistons are in the process of being forged. Banks' engineers did a huge amount of development work in a short time on the Duramax ports and flow is said to be already better than 25 percent than stock. Banks will cut the ports in–house on its CNC mills. Larger-diameter custom stainless steel intake and exhaust valves will be used on the exhaust side. Both valves are now 33 mm, and, according to Banks, intake flow and exhaust flow are now equal.
The overall project was delayed by over six months because Banks decided to wait for the new 2004-1/2-version heads. He figured it was a small price to pay to have a better overall head design to develop. The new heads feature superior injectors, now located outside the valve covers for easier access. With the new heads, there is no chance of a broken injector contaminating the engine oil, as was the case with earlier head designs where the injectors were inside the valve covers.
While a stock Duramax diesel engine does not require pressure lubrication for the valvetrain, Banks' staff has extensively reworked the Duramax oiling system. Now the Banks-redesigned valvetrain has full-pressure lubrication for added reliability. It took an incredible amount of study and ingenuity to create oil paths where none previously existed. Smaller, lighter and shorter lifters running on bronze bushings, and lighter billet aluminum roller rockers are now oiled through the pushrods. Banks will also have roller camshafts custom ground to take advantage of the higher-lift capability of the new valvetrain.
Initial dyno testing shows that the Banks race diesel will make about 900 lb-ft of torque from 2,500 rpm, and, with a very flat torque curve, maxing out at around 1,000 lb-ft of torque. The race engine produces 700 hp at its Banks-imposed redline of 5,000 rpm. A street version of the road-race truck is being developed simultaneously that will produce 900 hp at an even higher redline. The street version should produce over 1,000 lb-ft of torque, so you diesel lovers, get ready for the time of your lives, as good things are about to happen.

There are more benefits to racing diesel-powered vehicles than just massive amounts of torque. Diesel engines are more fuel efficient than their gasoline-powered cousins, and you can race on the same fuel that powers your diesel tow vehicle. You can also find diesel fuel in virtually any country in the world. Next, Banks will explore the novel use of an exhaust brake on his road-race truck to see if it can be used safely in racing situations. Hopefully, these benefits will allow Banks' truck to be competitive against its tried-and-true gasoline-powered counterparts. We'll let you know how he fares, but we love the idea and wish the Banks crew all the best.