Truck Trend
November/December 2006
Diesels are coming fast, and Gale Banks wants to lead the charge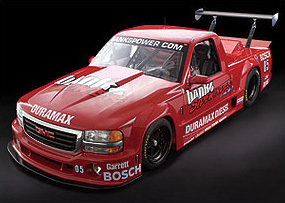 Transmission
This is all race dress. After a lot of trial and error, Banks settled on a Weismann Quickshift six-speed transmission that uses an internal oil pump and external oil cooler. All they'll tell us about the clutch is that it's "experimental". The bellhousing is magnesium.
Engine
Without giving too much away, Banks Engineering has modified the block and oiling system and uses a seven-stage, 16-quart dry-sump unit. There's a custom crankshaft, 4340 billet connecting rods, 14.5:1 compression racing pistons, a billet oil pan, and custom-cut roller camshaft and lifters.
Front End
The front end uses a conventional double A-arm configuration with coilover shocks and helper springs.
Wheels and Tires
The front of the truck is held in place with 25.5×12.0R17 Goodyear Racing Eagle tires mounted on 17×13.5-inch Bogart Racing aluminum wheels. Rear rubber is 28.5×14.0R17. For stopping power, Banks uses Wilwood six-piston billet-aluminum calipers, clamping on 13.0-inch rotors with modified cooling vanes.
Rearend
Banks decided to go with a Speedway Engineering-prepped full-floating Ford nine-inch rear axle, which uses a race-tech internal oil pump and external oil cooler. The race suspension is a modified three-link with Koni coilover shocks.
Body
The cab and roof of the body are made of steel and retain the GMC look; however, the remaining body panels are carbon fiber. Banks also had to custom design a rear wing and undercarriage pan to keep the massive amounts of air being pushed around and under the truck flowing.
There's a revolution going on out there, and whether or not you're a truck guy who understands all the aspects of diesel power, change is coming. It's no surprise that the company leading the charge is one of the aftermarket's loudest proponents of diesel strength and versatility, Banks Engineering.
Long a maker and seller of performance parts for diesel and gasoline engines, Banks Engineering has put together several diesel truck projects to reap the benefits of torque in venues from Baja desert racing to dry-lakebed top-speed record-breaking. The latest incarnation of diesel muscle and prowess is among the most powerful and fuel-efficient road-racing pickup trucks ever made. The Banks Sidewinder D-Max Type-R is one of Gale Banks' pet projects, specifically designed to get attention wherever it goes and clean up on the road-racing circuit at the same time.
For gearheads deep into high-performance racing, the Audi R10 racing team has been making road-racing history with a pair of state-of-the-art V-12 twin-turbo diesel race cars. During the most recent 24 Hours of Le Mans, one of the R10s traveled over 3200 miles on the 8.5-mile closed road course, averaging 133.9 mph. Both cars achieved better fuel-economy numbers than anything else on the track, which means drivers made fewer fuel stops. In addition, Audi drivers reported they had to get used to how quite their new race cars are and how careful they had to be with so much available torque. Of course, it's no coincidence that Audi (and parent company VW) want to show the world how powerful and useful diesels are on the racetrack.
Both will be ramping up production and development of more diesels to sell in the U.S.—their current mantra could be "Win on Saturday and Sunday, sell a diesel on Monday." At a minimum, changing minds on the racetrack could get people thinking about diesels in other areas as well. In fact, that's exactly what Gale Banks has in mind. He'll be the first to tell you there was no collaboration between his team putting together his road-racing diesel pickup and Audi's team designing the new R10, but clearly they're doing their projects for the same reasons. Great minds think alike, but no doubt Audi's pockets are a bit deeper than Gale's.
"Everybody has a sense that diesel engines can pull stumps," says Gale Banks, "but most people don't understand that we haven't even begun to scratch the surface of what diesels can do." A prime example of that is his custom tube-chassis GMC Sierra road racer equipped with a modified 6.6-liter twin-turbo Duramax diesel. The vehicle is limited to 650 horsepower and 800 pound-feet of torque right now, but Banks says there's no reason why the block couldn't put out 20 percent more if tuned differently. For now, he's content to keep it down and take it to the track. Not sure we'll ever see it run against the R10 or pulling a fifth wheel, but this could open a whole new frontier as diesels make their way into the hearts and minds of more than your average hard-core truck guy.