Power Stroke Bulletproofing Tactics
Four Wheeler
October 2010
How to make a 6.0L more powerful while maintaining reliability.
Gale Banks knows diesel engines. Having been in the business for more than 52 years, his name is to the diesel industry what Vic Edelbrock's is to hot rods. And it didn't become that way by accident. Banks is a detail-oriented man, who stops at nothing to ensure that his products are innovative, reliable, and user-friendly. His electronics feature triple redundancy to ensure fail-safe operation, and his no-smoke approach to producing power is as forward thinking as you can get. We have been to his impressive manufacturing facility in Azusa, California, a handful of times and can attest to the high level of detail and thought he so proudly puts into his products. Above all, we felt Banks was the best possible fit for a 6.0L build because his power numbers are expertly metered to be safe and sustainable for an engine that is already pushing the limits of reliability in stock form. For this story, we spent three days at the Banks factory, including several hours with the legend himself. The experience was surreal and the results were impressive. Check it out.
Where 6.0L Power Stroke Inefficiencies Start


To harness additional power from a 6.0L engine, you must first understand where the OE design falls short. Think of an engine as a massive air pump. As fresh air passes through the stock filter, resistance rears its ugly head right from the start. The inlet to the filter housing features a small opening that inhibits airflow to decrease noise and the likelihood of water intrusion. The paper filter element resembles a four-pack of paper towels, like the kind you might find on the shelf at your local supermarket. Only these towels have been squeezed tightly together to increase surface area. While the OE element does a great job removing particulates from the air, it does so at a significant cost to efficiency-especially after several thousand miles of debris becomes trapped in the first few inches of its labyrinth-like design. After the filter, airflow makes an abrupt left turn, creating turbulence and further resistance. The result is a significant amount of suction restriction for the turbo to overcome to do its job. The effect is compounded by a 2-inch-diameter turbo boost discharge tube that has a section that is compressed even further to clear a part of the battery tray. Next, charged air passes through the factory intercooler, which features internal support partitions that interrupt flow. Can you see a pattern? Ultimately, the whole engine intake design is flawed if performance is a factor. The folks at Banks have addressed these issues and figured out a way to open up a window of efficiency for the 6.0L to capitalize on.
Getting Power to the Ground


The Ford 6.0L engine can be built to deliver outstanding power and torque, and it can do so reliably as long as you address all the major problems first. However, even with all the problems addressed, you will never get the power to the ground without a better torque converter. The factory TorqShift automatic transmission that comes behind all 6.0L pickups includes a torque converter that is rated for 740 lb-ft of torque. Anything above that and you will end up with torque converter slippage. When slippage occurs, the transmission fluid becomes overheated, which reduces fluid life drastically. Ultimately, enough slippage will result in a transmission failure. To protect your transmission, we recommend installing an upgraded torque converter. The Banks converter we installed has a much better design and offers an outstanding 1,100 lb-ft of torque capacity.
The Banks iQ


We're not always big proponents of high-tech whizbang gadgetry, but in the case of the new Banks iQ, let's just say we're now active members of the geek committee. This little 3×5-inch computer packs a serious punch, giving you in-vehicle access to virtually any Windows CE-based software available today. In addition, it does things like play music or open up Microsoft Office files for viewing. It doubles as a code scanner, and it can even function as a touch-screen GPS unit. There really isn't much that this device can't do. All extras aside, this unit serves as the primary interface to the Banks Six Gun power-adder. Once installed, the iQ provides you with all the truck's vitals via one of the three pre-programmed gauge screens. This allows you to keep an eye on engine oil temperature, coolant temperature, EGTs, and boost pressure on one easy-to-read screen. The iQ also comes with a new user function that we tested and absolutely love. Banks calls it the SpeedBrake. It works by manipulating the torque converter's lock-up clutch in conjunction with deliberate transmission downshifts. It works similarly to the newer transmissions found in late-model pickup trucks. But Banks took this technology a step further by controlling the variable-geometry turbo vanes. When actuated, the SpeedBrake system delivers seatbelts-required stopping power without even touching the brake pedal. It will literally take an unloaded pickup truck from highway speeds down to 15 mph in under 20 seconds flat on the highest setting. Because the system is totally independent of the actual braking system, it provide those of us who tow a whole new tool for negotiating those steep downhill grades. This is particularly handy when towing a heavy trailer. We did not understand why the factory systems found in newer pickup trucks could not match the performance of the SpeedBrake system, so we asked Banks about it. He told us he holds the patent that allows such a system to control all three systems simultaneously and that nobody else could do it his way without licensing his patent. Did we mention how smart this guy is?
Letting the Heat Out


We covered the intake side of things; now it's time to delve into the exhaust. Keeping with the idea that a diesel engine is simply a large air pump, it is easy to understand why additional intake volume requires a less restrictive exit route. Without such an escape, excessive backpressure can result. Today, exhaust systems are considered emissions control devices by the federal government. This means that any sort of upgrade or revision should have a California Air Resources Board E.O. number to ensure 50-state emissions legality. Banks goes to great lengths to adhere to this policy.
Testing


With all the modifications complete, we began our testing with a trek from Southern California to the San Francisco Bay area pulling a 40-foot Stellar toy hauler loaded with camping supplies, tools, and a Kawasaki Teryx side-by-side. With a trailer weight in excess of 20,000 pounds (a massive load by any measure,) we trudged onward, confident in our Banks Big Hoss Bundle-equipped donor truck's ability to pull the infamous Cuesta Pass grade on Highway 101, just north of San Luis Obispo. Ambient air temperature was right around 85 degrees. We started at the bottom of the hill in Drive with the "tow/haul" mode engaged. The Banks Six-Gun was left in "Tow" mode. About halfway up the hill, we noticed the EGTs were hovering right around 1,100 degrees, indicating that the Banks software was doing its job to maintain acceptable heat levels. Engine oil and coolant temps climbed, which was to be expected and "normal" in light of the truck's loaded condition. Overall speed, acceleration, and power were more than adequate given the weight we were hauling, and greatly improved over a purely stock 6.0L. All things considered, we were very pleased with the performance of the Banks Big Hoss Bundle on our donor's F-350.

With the engine oil temperature at 247 degrees, the Banks iQ was alerting us to a high oil temperature condition. Notice the red "oil" indicator in the right-hand side of the screen (arrow). Evidently, this warning comes on at whatever temperature the end user decides to set it at, but seeing as our unit was brand-new, the factory default of 235 degrees was the established point. At the top of the grade we noticed that the engine oil temperature was 254 degrees-not at all outside of the acceptable range for the fully synthetic Amsoil we installed in last month's issue, but we wanted to double-check it for ourselves. We pulled over at the top of the hill and inspected several places under the hood with our hand-held laser thermometer tool. We found the engine oil temperature was much cooler (198.4 degrees) coming out of the Bulletproof Diesel air-to-oil cooler. We questioned a rep at the Banks tech hotline about where the iQ gets its reading. They politely informed us that the signal comes from the factory engine-oil temp sensor located near the high-pressure oil pump in the valley of the engine. We suspect that the location is probably affected by heat from the combustion chambers and is not a reliable source to judge by.
Conclusion


As we went to press, our donor truck had racked up nearly 6,000 miles of hard towing without any problems. We've demonstrated that the 6.0L Power Stroke can be made to run much stronger and without any of the reliability issues that plagued these vehicles from the factory. The peak power generated at the rear wheels by our donor's truck after the project was completed was 380 hp and 690 lb-ft of torque-not to mention a very welcome increase of 2.3 mpg in highway fuel economy.
Download a PDF of this article for even more info and photos!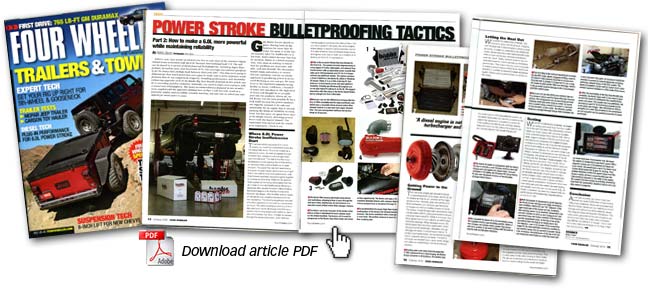 ---
Find out more about the 6.0L Big Hoss Bundle—and watch the videos!
Be sure to check out the Four Wheeler website »