Size Matters 2 Behind The Scenes
Check out the behind the scenes footage of Mike Ryan's Banks Super-Turbo Freightliner during the filming of  "Size Matters 2."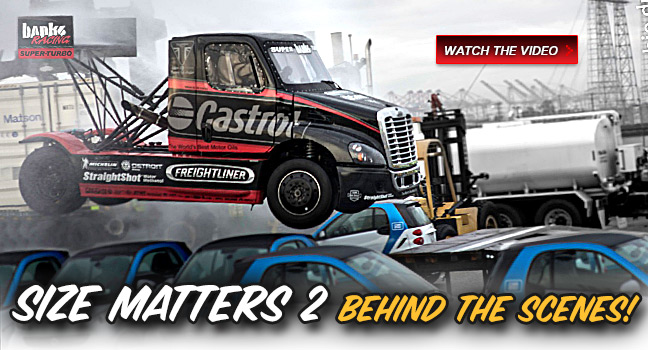 What do you do with a super-turbo Freightliner when you're not racing it up Pikes Peak? Well if you're Hollywood stunt driver and racer Mike Ryan, you do what any insane person would do between races: Rent the port of Long Beach, CA, and jump the big rig off a ramp over a bunch of cars.
Did that sink in yet? Big rig. Ramp. Jump. Sounds like a typical day in crazy town, right?
If you're familiar with Mike Ryan you know he's not one to take the easy road, or the safe road for that matter. The guy has set numerous speed records at the Pikes Peak International Hill Climb, and his stunt work can be seen in movies like "The Fast and the Furious" series (if you see a TV commercial or a film that has a big rig doing something gnarly you can bet it's Mike behind the wheel). The web video "Size Matters" shows that Mike is no stranger to drifting—usually a sport dominated by import tuners, not a truck that weighs five tons. That video has gone viral, and now it's time for "Size Matters 2." Set to debut on March 21, 2014 (just in time for the Mid-America Truck Show), this second video promises to wow you with stunts you've never seen before. Until then, take a look behind the scenes at a day of filming part two, and then tell us, how much would they have to pay you to be the guy holding onto the back of the truck?
Be sure to check back here next Friday when we'll be posting the official "Size Matters 2" video!
---
UPDATE: Here's the official "Size Matters 2" video…