Mickey Thompson Panel Discussion – Senator Visit – Bosch Ride-n-Drive
Danny Thompson, Alex Xydias, and Tom Jobe were among the guests paying tribute to Mickey Thompson. Plus get the latest info on Senator Huff's visit to Banks and the Bosch Ride-n-Drive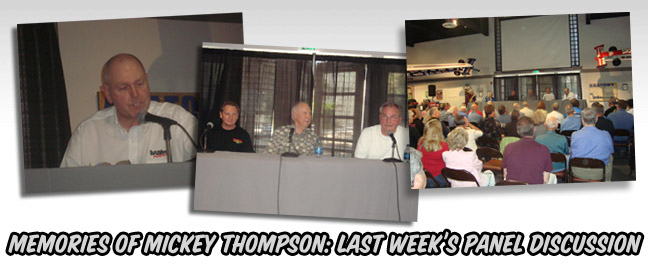 The Wally Parks NHRA Motorsports Museum hosted a Mickey Thompson discussion panel to a pretty packed house of gear head enthusiasts last Saturday, May 15th. On the panel were some of the folks who knew Mickey best: his son Danny Thompson, his first wife Judy Thompson Creach, friend and partner Alex Xydias, former employee Tom Jobe and friend (and neighbor) Gale Banks. Each family, friend and co-worker had their own stories to share of the beloved racer, some close and personal… others that were amusing and helped to paint Mickey as the larger than life personality that made him famous. The audience was also peppered with notable land-speed racers and racing industry legends. All in all the evening was a fitting personal tribute to the man that inspired and thrilled generations of fans.
For more details on the event click here »
Just a reminder: NHRA Museum is hosting an exhibit on Mickey Thompson that runs till October 2010. The first of its kind exhibit contains memorabilia and vehicles not see in decades, let alone together in one collection. We encourage you folks to make the pilgrimage to see this exhibit while it lasts.
For more details on the exhibit check out the following links:
New Exhibit – Mickey Thompson: First American to 400 mph presented by Gale Banks Engineering
The Fastest Man on Earth – New Exhibit Opening Brings Back Memories of Motorsports Legend Mickey Thompson
---
Senator Bob Huff's visit last week
Gale Banks' guided tour for California Senator Bob Huff of the Gale Banks Engineering campus was quite a success. A number of news outlets reported on the meeting which actually went beyond the Banks facilities and pressed the issues of California's economy, its education system and the need for mechanical training, environmental conditions and AB-32. Here's a few links that might interest you:

Here's some candid shots taken by one of the photographers that were on hand.

A very good blog from Off-Road Magazine's website.

Whittier Daily News reported on the meeting.
---
AFVi and the great Bosch Ride-N-Drive 2010
I attended the 2010 AFVi Conference and Expo at Bosch's request (I know… weird hunh?) and wrote a blog about it. Take a Gander at it »
---
So where's that video you promised, and the goods on the marine engine?
I know… I'm behind. Keep coming back because they'll be up soon.