California Senator Huff tours Gale Banks Engineering
Senator Bob Huff visited Gale Banks Engineering and talked about everything from diesels to hydrogen, and from reducing emissions to the challenges of running a business in California.
By John Espino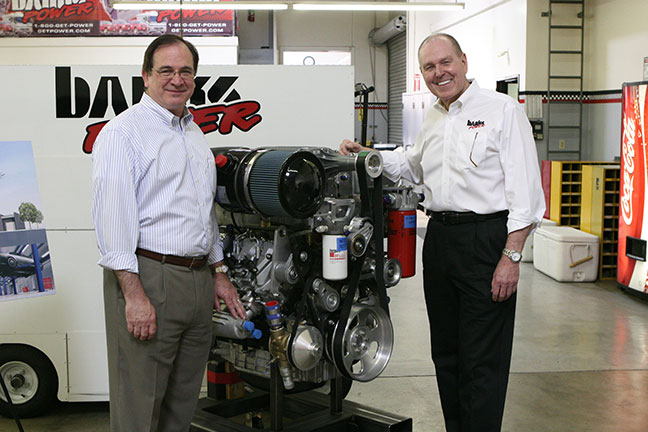 Senator Huff and Gale by Banks Super-Sequential Twin turbo Marine Prototype
California State Senator Bob Huff visited Gale Banks Engineering Thursday, May 13th, and had the opportunity to see first-hand what makes Banks the kind of company that definitely doesn't fit into just one category alone. The visit attracted a group of reporters that followed the two as Gale explained the various aspects of the company and answered questions from Senator Huff about each area. Any and all questions from the media were welcomed and answered by both during this visit.
The tour of the Banks campus began in the Manufacturing Department where Banks produces its famous exhaust systems for trucks, SUVs and motorhomes. Also on tap in the same department was a demonstration of Banks' various CNC machining capabilities. The tour continued across the street to the Engineering facility that houses the Mechanical Engineering, Electrical Engineering, Test Group, CAD and Prototype, and Motorsports Groups. Gale explained how all of these different facets of the company work together to make Banks a complete entity, and one that is a true one-stop-shop for companies searching for alternatives to the norm.
Senator Huff also learned that Gale Banks Engineering, a business that started in Lynwood as a one man shop in 1958, is the umbrella company for the following: Banks Power, Banks Racing, Banks Marine and Banks Technologies. Banks Power is all about clean technology and represents the environmentally friendly power and economy product offerings of the company. Banks Racing, a new addition to the company, represents the edgy motorsports side of the business that has made Banks world famous for decades. Banks Marine is built off of 30-plus years of marine-powered excellence and is currently working on its powerful marinized Duramax diesel engine offerings. Banks Technologies represents the hardcore engineering aspect of the company, offering all of its services from product development to prototype and testing.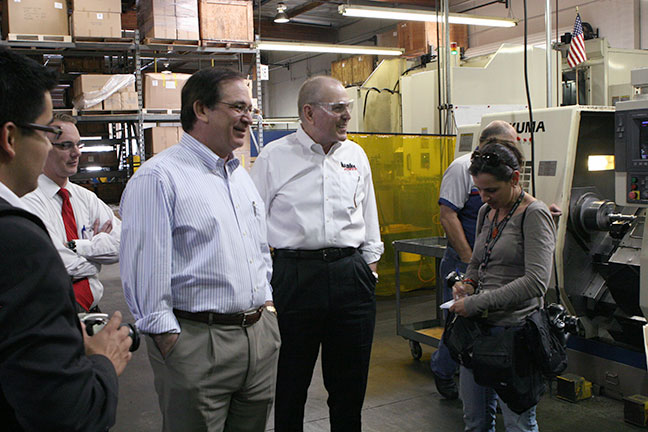 Banks and Huff answer questions in manufacturing
The tour of the various departments ended in what is called the Advanced Concepts Engineering (or A.C.E.) where a small press conference was held. Senator Huff 's opening comment was that he was excited to meet Gale, and had first heard of him when reading an issue of Popular Mechanics many years ago. Being able to see the campus first hand and armed with the knowledge of what we do, he commented to the press in attendance how impressed he is with today's diesel engine technology, and how it has cleaned up its past image and come of age. He stated that diesel is no longer slow and cumbersome. He also made sure to note that Gale Banks has been on the forefront of diesel technology both mechanically and electronically, coaxing every bit of efficiency and energy out of the fuel.
On the subject of engine technology, Gale commented that we may be decades away from making hydrogen powered vehicles a mass produced reality. Simply put, the supportive infrastructure is not present, and the cost to put it in the mainstream is staggering. Hydrogen is not the answer to our current needs, but diesel is. Diesel is a "bridge" technology that can supply the need for a cleaner and more efficient fuel source today. Europe and other countries have adopted diesel as a main source for automotive power contributing to almost 70% of the total vehicles on the road there.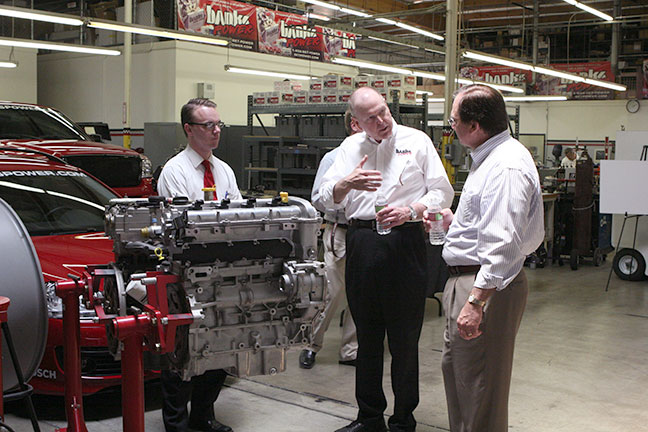 Banks and Huff discuss today's engine technology, gas and diesel
The need for a change in the current thought process of how to handle emissions on America's aging on-highway fleet was presented to both the Senator and Gale. Gale responded to the press by explaining his work on bringing today's turbo technology, coupled with precision computer controls, to the older diesel fleets to improve power and fuel economy at half the cost of today's diesel particulate filter retrofit. The DPF works very well reducing soot and emissions on older fleet vehicles, but it also reduces the fuel economy and power on those vehicles in the process. Banks' electronically controlled turbo option will enhance fuel economy and performance while reducing emissions and fleet costs at the same time. The solution would be a true game-changer in the scheme of things, and offers an immediate option to a costly upgrade.
A video of the press conference was taped and will be posted soon. Till then… have a powerful week.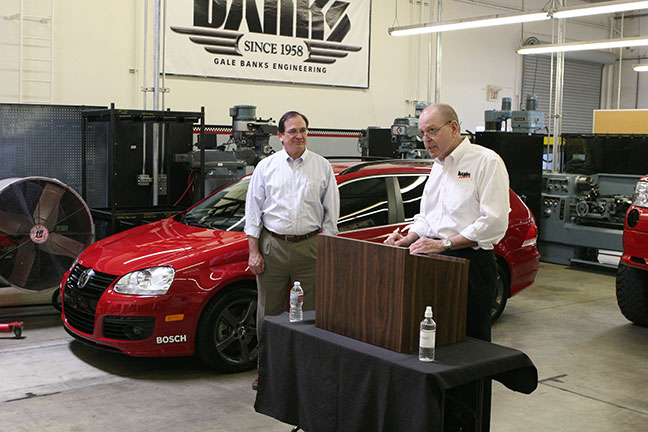 Gale explains how today's technology can clean up our aging fleets.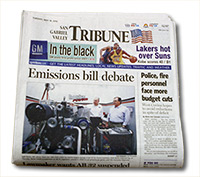 Update: Read about the Senator's visit
in the San Gabriel Valley Tribune
(click for 400k PDF)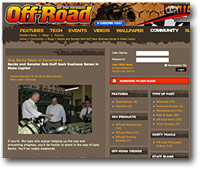 Update: Read more about AB-32
on the Off-Road magazine website!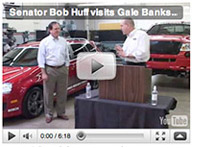 Update: Watch the videos
from the Senator's visit!