Gale Banks Visits Naval Training Center
Gale Banks was asked to address Navy and Air Force students at Naval Construction Training Center, Ventura, Calif.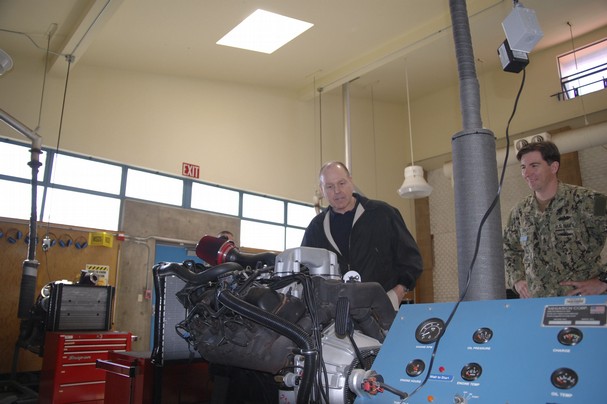 Gale Banks discusses the diesel engine trainer with CMC (SCW/EXW) Chris Allbright. "I am truly impressed," Banks said after touring the diesel lab portion of the Naval Construction Training Center's "A" School.

---
By BUC (SCW) Daniel J. Lynch, NCTC
The students at the Naval Construction Training Center's (NCTC) Construction Mechanic "A" School were treated to a visit and presentation from a pioneer in the field of mechanics: Gale Banks, president of Banks Power, based in Azusa.
Banks built his first engine at age 14, beginning with an engine tear-down of his mother's 1931 Ford Model A. The changes he made resulted in an increase of more than 40 horsepower. Just two years later, in 1958, Banks was officially in the engine business.
Banks Power is known far and wide as the premier designer and manufacturer of power-enhancing products for diesel- and gas-powered light trucks, motor homes and sport-utility vehicles.
Since the 1960s, Banks's futuristic high-performance engines have broken new ground while shattering world records. His marine engines propelled racing boats to national and world championships, and his marine engines were chosen by the military. After decades of racing, Banks Power is still the only company to have set records at Bonneville in both automobile and truck classes.
Working with the U.S. Navy, Banks took time away from his vigorous schedule to see what training is provided at NCTC Port Hueneme for aspiring construction mechanics (CMs).
"I am truly impressed," Banks said after touring the Construction Mechanic laboratories.
CMC (SCW/EXW) Chris Allbright provided a tour through the "diesel lab" portion of the "A" School, where Air Force and Navy students are introduced to diesel engines.
"It was great to meet someone who is developing cutting-edge technology in the field of mechanics," stated Allbright. "I believe the students have a better sense of purpose after the Banks Power presentation. Specifically, they were exposed to a self-made man who followed his passion and revolutionized the world of mechanics." Banks holds current world records in world's fastest pickup truck (222 mph) and world's quickest and fastest diesel drag truck (7.72 seconds in the quarter mile traveling at 179 miles per hour).
---
Thanks to The Lighthouse, the official newspaper website of the Ventura County Naval Community, for the story.