Adam Carolla's Ace on the House Podcast Featuring Gale Banks
Gale Banks was once again invited to spend an afternoon with funnyman/handyman/gearhead Adam Carolla.

Gale recently was a guest on Adam Carolla's popular home improvement podcast "Ace On The House." Before becoming a comedian, Adam Carolla was a hammer-swinging, ditch-digging carpenter. He is joined by childhood friend and general contractor, Ray Oldhafer as co-host taking calls and answering email questions with an informative, hilarious twist.
As many know, Gale is in process of building a new home in Yosemite. He has basically been the home's general contractor, included in all operations from doing the CAD drawings to specifying and sourcing all building materials. The house is designed in the shape of a V8 engine … you wouldn't expect anything less from Gale. However, for those familiar with Adam's automotive passion, the show's conversation did drift a bit towards what Banks does best … turbocharging cars and trucks, setting speed records and helping those with diesel trucks develop more power and increase their fuel economy. Be sure to catch the upcoming "Ace On The House" podcast featuring Gale Banks this Saturday at…….www.aceonthehouse.com

Left to right: Adam Carolla, Gale Banks and Ray Oldhafer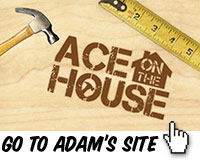 The podcast will be available
on Saturday, June 9th. Get it
on Adam's site or on iTunes.
(It's episode #31 on his iTunes page)