What went down at SEMA this year? As usual, it was a crazy mix of hot rods and exotics, flashy paint jobs and pricey wheels, old friends and new contacts… check it out…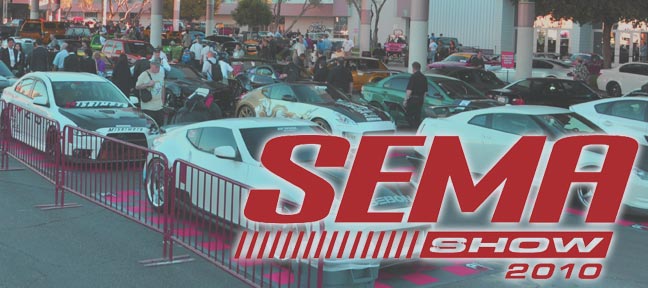 By John Stewart
The 2010 SEMA show in Las Vegas, Nevada, is now gone but definitely not forgotten.  Gale Banks was one of the original SEMA members and has attended dozens of shows over the years, so it's part of our corporate DNA to take part. This year our group returned to the Banks Engineering headquarters with stacks of product literature, a briefcase full of business cards, heads full of new possibilities…and sore feet. There are miles of isles, booth after booth and display after display. Practically every single booth had at least one thing in it that any gearhead could appreciate, and many were devoted to diesel performance.
Thousands of enthusiast parts manufacturers, buyers, jobbers, and wholesalers take part, along with media from all over the world.  SEMA spokespeople tell us there were roughly 2000 customized cars, trucks and motorcycles in total, and we were pleased to see that quite a few had Banks Power equipment on them. Attendance was strong, perhaps up a tick from last year. It's impossible to know exactly, but there had to be thousands of products introduced for the first time.
For us, the opportunity was to see old friends, make some new connections, and browse the latest offerings in performance parts. We were particularly interested in performance parts–pistons, turbos, superchargers, transmission parts, and other newly-designed pieces that might fit in with our product plans and racing goals. More than one manufacturer brought out prototypes from under the counter to get Gale's reaction and assess his interest in working together on a special project.
Many Banks Power dealers and customers were on hand and stopped for a quick visit with Gale.  Some had already been to the Banks Engineering headquarters in Azusa, California, and some were people we hope will come to visit us one day to get the full tour.
Taken as a whole, SEMA 2010 continued to offer both the ridiculous and the sublime, the exhilarating and the exhausting, and we'll wager, stand as one of the most original marketplaces the universe has ever known.   For those who were unable to attend, we offer a taste of what you might have seen if you were there.
| | |
| --- | --- |
| This 2009 F-150 4×4 was designed as a Baja chase truck and displayed by Hellwig, the load-control/anti-sway manufacturer.  Banks Power parts on this one include our Monster Exhaust. | Here's another Hellwig creation, an expedition-style Wrangler Unlimited (L J) with Banks Powerpack.  It's also got Mickey Thompson tires, Bushwhacker flairs, and Body Armor off-road equipment, along with Hellwig anti-sway bars. |
| Outdoors, the "overflow" feature vehicle area held hundreds of cars and trucks of all kinds. The street at the convention center was blocked off and filled with cars packed cheek-to-jowl for half a mile. No lens is wide enough to show the extent of it, but this shows a few. . | The paint jobs alone were something to marvel at.  Here we see an original take on the traditional flame design.  Wheels are by BMF, a new wheel company with original black-on-polished-aluminum designs. |
| Another original flamed paint job.  Note the bi-color wheels. | Paint schemes seem to be trending toward computer-splatter designs, which work nicely here to unify the two-box elements of this 4×4 pickup. |
| This 2010 Ford was built for 4-Wheel & Off-Road as part of their Craftsman Truck sweepstakes competition.  Banks Power supplied the exhaust parts, and parts for trucks that will be appearing in Diesel Power and Hot Rod as well.  Look for the stories in spring issues of the magazines, and coverage on the web sites. | Another "mud splatter" design, this time combined with a very subtle receding dot-pattern background. |
| Gale talks pistons with a Mahle engineer.  This one is designed to be very light and very durable. Could be useful. | We guess it had to happen…we just don't know why.  As unlikely as it may sound, this Prius has been lightened by the addition of carbon-fiber body parts, lowered, and fitted with 40-series tires on 17×7-inch wheels. It also sports a cat-back exhaust and a custom vinyl decal package.  Just goes to show that at SEMA, anything can turn up. |
| Gale enjoys a light moment with another forced-induction visionary from way back, Jim Middlebrook of Paxton/Vortec engineering. | The turbo impeller on the left is standard; the grey prototype on the right weighs about one-third less. Riding on ball bearings, it's alleged to spin up with the slightest breath of air. |
| Here we have a VW TDI-powered YJ.  Under the hood is a 1.9L PD turbo diesel that makes 190 hp and 289 lb-ft, and gets 40 to 47 mpg.  Not a bad idea, if you ask us. | More flames, this time green on green.  These caught our eye because they were really fluid and subtle, with a deep, deep clear coat. |
| Gale was delighted to run into pal Jim McFarland, an accomplished parts designer and quite possibly the all-time best Tech Editor Hot Rod magazine ever had. | The Car Crazy "green room" was THE place to see automotive celebrities.  Here we have Mario Andretti in the middle, making a point with host Barry Meguiar.  Anyone who can name the two others in the photo gets a gold star. Hint-they're also race car drivers. |
| Behind the scenes on the Car Crazy studio.  The show was broadcast to more than 100,000 SEMA attendees on screens throughout the show and into more than 70,000 hotel rooms. | This low-rider style, gull-wing pickup is there to remind us that it takes all kinds to make a great car show. |
| Rampage Jackson turned up in the Kelderman booth.  He's got Banks parts on his 6.4 Ford that was in Diesel Power magazine, so he and Gale are buds. See it here » | Here's one way to get more performance out of a Jeep 4.0L six.  Not as good as the performance solution we're about to launch, in our opinion, but stroking to 4.6L as shown here is definitely one option. |