Banks iQ – More Powerful and More Options
The Banks iQ is newly redesigned, with increased computing power and more internal memory.
By John Espino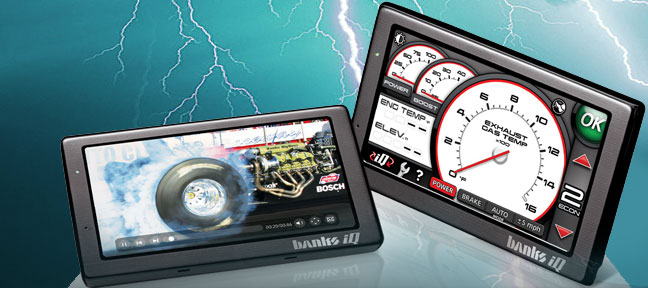 A lot of you already know about the Banks iQ, our 5″ touch-screen dashboard PC interface, but for those that don't… now's an exciting time to learn. The iQ is newly redesigned, with increased computing power and more internal memory.
The overall look of the newer unit remains very close to the first-gen model, but we added the audio outlet jack into the unit to make things more convenient for hooking up a set of headphones, auxiliary speakers, or your car stereo. Aside from basic function and some cosmetic differences, we've also made it more powerful by upgrading the CPU to a faster, dual-core processor, which helps it take on heavier workloads with ease. Switching between applications and Environments is now even quicker, and with the enhanced hardware video post processor graphics are now even smoother. We've bumped up the memory used for thinking, as well as the overall storage of the system. This extra brain power helps to boost processing speed and adds even more room for your favorite media, in addition to what you store on a standard SD card.
Besides having more firepower and a bigger payload capability, the new iQ has additional "Environments." The Banks iQ's Environments are your gateways to automotive control with information, power, safety, productivity tools and entertainment applications. Think of them as folders–rather than having every option jumbled together, we created a graphical user interface to these individual areas. Each separate entry point leads you to the environment you want through quick and easy navigation. So here's what's new:
---
Fuel Economy: Ever wonder how much it cost you to go to work today? Going from your house to work… just that one trip? Or how much did that different route actually save you when you took it Wednesday? What did you spend on fuel last week, last month…or every month of the year for that matter? With the Banks iQ's new Economy environment you can get those answers instantly, or keep track of multiple trips with the built-in logbook function. When connected, the iQ automatically keeps track of all the major stats needed to accurately determine your fuel usage in English or Metric units. Users will know what their trip average is, what they are getting right now, and how much fuel is left in the tank–all on the same screen. You'll be able to see how your driving habits affect your wallet and get smart, definitive answers.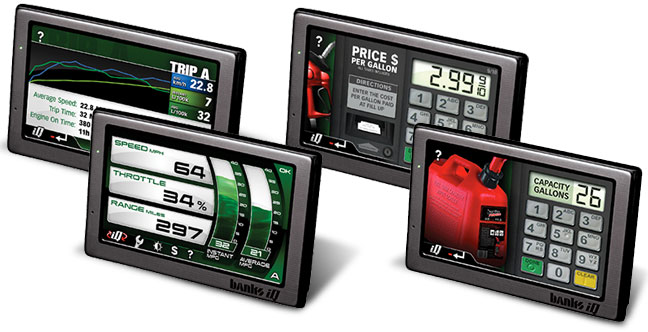 ---
Navigation: The BanksNAV program utilizes the iQ's built-in GPS capabilities to give turn-by-turn directions that will get users to a destination every time. By using both visual and verbal directions, 7 million points of interest (with phone numbers!) in both the US and Canada you will never be lost. With BanksNAV, you won't need another device. (BanksNAV SD card sold separately)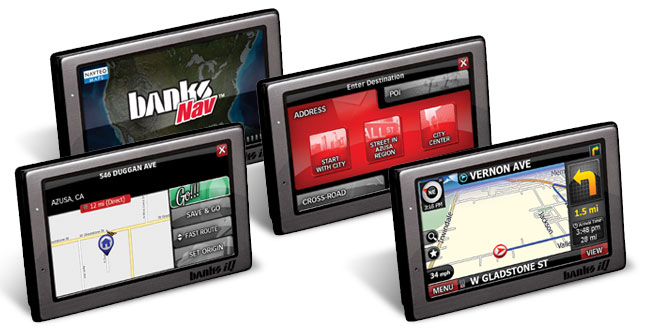 ---
Compass: Going far beyond the little compass in the corner of some rear-view mirrors, the iQ uses its advanced built-in GPS technology to gather a huge amount of information. Through appealing and easy-to-read-at-a-glance graphics, the iQ will not only tell you the direction you're going, but the speed, the grade percentage, the heading, latitude, longitude, elevation… and more. Just choose what you want to see and off you go.
GPS status: the new GPS status screen shows you how many satellites the iQ is picking up and the intensity of their signals. This screen gives the current latitude and longitude coordinates as well. There's more, of course, so we invite you to visit www.bankspower/banksiq.com.

---
These new Environments are additions to the current features now in every iQ. For current owners, we will shortly provide the new Environments and features with the next software update, so the existing iQ will become more functional as well.