It's rodeo season, and Banks Power is supporting three top riders in their quest for the championship.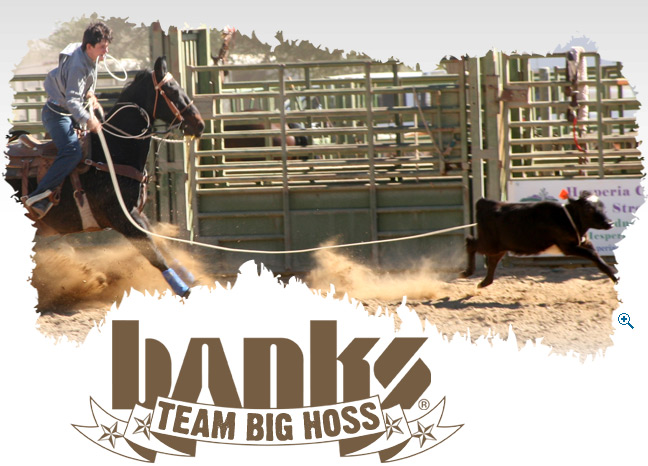 When brothers Dakota and Bodie Kruse and their team partner Chase Bowen started prepping for this year's rodeo season–high school and professionally–they realized their 2003 Dodge Ram Dually with the 5.9-liter Cummins diesel could use some help hauling a loaded horse trailer. Specifically, it needed more power and better gas mileage.
Gale Banks is close friends with Bowen's aunt Kathleen and grandmother Lorna. When the two women told him of the rodeo team's accomplishments, he offered to sponsor them with a Banks Power Big Hoss® Bundle and Banks Brake®.
Click images for larger views
"I rode when I was in school and for the last 30 years I've had horses at home," Banks said. "All of my children rode. Our daughter, Elizabeth, was captain of her equestrian team while studying at the University of San Diego and now my grandchildren are riding.

"When Kathleen and Lorna told me about the opportunity with Dakota, Bodie and Chase, I met the boys and wanted to help," Banks continued. "They are all doing very well in rodeo, which is the oldest and most unique among U.S. sports. Our Big Hoss brand ties in nicely to the equine community.

"I'm impressed with the sport of rodeo–not just because it's dangerous to do–but moreover it's the whole cowboy code of ethics. Their character and moral code really defines what it is to be an American. That code continues today in these young cowboys and also is alive and well in all branches of the United States Military."

The Banks Big Hoss Bundle includes Ram-Air® cold-air intake, Techni-Cooler® Intercooler System with Monster-Ram™, Monster® exhaust system and Six-Gun® Tuner with Banks iQ® Man-Machine Interface. These components added a whopping 126 hp and 290 lb-ft of torque at the rear wheels. The systems were installed last October and the young men say they've seen a big difference when traveling from their hometown of Bishop, Calif. to rodeo events around the state.

"Between the increased power going up the grades and the exhaust brake, the system is great," said Bodie Kruse. "Not to mention the fuel economy. It is the best thing anyone can do for their truck.

"When towing a full load, about 12,000 pounds, the truck is seeing about 17.5 mpg—a significant improvement over the days when the truck was lucky to get 11 mpg while towing the trailer to competitions."

"The drastic increase in the fuel mileage amazed me," said Dakota Kruse. "I have never heard of another aftermarket performance system achieving what the Banks system does."

Dakota, now 21, started riding in 2007. He rode bulls and bareback horses during his junior year in high school and now rides only bulls. He is a third-generation bull rider and is in his fourth year competing in rodeos.

Dakota has worked for two different ranches, operating heavy equipment and participating in ranch management. He has been hired by Westech Industries in the communications field where he will be plowing fiber. This year he is competing in the California Cowboys Professional Rodeo Association (CCPRA), Rocky Mountain Professional Cowboys Association (RMPRA) and will soon start his first year in the Professional Rodeo Cowboy Association (PRCA) and competing in as many rodeos as possible. He wouldn't be true to his sport if he hadn't set his sights on the competing at the National Finals Rodeo in Las Vegas, which he has.

Eighteen-year-old Bodie Kruse is a senior at Julian Charter School in Julian, California. Upon graduation he plans to attend Eastern New Mexico University on a rodeo scholarship and major in agricultural business or animal science.

Bodie turned to his uncle to learn how to rope and became immediately hooked. After his freshman year of team roping, he picked up tie down roping just to learn another event. He started competing in 2008 with team roping and calf roping. Like Chase, Bodie plans to compete in the National High School Rodeo Finals in Rock Springs, Wyoming.

Chase Bowen, 17, is poised to finish his junior year at Bishop Union High School with a 4.0 grade point average. He's been a member of the California High School Rodeo Assn. for almost four years where he finished in the top ten at the National High School Finals last summer. Chase plans to major in agricultural business and compete on the rodeo team when he gets to college.

Chase started riding horses in the fourth grade and was introduced to rodeo by a family friend. He tried riding saddle bronc horses before settling on riding bareback. Cinch Jeans and Shirts, a Denver, Colorado clothing manufacturer whose apparel is popular among those in the rodeo ranks, named Chase to the Cinch Elite Team, a prestigious honor that is given to just 23 youths nationwide.

Between the three of them, the Banks Team Big Hoss members have eleven competitions under their belts so far this year and are looking ahead to the California State High School Finals Rodeo in Bishop in June and the National High School Finals Rodeo in Wyoming to be held in July.

Bowen and the Kruses might have the occasional rough day on the rodeo trail, but they won't have to worry about the Banks Team Big Hoss rig getting them to each event — on time and without breaking a sweat.

Look for Team Big Hoss at the California High School Rodeo State Finals in Bishop California June 11th through June 15th, awards ceremony June 16th. For information visit chsra.com


The Banks Big Hoss Rig in Bishop Calif. with the beautiful snow capped Sierra Nevadas in the background.


Chase at the Brawley, Calif. District Rodeo, Jan 2012. He competes at Bareback Mountain, where they have to set up for 8 seconds to qualify for a score—50% of which is based on the rider and 50% on the horse. He won the event.

From left, Dakota Kruse, Chase Bowen and Bodie Kruse…"Now that's some serious horsepower."

From left, Bodie Kruse, Chase Bowen, Dakota Kruse with Gale.

Chase Bowen shown accepting his award for winning the Bareback competition at the Mid State Classic in Paso Robles Calif., Nov. 2011 for the 2011/12 season. More than half of the districts in Calif compete at this event.

Dakota Bull Riding covered his 8-second ride at the CHSRA event in Bishop Calif.

Bodie competing in Tie Down Roping at the CHSRA event in Hesperia, Calif. Sept 2011. He placed first in a timed event in which the fastest time wins.

Here's Dakota (with the district queen) in 2009 when he won 2nd place his senior year in Bareback.