Autoblog features Dallenbach-Banks Pikes Peak team
Autoblog, the world's number one ranked website in the automotive industry, posted a story on our 1400 horsepower mountain climber. Check out the video!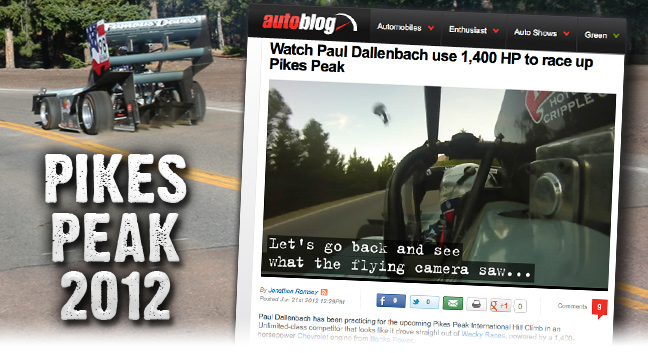 Dallenbach Racing and Banks Power have once again teamed up to compete in this year's Pikes Peak International Hill Climb. As some of you may remember, Paul Dallenbach had the fastest times in his Unlimited class during testing last year, but as fate would have it, the car's right half shaft was not up to the task and broke at the launch of the race.
This year the team has massively upgraded the half shafts and the car is running a more aggressive, higher calibration with no issues. Banks has upped the power in the 422 cu.in. small block Chevy V8 from 1307hp and 1206 lb-ft to 1400 hp and 1301 lb-ft, and with that increase comes the challenge of keeping the tires from breaking loose. Even with a reworked aero package for the now entirely paved course, they're still seeing tire slip in 5th gear at 144 mph (which is reportedly 20 mph faster than their previous best and is a new record for the team).
Click over to autoblog.com for a short video from Dallenbach's test run on the lower half of the mountain (worth watching for the flying GoPro footage, plus, old-school gamers should get a grin out of the Pole Position references).
---
Keep up to date on the Dallenbach-Banks team here »