Business Leaders Explore New Frontiers at Forum
Gale attends a conference on the future business growth in the state of California.
By Erick Galindo, Staff Writer, San Gabriel Valley Tribune
PASADENA – The future business growth in the state of California will rely on technology, though economic and political gridlock will be an obstacle.
That was the general consensus Tuesday Tuesday during the annual Technolink Association President's Club Forum at The Athenaeum Club at Caltech.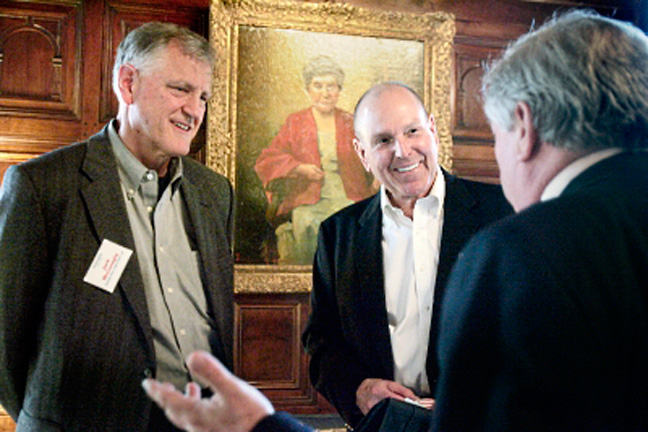 From left, patent attorney John McConaghy, Gale Banks, president of Gale Banks Engineering in Azusa, and investment banker William Battison, managing partner of Angeles Capital Group, LLC socialize Tuesday, March 22, 2011 during the Technolink President's Club Forum at The Anthenaeum Club at Caltech in Pasadena as they stand before a portrait of philanthropist Janet Jacks Balch. (SGVN/Staff Photo by Sarah Reingewirtz)
"We are approaching a turning point in our country and economy that presents great opportunities to all. New frontiers in technology and innovation are present and will produce more growth for our nation and allow us to maintain a leadership position among nations," noted Billy A. Robbins, president and co-founder of Technolink.
The event's theme was "Exploring New Frontiers," and featured guest speakers and a CEO roundtable discussion with Industry leaders from aerospace, defense, energy, and public safety.
"Throughout the years we have come together … to address the ever-changing societal shifts that our nation has and is enduring," said Ssusan Forte O'Neill, Technolink director and co-founder.
O'Neil pointed to the civil unrest in the Middle East and the lingering effects of global economic downturn as the latest challenge facing the nation.
"Yet, throughout these touch-points of history, we as Americans have persevered through challenges with our ingenuity, innovation and courage to continue to march forward to spawn economic growth for today and tomorrow," she added.
The event also served as a networking opportunity for local and regional business leaders. Among them, Gale Banks, president of Gale Banks Engineering in Azusa, Los Angeles patent attorney John McConaghy, of Connolly Bove Lodge & Hutz LLP and investment banker William Battison, managing partner of L.A.-based Angeles Capital Group.
Invited speakers included Mike Niggli, COO of San Diego Gas & Electric Sempra Energy Utilities, who noted the emergence of natural gas as a clean and safer alternative energy in the wake of nuclear melt downs at earthquake stricken power plants in Japan.
Jeffrey Reed, director of emerging technologies at San Diego Gas & Electric Co., reiterated the sentiment.
"Natural gas is not precisely renewable, but it is very clean," he said. "It is the cleanliest fossil fuel. It is also very economical. It is environmentally friendly, versatile and safe."
Muffy Lewis, chief of staff for Rep. John Campbell, R.-Newport Beach, was invited to give the group an update on the happenings at the nation's capital.
Lewis noted that the Congress was on a legislative break, but would have many questions regarding military escalation in Libya, where the U.S. and other countries have implemented a no-fly zone.
"We also need to look at how that's going to affect oil prices … that's definitely something we will address next week," she said. "Also Japan … we are watching it really closely to make sure it's stable. This could also get us into a nuclear power debate."
Lewis also expressed hope that Congress would pass a budget soon, which could alleviate some of the uncertainty that has plagued the financial markets.
See the story on the newspaper's website »