When someone talks about powerful engines—ones that are built to take a beating and still last forever—they're no doubt talking about diesels. Read about the "Challenge Coin" too!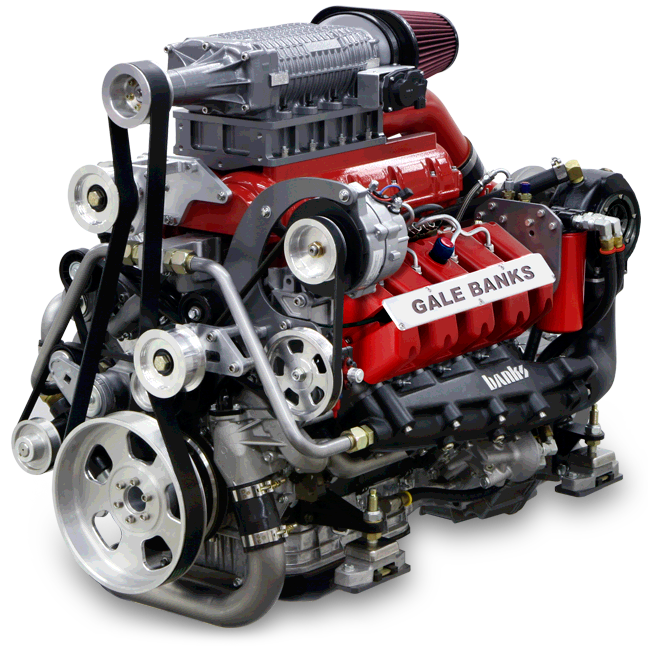 When someone talks about powerful engines—ones that are built to take a beating and still last forever—they're no doubt talking about diesels. The Duramax is by all accounts an undeniably awesome diesel engine. Straight from the factory these babies get the job done; they're rugged and reliable—and they're also a stellar platform to build upon. No one knows this better than Gale Banks Engineering, a company that has been using the Duramax as the power plant of choice for their racing projects for years. On land, Banks has set numerous world records using modified versions of the Duramax engine, but what is a little less known, and actually top secret in some respects, Gale has used the Duramax platform for many of his marine based engine builds.
Gale Banks Engineering and General Motors go way back to the 1960's, when Banks built the world's first twin-turbocharged GM marine engine (and subsequently won countless boating competitions using this Banks-modified GM engine). It was during this time that Banks became an OEM GM engine distributor. Well it has been a few decades and now Banks has added Duramax to the list of engines it distributes for GM. This agreement allows Banks to make these quality engines available to vehicle and boat builders worldwide, either in stock configuration or highly modified.
The Banks Super Turbo engine is the flagship of the marine division. Part of the exclusive line of Gale Banks Diesel Engines, the Banks Super Turbo engine is a Duramax that is supercharged and twin-turbocharged. Banks recently tested this configuration off the coast of San Diego, CA. On test day, dual Super Turbo engines positioned side by side (that equals a total of two superchargers and four turbochargers!) were fired up… and the sheer acceleration left everyone's expectations in their wake. For an engine to not only turn 700 horsepower and 1000 foot pounds of torque, but hold peak power at 4200 RPM for an extended period of time, under the load of the Pacific Ocean—now that's engine tuning at its finest.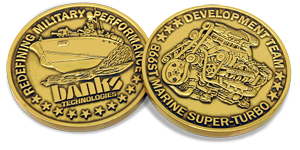 To commemorate the Super Turbo engine's goal-surpassing test, as well as honor all parties involved in the project, a Challenge Coin was minted. And what better way to celebrate Duramax's contribution to the Banks Super Turbo than to present the Challenge Coin to Mr. Maho Mitsuya, President and CEO of DMAX LTD (manufacturer of the Duramax engine). Mr. Mitsuya received this token of our appreciation and respect during his recent visit to the Banks facilities to check out some of the exciting engineering developments Banks Power is bringing to the Duramax platform.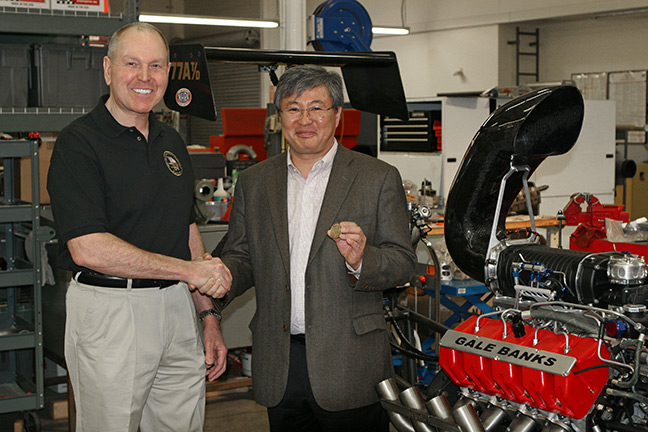 Thank you, Mr. Mitsuya. You keep cranking out those Duramax engines, and we'll keep wrenching on them.