What's going on at SEMA this year? Check here and find out all the latest info on the cool events and hot project vehicles!

There's always so much going on at SEMA that it's almost impossible to keep up with all the action—but we'll try.  Keep checking back to this page as we will be adding more and more stories from Las Vegas that you won't want to miss.  Here's the insider news thus far…
• Banks modifies Cummins turbodiesel for ICON project–part 1 « go to story »
• Banks modifies Cummins turbodiesel for ICON project–part 2 « go to story »
• Dwayne Peace's '55 Thunderbird « go to story »
• Chrysler's Lil' Red Express Truck « go to story »
• Gale on the Radio! « go to story »
---
Banks modifies Cummins turbodiesel for ICON project–part 1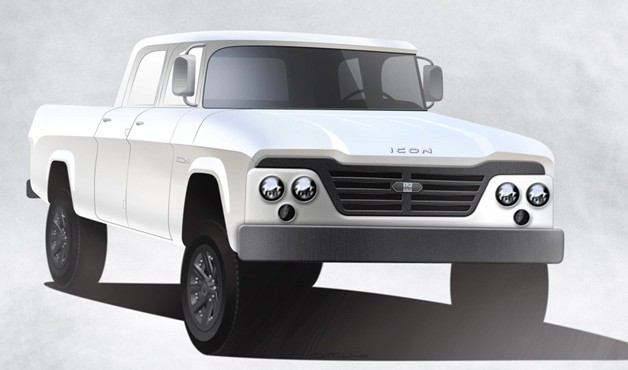 By Jeremy Korzeniewski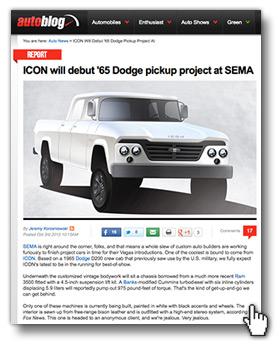 SEMA is right around the corner, folks, and that means a whole slew of custom auto builders are working furiously to finish project cars in time for their Vegas introductions. One of the coolest is bound to come from ICON. Based on a 1965 Dodge D200 crew cab that previously saw use by the U.S. military, we fully expect ICON's latest to be in the running for best-of-show.
Underneath the customized vintage bodywork will sit a chassis borrowed from a much more recent Ram 3500 fitted with a 4.5-inch suspension lift kit. A Banks-modified Cummins turbodiesel with six inline cylinders displacing 5.9 liters will reportedly pump out 975 pound-feet of torque. That's the kind of get-up-and-go we can get behind.
Only one of these machines is currently being built, painted in white with black accents and wheels. The interior is sewn up from free-range bison leather and is outfitted with a high-end stereo system, according to Fox News. This one is headed to an anonymous client, and we're jealous. Very jealous.
This story comes courtesy Autoblog.com. Be sure to check out their website!

"We couldn't be happier partnering with Gale Banks on a project offering us the rare chance to fuse the bolder design elements of the D200 into a modern-day custom filled with all the power and drivability enthusiasts have come to expect from each of our respective brands," comments ICON Lead Designer and CEO Jonathan Ward. "ICON and Banks Power have discussed potential collaborations for quite some time, so to work on the D200 for SEMA with them is simply awesome. We have a lot of respect for Gale's innovation and to consult with him and his company on a build like this is just a stellar opportunity." –Jonathan Ward, founder and lead designer, ICON 4×4 (photo courtesy brownsafe.com)

"I'm blown away with the 'Nostalgia Meets Excellence' character of ICON's vehicles. At 'Banks', we define future engine technology. We've always been about, 'What's next', in powertrain and electronics," comments Gale Banks Engineering CEO Gale Banks. "With ICON, we've found the perfect mix of their leading edge vehicle construction, Banks Power components and Gale Banks Engines. My thanks to Jonathan Ward for the opportunity. And, stay tuned, there's more to come from both of us!" –Gale Banks, president and CEO, Banks Power

Banks Power products included in this project: Ram-Air® Intake, Six-Gun® Diesel Tuner, Banks iQ® Man-Machine Interface with integrated backup camera, Monster-Ram™ Intake Manifold, Banks Monster® Diesel Dual Exhaust, and a Banks Brake® Exhaust Braking System, water injection, and a custom engineered air-water Techni-Cooler system. See what Banks Power products can do for YOUR vehicle here »

Banks modifies Cummins turbodiesel for ICON project–part 2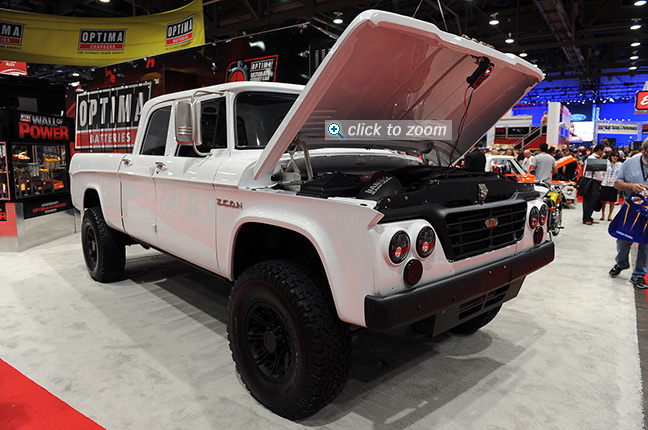 By Jeremy Korzeniewski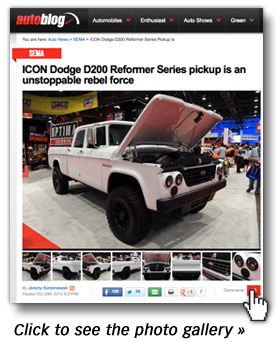 Icon 4×4 has once again made a big splash at SEMA, this time with its heavily customized 1965 Dodge D200 Crew Cab pickup built as part of its Reformer Series – old machinery with modern underpinnings. We love it.
Powered by a 5.9-liter Cummins turbo-diesel inline six-cylinder engine pumping out 975 pound-feet of torque to all four wheels, courtesy of some tweaking from Banks Performance, we have a feeling there's not much that can stand in this brute's way.
Having a crapton of ground clearance certainly doesn't hurt, either, thanks in no small part to a 4.5-inch Baja 1000 Chase lift kit, Fox 3.0 reservoir shocks and 37-inch BFGoodrich all-terrain tires. The interior wasn't left out, with seats covered in free-range American Indian Reservation sourced bison leather, plus a JL Audio subwoofer and amp, 165 KRC series mid-range speakers and tweeters to pump, pump the jams.
This story comes courtesy Autoblog.com. Be sure to check out their website!

Dwayne Peace's '55 Thunderbird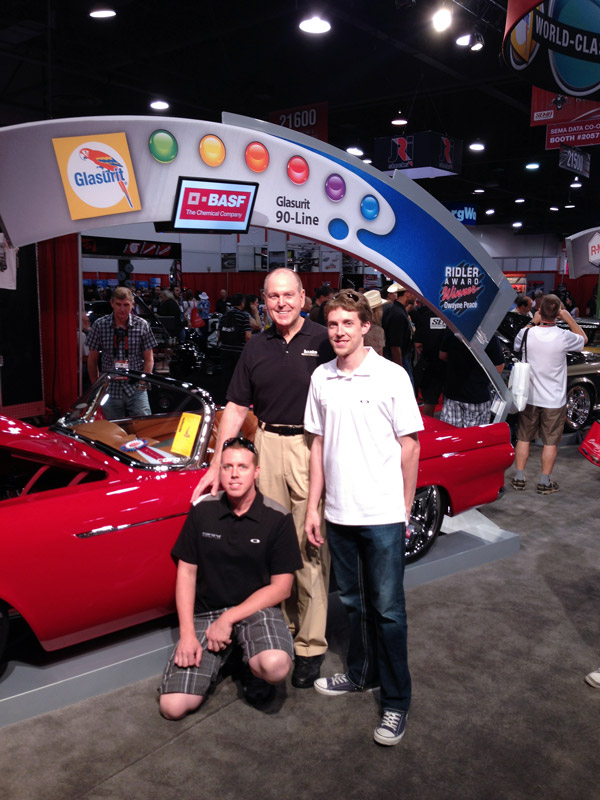 A Banks 1150 HP Twin-Turbo system was selected to grace the underhood of Dwayne Peace's award winning 1955 Ford Thunderbird, designed by his son Jonathan Peace, a student at Art Center in Pasadena CA. In addition to the many National Street Rod Association and Good Guys awards presented during this year's show circuit, their most notable include the coveted Ridler Award from the Detroit Autorama, the Legends Cup presented at the Chicago Autorama and most recently, Good Guys' Custom Rod of the Year. The vehicle is presented at the BASF booth.
Gale took a moment to get a photo with Matt and Jonathan Peace at SEMA. They built the '55 Ford Thunderbird powered by an 1,150-hp twin-turbocharged Gale Banks Engineering 6.0-liter V8 that keeps winning awards.
See more photos and get more specs on this fabulous Thunderbird in Autoweek and in Street Rodder Premium.

Chrysler's Lil' Red Express Truck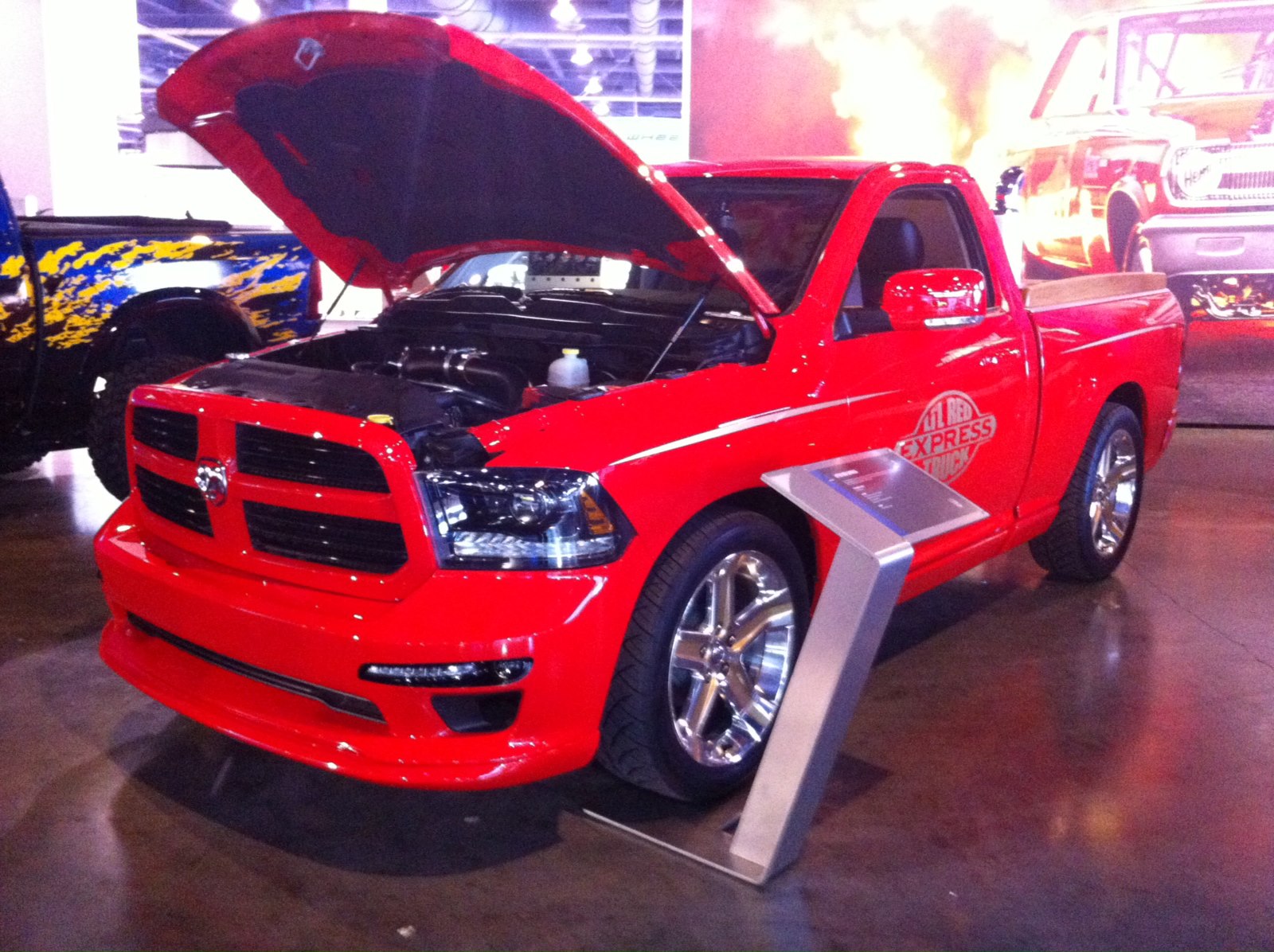 On display in Mopar's booth, their Lil' Red Express Truck is a 2013 5.7L Hemi Ram 1500 with a Banks Sidewinder® Turbo System. In addition to our turbo system, the build included the Banks Ram-Air® intake, Banks cast High-Ram® intake manifold with integrated blow-off valve, Techni-Cooler® Intercooler System and Monster® Exhaust dual outlet. This is the second year that Mopar has selected Gale Banks Engineering to design and manufacture 5.7L Hemi boosting solutions for their concept vehicles.

Gale on the Radio!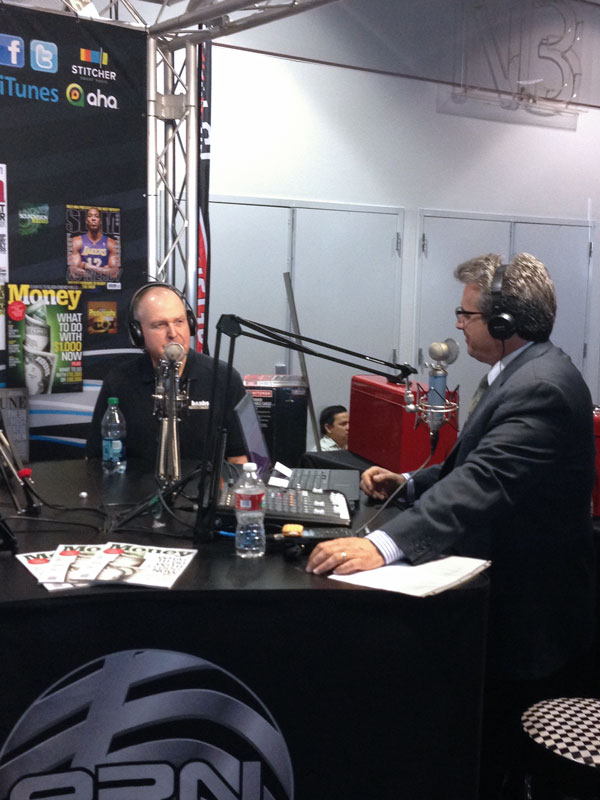 And not just that, Gale will be conducting Radio Interviews with many different shows over the next couple days.
Here's a rundown of his schedule for Wednesday:
3:00 pm – Hot Rod Magazine Live, Dennis Pittsenbarger
3:30 pm – Motor Trend Radio, Alan Taylor
3:45 pm – Car Craft Radio, Steve Strope
4:00 pm – Rod & Custom Radio, Brad Fanshaw
These will be taped for future broadcast. Their two stages are located at door N3, North Hall.