Hot Rod Radio from SEMA 2012
Gale Banks talks with HOT ROD MAGAZINE LIVE about special vehicle projects created for the SEMA show, plus what Banks Power has in store for 2013.
Gale Banks was a guest on Dennis Pittesebarger's Hot Rod Magazine Live during the 2012 SEMA show in Las Vegas.
Topics included background info on all of the vehicles at the show that have Banks Power products on them, Gale's work with the military, and the new 630T V6 diesel engine that Banks plans to stick in all sorts of vehicles in the coming year. Plus, you'll hear about the car that won the highest prize a show vehicle can win—and what part Banks played in that, and you'll hear about the ICON D200 truck that drew and incredible crowd at the show. And as if that wasn't enough, Gale told Dennis his plans to turbocharge Jeeps. Whew! It was quite a lot of info in the show, so give it a listen and you'll know all about where Banks Power has been and where it's heading!
The show is broadcast every Saturday through 36 affiliates that reach an audience of more than 350,000 listeners.

click here to hear!
---
About Hot Rod Magazine Live: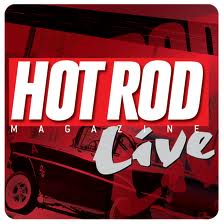 HOT ROD MAGAZINE LIVE is your source for full-throttle Hot Rod fun! Host, Dennis Pittsenbarger, brings the oldest and respected pages of the iconic Hot Rod magazine alive on the radio. The program honors the brotherhood and sisterhood of car enthusiasts who understand that firing-up their hot rod makes the hair on their arms stand up. Or how looking down the quarter panel of the glass-like finish on a perfectly restored '57 Chevy is a thrill only a true car enthusiast understands.
Admitted knucklehead and automobile aficionado to the bone, Dennis shares his car obsessions and current news with a hot-rod-loving audience nationwide. He explains the Zen of a perfectly timed ignition and the benefits of syncing the tri-power on your GTO. Frank discussions about bench racing and voting issues get addressed, as well as the latest from trade shows and raceways.
With a passion for motorsports and a need for speed, Dennis has been the host of Speed & Racing Television, broadcasted from the Pacific Northwest. Now he brings his years of experience in competitive motorsports and his first hand knowledge of anything on wheels to HOT ROD MAGAZINE LIVE.
Buckle-up and join in the animated discussion about the beauty in mechanical minutia. Forge a bond between those who have wrenched on cars and those who appreciate the ones who do. This is not a show about the fastest, coolest or most expensive car available, this is a show about the folks who showcase their talents and the connection they share with their automobiles.
Visit the Hot Rod Magazine Live website »