Twin-Turbo Revival: Part 1
Super Rod
September 2004
The History and Evolution of the Gale Banks Engineering Twin-Turbo Chevrolet V-8s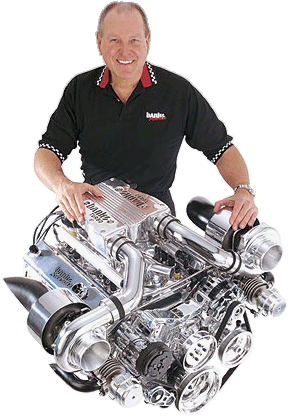 Shown is one of Banks' original blow-through-design twin-turbo small-block Chevrolet engines. These first-design "production" twin-turbos went into Banks' GT Firebirds and Camaros. The engines made 500, 600 or 700 hp, depending on the depth of the customer's pockets.

Unless you've been living in a cave for the past 30 years, you've probably heard of Gale Banks Engineering and Banks' escapades with stout-running, turbo-motored vehicles. Banks is probably the biggest proponent of turbocharger systems for diesel and gas engines anywhere. Well, the good news is that Banks is at it again and this time he and his engineers have spent the better part of three years upgrading their already deadly serious twin-turbocharger systems for Chevrolet applications. Banks engineers call it the "Revival" of the Banks twin-turbo small-block Chevrolets.
But first, a little history is in order. Two years after opening his racing-engine-building shop in 1967, Gale Banks built his first twin-turbo big-block Chevrolet engine for marine applications. Word spread quickly that Banks' twin-turbo big block made gobs of horsepower and lived a long time. Needless to say, they sold like hotcakes. In fact, his marine engines were so popular that by 1971, Banks had become the OE engine supplier to many of the world's most successful boat manufacturers. Although Banks had incredible success selling his twin-turbo marine engines, the gas crunch of the mid-70s slowed the boating industry enough that Banks began concentrating on the automotive side of his racing-engine building business.
So, by 1978, Banks decided to build twin-turbo small-block Chevrolets for automotive applications. One of his first efforts made 900 hp and 750 lb-ft of torque at 30 lbs of boost, from only 301ci. Numbers such as these are a huge accomplishment even today, so keep in mind that this was 25 years ago. And, of course, who could forget Gary Kollofski's unbelievable '36 Willys coupe, with its 1,000 hp Banks-powered 355ci twin-turbo small block? When it arrived on the scene (via the July '79 issue of Hot Rod magazine), the car sent shock waves throughout the hot rodding industry. The 355 in Kollofski's little Willys featured a 0.030-inch-over NASCAR type high-nickel block, fully prepared steel crank and Carrillo rods. The heads were fully ported and polished, and its valvetrain was just as stout as its bottom end, with a Racer Brown roller cam and rev kit, Iskenderian springs and Jackson geardrive. Twin AiResearch TO4 turbochargers were used in a "draw-through" configuration, where the outside air was drawn through the much-modified Holley 850cfm carburetor. From there, the air/fuel mix was fed to, and pressurized by, the twin turbochargers and sent through the water-to-air intercoolers and finally into the engine. Bucks-up customers kept Banks' phone ringing for the next few years, and during that time, a Banks' twin-turbo big-block Chevrolet engine powered a gorgeous blue Corvette called Sundowner to 240.738 mph at the Bonneville Salt Flats.
Around 1982, Banks decided that his "draw-through" system, with its long, complex plumbing and inherent "turbo lag," could be improved upon by changing over to a "blow-through"-style twin-turbocharger system. The new Banks blow-through twin-turbo system sent air from the turbos, under pressure, to a new, Banks-designed aluminum air box (or plenum) that evenly distributed the pressurized air to the carburetor below. Banks' new air box also featured an efficient pressure-relief shuttle valve that bled off excess air from the turbos when the throttle was suddenly closed. By bleeding off the excess air in this manner, the turbos maintain rotational speed (remain spooled up) between shifts for more efficient running.
The new blow-through system was a much more compact system that had many benefits. First, Banks and his engineers measured just about every vehicle's engine compartment to ever leave General Motors equipped with a small-block Chevrolet engine and incorporated the data into the system's initial design. Therefore, the new blow-through twin-turbo system would fit under the hoods of virtually any Camaro, Corvette, pickup or whatever the builder decided to twin-turbo, as long as it was a GM product. Second, it also provided the ability to run accessories, such as power steering and air conditioning, along with the twin-turbo install. And finally, the most important feature of the blow-through system design was the lack of "turbo lag" that plagued the draw-through twin-turbo design.
Banks' blow-through twin-turbo system was a winner, and believe it or not, Banks used a 5,200-lb '67 Chevy panel truck as his engineering "mule" for most of its development. The panel truck was affectionately known as the "White Tortilla." (Editor's note: Of course there was no racial slur intended. The panel delivered Banks and crew to many a Mexican restaurant in the San Gabriel area of Los Angeles surrounding Banks' shop. Hence the name evolved from the 'White Tornado" and just stuck.) The panel was fast. It went 0 to 60 in six seconds flat and ran the quarter mile in 13.2 seconds at 116 mph, Twin Rayjay turbochargers were modified by Banks and flowed through an 800cfm Holley 4-bbl. Banks used a 350ci GM block that had four-bolt-mains, a steel crank, LT1 rods and TRW forged pistons. The heads were late-'60s iron units featuring 194-inch intake and 1.5-inch exhaust valves, stiffer springs and hardened retainers. The engine delivered an honest 500 hp. Interestingly, Banks used Rhoads lifters on his twin-turbo engines for many years, as they provided 6 extra inches of vacuum, a smoother idle and improved throttle response. The White Tortilla was an important vehicle in the Banks history book, and hundreds of hours of testing and observation were logged using it, and could you imagine pulling up next to it at a light and getting smoked? How ego-deflating. And it happened, more than once. Banks found out years later that his delivery guy at the time used to race everything in sight with the truck.
Once the blow-through twin-turbo system was fully engineered and tested, in a bold move, Banks started American Tubocar, Inc., a company set up to sell brand-new twin-turbo third-generation Camaros and Firebirds to the public. New Camaros and Firebirds were delivered in one door, and Banks and crew promptly pulled out their 305s and drivelines and installed 500-, 600- or 700hp twin-turbo 350ci (5.7-liter) Chevrolets and a barrage of other goodies. Out the other door came Banks' "GT Camaros and Firebirds," and each car's horsepower was limited only by the thickness of the customer's wallet—the choice of engine-building materials and the boost settings on the wastegate.
The cars were extremely complete when they left the Banks "factory." Each engine was broken in on the dynamometer and fully tested. The 500hp version was essentially an automotive version of Banks' four-bolt-main marine twin-turbo small-block Chevrolet engine, with iron 1.94-/1.5-inch heads, forged marine pistons and an "automotive-style" twin-turbo system, running about 8 lbs of boost.
The 600- and 700hp versions used early-style four-bolt-main high-performance Chevrolet blocks, LT1 Pink connecting rods and 461 iron heads with 2.02-/1.5-inch valves. The intake manifolds were specially made by Edelbrock for Banks; the hydraulic-lifter camshafts were ground to Banks' specs by Camshaft Specialties; and the pistons were Banks-designed "reverse pop-up" forgings. The valvetrain was a combination of Manley valves, Crane rocker arms and Iskenderian springs. Banks used a Hayes HEI Stinger ignition and a modified 9022 Holley 800cfm marine-use four-barrel carburetor on both the 600- and 700hp versions.
The 600hp heads received pocket porting and had their chambers polished. They also received a slightly hotter cam and a slightly lower compression ratio than the 500hp engine did. The 600hp engine operated at 11 to 12 lbs of boost. The 700hp version had fully ported and polished heads, an even hotter camshaft, a lower compression ratio and a set of Carrillo rods, which resulted in the ability to produce 16 to 17 lbs of boost. Both the 600- and 70Ohp engines also had water/alcohol injection to prevent detonation.
The transmission of choice was a Doug Nash (now Richmond) five-speed, and Banks had to develop special transmission mounts, brackets and the linkage to the Hurst shifter tower. Banks even incorporated the front torque-arm mount into one of his brackets. A steel flywheel and twin-clutch discs were used, with a severe-duty pressure plate, and, of course, the driveshaft was balanced. Twin-clutch discs were unheard of on the street at that time. The suspension was completely reworked with heavier-duty springs and Koni shocks on all corners, with huge sway bars front and rear, replacing the smallish factory units. Banks also beefed up the rear trailing arms and installed a then-unheard-of 9-inch Ford rearend assembly with a 3:50:1-ratio gear and rear disc brakes. Other Banks-modified items were a larger radiator with electric fan, a custom exhaust and twin Holley electric fuel pumps. Banks even had custom gauges built for his GTs, including a 200-mph speedometer and an 8,000-rpm tach that replaced the factory items.
The company sold more than 20 cars and more than 70 complete engines from 1982 to 1988, but more important, it helped Banks and his engineers fully sort out his twin-turbo kits that eventually went into hundreds of vehicles around the world. Of course, the magazines at the time got wind of the program, and in 1984 a Banks GT Firebird was tested by Car & Driver magazine at over 200 mph. The magazine, naturally, put it on its June cover, with a headline reading: "200 MPH TRANS AM." This car was also the first car tested to produce 1 g. on the skidpad. Realize that an honest 200 mph was a huge accomplishment in 1984, because even the "exotics" were "only" able to achieve 160 to 165 mph in real-world testing. Besides the GT Camaros and Firebirds, a few twin-turbo Corvettes were sold, and in 1985 a crazy twin-turbo 427 Firebird was built for a South African customer that made 1,350 hp. This was a street car that could go 240 mph under the right conditions.
By 1986, Banks had a twin-turbo Trans-Am that went 268 mph at Bonneville, and in 1987 he upped that speed to 283 mpb. That's 283 mph in a car that still had a radio and power steering. In fact, the Trans-Am was tractable enough that you could drive it to the grocery store if you so desired.
That was then and this is now, and the differences between the "old" twin-turbo engines and the "new" designs are much bigger than their horsepower and torque dyno charts might lead you to believe. Modern electronic fuel injection and ignition controls make the new twin-turbo much more forgiving in real-world driving environments. They can be as sedate as any small-block Chevrolet, but the horsepower and acceleration just keep coming on. Banks was shooting for an honest 800 hp from 366 ci, but made 850 hp on 91-octane pump gas. When 100-octane gasoline is used, with intercoolers, the same engine makes 1,115 hp at 6,800 rpm! Are we ready to rumble? In fact, the "Revival" twin-turbo engines make 400 more horsepower than the first-generation twin-turbos, across nearly their entire rpm range. The Revival twin-turbo engines also have an incredibly flat torque curve and make over 800 lb-ft of torque by 3,800 rpm. The torque quickly climbs to over 900 lb-ft and remains in the 900 range until around 6,500 rpm, where it drops slightly into the 800 lb-ft range. Wow!
Many of the differences between Banks' first-generation twin-turbos and the Revival twin-turbo engines lie in the fuel and spark delivery. Banks now uses an Accel Pro-Ram intake manifold that is CNC port-matched to the Banks/Dart heads. The fuel injection and spark management is controlled by an Accel digital fuel-injection unit that has been calibrated and sealed by Banks. Thousands of hours of dyno and real-world testing have given Banks enough data to preset the system, with "safe" fuel and spark management, for 91-octane fuel for everyday driving situations, and 100- octane fuel for maximum boost conditions.
Besides the high-quality internals, Banks also has a new, compact-design CNC billet aluminum serpentine belt drive system that drives a high-output alternator, an A/C compressor, a high-volume water pump and a power-steering pump. Also included with Banks' Revival twin-turbo engines are a customizable engine wiring harness, exhaust flanges, wastegate flanges, pressure regulator and fuel pump. A detailed owner's manual, installation instructions and dyno sheets also are supplied with the package.
So, there you have it. Looking for an honest 1,100 hp for your super rod? Give Gale Banks a call and he can set you up (626/969-9600). Oh, and by the way, Banks is already talking about offering a fully streetable 427ci version, with splay-valve-style heads, of his Revival twin-turbo small-block Chevrolet that "should easily make 1,800 hp." That is, if 1,100 isn't enough.