Re-Power Any Rig with a Diesel
Diesel World
October 2014
Banks Power's 630T and 866T Crate Engines
Diesels are progressing more and more into the mainstream, and Banks Power is one of the companies leading the charge. In the past, if you wanted to transplant a diesel engine into a car, boat, or off-road vehicle, you had to find a donor vehicle, do miles of wiring, and hopefully after all that work, it would run. Not so with Banks, as the company is offering clean-burning 630T and 866T engines up for transplant into virtually any platform, complete with its AutoMind ECM, which is a self-contained computer that eliminates the need for painful wiring.
Banks 630T
The smaller of the two engines is the Banks 630T, and it's named as such due to it being a six-cylinder ("6"), has three liters in displacement ("30") and is turbocharged (with a capital "T"). This engine starts on the historic V.M. Motori assembly line in Italy (famous for its Italian sports cars) and instead of being destined for a Jeep Cherokee or Audi, it's specially made for Banks. The engine is then shipped over to the United States, where Banks Power extensively modifies it. The engine, being a V-6 in arrangement, is just 23 inches wide with Banks' accessory drive system and will fit where many other engines won't. Its compact arrangement makes it perfect for boats and military vehicles, as well as cars and trucks. It's also designed to run on low- or high-grade diesel, jet A, high- or low-sulfur diesel, and much more, which is a bonus for out of country transplants.
Just because it's a small engine doesn't mean it's lacking in power, however. To illustrate how far technology has come in the past decade, Banks installed one of its 630T engines in a 2001 Chevy 3500 with a 6L90 transmission, and it was able to either match or improve upon the stock 2001 Chevy's performance when it was equipped with the 6.6L LB7 Duramax engine. In addition to being a high-torque truck powerplant, the 630T can also rev-up to 4,500 or 5,000 rpm, which makes it adaptable to most muscle cars. In fact, in pre-smog models, we think 30 to 40 mpg is easily achievable, all the while matching the horsepower and performance of most street rod engines. The 630T is offered in either 250 or 300 horsepower models, and comes virtually ready to run.
The Big Brother 866T
Stepping up from the 630T is the big brother of the Banks family, the 866T. Again, the designations are the same, with the "8" signifying eight cylinders, the "66" that the engine is 6.6L in displacement, and the "T" again for turbocharged. While you might think that the fact that the engine displaces 6.6L means it's a Duramax, Banks was quick to point out that the engine is almost entirely assembled with 100 percent new parts by Banks, and again (just like the 630T) comes off a different assembly line. The larger displacement engine is also built to handle more horsepower than the 630T; in fact, it passed a Double NATO test of 80 percent load for 800 hours at its 400 horsepower rating. For those wanting a little more, the engine is also available in a 500-hp rating as well as 600 hp. Just like the 630T, the 866T is also compatible with just about any oil-based fuel and has its own standalone AutoMind ECM that controls the parameters of the engine. While having ready to run crate engines is exciting enough, Banks also informed us that they can custom build an engine to virtually any specification. They offer an 870T, a 7.0L version of the 866T, which features an incredibly strong stroker crank, and larger rod journals for better reliability. The Banks headers can also be flipped, for those wanting to run turbos out in front of the engine (like sled pullers), and even supercharged applications are available. Best of all, Banks is currently testing its engines through the California Air Resources Board (CARB), which means soon they will be legal to swap into a wide variety of emissions-tested vehicles. Whether it's the 630T or the 866T that fits the bill for your next car, truck or marine project, Banks has both of these engines ready to go. Just plug a diesel in where an anemic gas engine used to be, and you'll be on your way to better power as well as increased efficiency.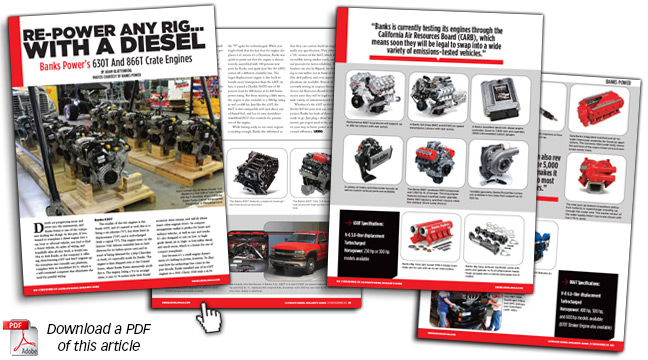 ---
Be sure to check out our friends at Diesel World magazine »