MotorHome
May 1999
Road-test and dyno evaluation of Banks PowerPack for Cummins B5.9 diesel motorhomes
Banks PowerPack® induction system puts a lot more punch into the Cummins B5.
The Cummins B5.9 turbodiesel has become a popular engine for powering motorhomes. Available in a number of horsepower and torque configurations, this diminutive power plant is thought of as "the little engine that could" because it's doing an enormous job moving rather heavy coaches. But every engine has its limit, and even the venerable Cummins may have met its match when trying to move a coach loaded to its gross vehicle weight rating. When cresting the hill becomes a chore for a motorhome, owners looking for more spirited performance turn to the aftermarket to add horses and torque.
One provider of such bolt-on performance improvers is Gale Banks Engineering, a company that has made "PowerPack" nearly a household name for RV enthusiasts. The company's latest offering: a PowerPack kit for the Cummins B5.9.
Gale Banks, known for decades as one of the foremost power brokers in the world of turbocharged V-8 gas and diesel car and light-pickup engines, has also been turning up the performance wick in turbocharged motorhome-engine applications and boasts some mighty hefty figures when promoting the PowerPack for Cummins six-banger. To find out just how much more spirit can be injected into the 230-hp B5.9, we found a 1997 Holiday Rambler loaded to 23,420 pounds, no doubt a substantial weight for the stock Cummins engine. The 34-foot motorhome had 29,000 miles on the odometer and was in excellent condition.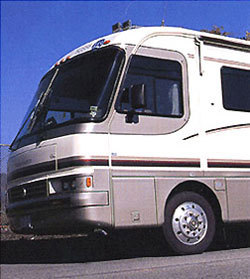 A 1997 Holiday Rambler weighing 23,420 pounds was used as the test coach.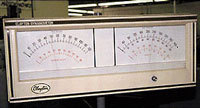 The chassis dyno testing was done on a Clayton unit. Photo reveals nearing 240 rear-wheel horsepower on way to 243.8 at 2,200 rpm, a 44 percent increase, with the PowerPack®.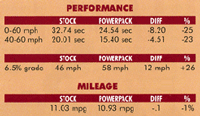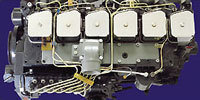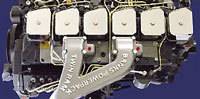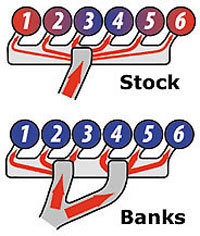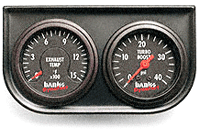 Banks' exhaust temperature and boost-pressure gauges are part of the PowerPack® system.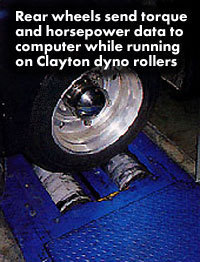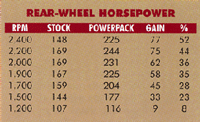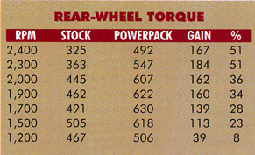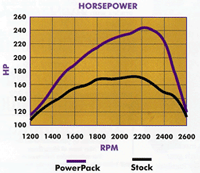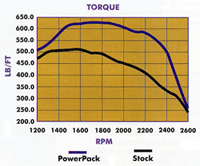 The company offers two 50-state-legal power-producing induction kits, the Stinger and the PowerPack, for the Cummins B5.9 and B8.3 diesels. The Stinger kit includes an OttoMind fuel-calibration plate, a Quick-Turbo wastegated turbocharger housing assembly, a two-gauge mounting panel for pyrometer and boost-pressure gauges, plus everything needed for installation, including complete instructions.
Banks states the Stinger creates 75 more rear-wheel horsepower and 171 additional lb-ft of torque, along with a 7-10 percent increase in fuel economy. Its PowerPack is advertised to increase horsepower and lb-ft of torque by 94 and 214, respectively. It includes everything in the Stinger plus a cast-aluminum TwinRam dual-inlet intake manifold. Thus the PowerPack is designed to provide approximately 25 percent more horsepower and lb-ft of torque over the Stinger. We elected to install "the works" in an effort to give the Cummins maximum efficiency.
Banks Engineering calls the Cummins engine an industrial-strength power plant, and it is. It has many different factory horsepower and torque ratings, all depending on chassis application, fuel nozzles, fuel pump and a few other mechanical incidentals. Banks feels that, as delivered, the Cummins induction system is inadequate insofar as maximizing engine torque and horsepower. The stock induction system is configured like a "T." Along the top of the T are six evenly spaced cylinders; the bottom part of the T is the only way into those cylinders, and it is offset to the left of center, nearly on cylinder no. 3.
Getting an equal amount of air and fuel to cylinders 1, 2, 4, 5 and 6 is impossible, according to Banks, although the Cummins turbocharger does increase power somewhat by pushing the mixture along with as much as 27 pounds of boost. Still, "the result is disproportionate air-fuel ratios that cause differences in combustion-chamber temperatures and uneven power produced by each cylinder," according to Banks Engineering's latest Cummins literature. It continues: "The engine runs rougher and less powerfully, with the front and rear pistons and cylinders getting more heat-related wear than the others."
To give the B5.9 more muscle, Banks doubled the actual inlet area by creating its TwinRam intake manifold. One of the two inlets is near the no. 3 cylinder and the other between cylinders 4 and 5. Due to space and normal engine-rpm limitations, Banks says that it's doubtful that a more scientific or powerful intake manifold could be produced. To let the TwinRam perform to its potential, Banks engineered a new Quick-Turbo turbocharger housing. It is designed to come up to a maximum boost pressure much more quickly (and at a lower rpm). The result is more torque and horsepower output across the engine's usable rpm scale.
The Banks OttoMind fuel-calibration plate is said to "match the new fuel curve to the improved airflow, optimizing power output and fuel economy." Banks' Dynafact boost and pyrometer gauges monitor the turbo pressure and exhaust temperature. A final key point is that the Banks pusher power-induction products are 50-state certified and are claimed to work perfectly with the engine's factory-built ignition and emission controls.
Road Test – Stock
The test motorhome was first checked on the dyno and then, with Banks' engineering manager, Peter Treydte, aboard, run through a 150-mile course over varied terrain, including time in the high-desert regions. The chart shows the stock horsepower and torque figures, and we recorded acceleration times of 32.74 seconds for 0- to 60-mph runs and 20.01 seconds for the 40-60 simulated passing stretch. (For the record, Banks' brochure highlights a similar Class A with a 230-hp B5.9 performing a 29.20-second 0-60 mph and 16.25-second 40- to 60-mph times, so the test motorhome may have been somewhat sluggish in stock condition.)
The boot-camp portion of the test was climbing the multimile, 6.5-degree Cajon Summit. From 200 feet above sea level at the bottom to 4,200 feet at the top, this run confirmed the Holiday Rambler was underpowered. At full throttle, the coach could do no better than 46 mph in fourth gear at 2,200 rpm with 24 pounds of turbocharger boost. Exhaust port temperatures registered 1200 degrees F on a Banks pyrometer.
PowerPack® Test
Two Banks Engineering technicians installed the PowerPack in a day's time, after which the Holiday Rambler was tested on Banks' computerized Clayton chassis dynamometer. Noticeable improvements in rear-wheel horsepower—anywhere from 30 to 80 in the 1,500 to 2,500-rpm band—were recorded (see chart). Torque output also increased substantially to an impressive 630 lb-ft at 1,700 rpm measured at the rear wheels.
While positive numbers are impressive, the road test revealed major improvements. Right from the get-go, we noticed less engine noise at cruise speed and increased smoothness in operation, likely attributable to the improved "distribution of air" to the cylinders. Each cylinder in the B5.9 was now nearing the power production of the others. Hence, each was now more efficient, so the engine needed less throttle-opening to move the 23,420-pound mass. Being under less stress, it was quieter and smoother-running. A smoother-running low-rpm-torque engine is, all things considered, always more powerful.
Performancewise, the coach "gained a gear" on the road test after the PowerPack was installed. Instead of 46 mph in fourth gear at full throttle, the Holiday Rambler was now in fifth gear at 58 mph (2,000 rpm with 35 pounds boost). This is a 26 percent improvement in drivability. As the direct result of making more full-throttle horsepower, the exhaust temperature registered 1300 degrees F, measured at the exhaust side of the turbocharger. At the top of the summit, it went back down to 1000 degrees F. The Banks turbo housing does indeed make boost pressure quicker. An increase in acceleration was felt in testing from off-idle right on up to 60 mph. The coach was 25 percent quicker than stock (from 32.74 seconds stock to 24.54 seconds modified). The 40- to 60-mph stock time of 20.01 seconds decreased to 15.40 seconds, a 23 percent improvement.
The results of a controlled highway cruise fuel-economy test revealed that the modified engine consumed slightly more fuel (10.93 mpg to 11.03 mpg). For all practical purposes, we'd call fuel usage a push, although Gale Banks says his mileage increases have ranged from 7 to 10 percent, which he views as logical anytime engine efficiency is increased while driving style remains consistent.
The installation of the $1,995 to $2,495 (depending on chassis) PowerPack kit takes about 15 hours. Dealers usually quote a package price.
The PowerPack provided a vast improvement in overall drivability. The smooth-running engine handled the weight with more spirit, improving almost all aspects of road performance. The coach now had an easier time getting up to highway speeds, could negotiate grades with aplomb and could merge with traffic safely as it entered the freeway. No doubt the owner was all smiles.