Museum exhibit a tribute to Banks' long career
Pasadena Star-News
December 4, 2008
POMONA – Gale Banks calls himself a "futurist." So, what is a futurist doing in a museum?
POMONA – Gale Banks calls himself a "futurist." So, what is a futurist doing in a museum?
"I'm nailed," he said with a laugh. "I've always been a futurist. I read science fiction when I was a kid. My first automobile that I built really was a three-wheeled robot that mowed the lawn."
Banks, a Bradbury resident and owner of Azusa-based Banks Engineering, is being honored with an exhibit at the Wally Parks Motorsports Museum at Fairplex Park. "Banks Power: The First 50 Years" opened on Wednesday for a near-yearlong run at the Fairplex museum.
But really, Banks said, his exhibit at the museum is about the future of motorsports. He pointed out one of his most recent works, The Banks Sidewinder Chevy S-10 diesel drag truck, which can make quarter-mile passes at more than 175 mph. World motor racing organizer FIA has called it the fastest pickup truck in the world.
It uses 50 percent less fuel, per pound, than other dragsters of its type, which use other types of fuel.
"There is future stuff here," he said. "This drag-racing truck. That's the future. It will get better and better."
But really the exhibit is a tribute to Banks' racing – specifically, drag racing – prowess. There are 19 engines in the show that set some type of record, mostly for speed. There are 10 more record-breaking engines sitting in Banks' Azusa shop for which there was no room.
In addition to the drag-racing Sidewinder truck and, sitting beside it, the road-racing diesel Sidewinder, there is the fastest-ever passenger car, a 268 mph Pontiac Trans-Am with a twin-turbo engine. And there's a 1953 Studebaker, too, which set a land-speed record. Sitting outside is a diesel top- fuel dragster.
"We've had a string of world-record- holding door-slammers," he said.
"From the Studebaker to the Firebird to what I'm now working on, diesel."
The exhibit also has boat-racing engines and photos of Banks' biggest accomplishments.
"It's hard to imagine," he said of the exhibit. "There's all my long-term memory. In 50 years, you tend to forget a lot of what you've accomplished. The bottom line is that I've been able to do some real neat stuff and race with some interesting and skilled people."
keith.lair [at] sgvn.com
(626) 962-8811, Ext. 2272
---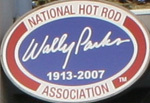 See all the stories from the Wally Parks NHRA Motorsports Museum here »