Sport Truck
May 2003
Inside Gale Banks' 200-MPH Dakota Land-Speed Record Holder
Gale Banks wants to change your mind about diesel engines-and he's going about it in a pretty spectacular way.
The Dakota pickup you see here was clocked in excess of 222 mph on the Bonneville Salt Flats. In doing so it set international speed records for production-based pickup trucks. Getting it there was diesel power in the form of a specially modified 5.9L Cummins inline six similar (in architecture anyway) to the engine that powers fullsize Ram Diesels.
Yet land-speed racing is just one of the tasks this truck was designed to tackle. Banks wants to race his truck, nicknamed to Sidewinder in just about every high-speed motorsport you can think of, from drag racing to open-track events. He's doing it all in a quest to prove the performance mettle of diesel power.
If you're familiar with Banks, you understand why. Gale Banks Engineering sells a lot of upgrades for diesel trucks, from exhaust systems and turbocharges to engine exhausts brakes. The parts are for towing and work rigs mostly, but Banks' years of experience with diesel motivation have shown him that "diesel can be an extraordinary performance engine configuration." Banks believes "the future fuel is diesel. There is an inherent efficiency. If we can show that the rough edges are gone, or going rapidly, and we can show that this technology gets you 50 percent better fuel economy, without a sacrifice in power, diesel is gonna be hip".
Ok, we may not go far as to call diesel hip, but let's take you behind the scenes in the building and testing of this awesome Dakota and see if you don't agree with Banks about diesel's performance potential.
Building the Sidewinder
Sidewinder started life as a bone-stock Dakota extended-cab pickup with a four-cylinder engine. To begin the project, Banks dyno-tested the truck to determine rear-wheel horsepower (a whopping 98 hp), and then took it out for some top-speed testing to find out where the pickup's terminal velocity would be given its stock motor and body envelope – aerodynamics, ride height, and so on. With that data, Banks' engineers calculated just how much more horsepower the truck would need to hit the 200-mph plus speed goal. The number crunching turned up a horsepower target of well more than 800 hp. Figuring that a race-trim Cummins would be good for around 600 hp, the Banks team realized it would have to do considerable aerodynamics work to make it slippery enough to hit the speed target.
To reduce the truck's frontal area, the suspension took a giant whack: 12 inches were taken out of the Dakota's ride height. In front, the stock suspension was replaced by a NASCAR-based setup designed by Sheldon Tackett, who spearheaded the whole Sidewinder project, and Sidewinder driver Don Alexander. Tackett built unequal-length, tubular-steel control arms and attached them to modified Busch Grand National spindles. The system is sprung by ride-height-adjustable coilover shocks from the Progress Group. In the rear, a custom chromoly four-link was hung on new framerails that Tackett fabricated from 2×4 inch rectangular steel turbing and joined with the stock frame under the cab.
The rear suspension was designed to accept two different rearends. For the Bonneville runs, the truck would be equipped with a massive quick-change rearend from Quality Machine. Fitted with a Dana 60 3.07:1 ring-and-pinion and a Detroit Locker, the quick-change had spur gears that could be swapped around to give the truck a final drive ratio as low as 1.89:1 if needed. for the street – yes, gale Banks will rive this truck on the street- the quick change will be swapped for a Speedway Engineering Track 9 Grand National housing with a Ford 9-inch center section and Grand National Axles and hubs.
Lowering the suspension helped the Dakota's aero profile, but the sheetmetal needed some massaging, too. Surprisingly, though, not much was done, as you can see from the photos. A new chin spoiler was fashioned to both channel air from in front of the truck and to provide new inlets for the turbocharger. A new hood was built to clear the Cummins transplant, and a partial tonneau was mounted to the bedrails. The truck's suspension was set up to give the truck a slight nose-down rake so that the air flowing over the roof and onto the tonneau would create downforce on the rear tires. Otherwise, the Dakota's body remained surprisingly stock.
Far more work was required to physically plant the massive Cummins and its tranny into the Dakota. The entire interior was stripped out (to fit the engine and construct the in-cab safety equipment), and the firewall was cut away. Now that they had some room to maneuver, Tackett and crew opted to set the engine/trans back for better weight distribution. They moved it off the truck's centerline to the right by an inch to allow more space for engine accessories and to give Alexander a little more leg room between the fender and the transmission tunnel. When all was said and done, the truck's dashboard was moved back a whopping 14 inches. But Tackett then fabricated stock-looking dash panels to cover the gap, giving the truck's modified IP an OE finish.
The heart of the Sidewinder project, of course, it's diesel engine, a prototype Cummins 5.9L 24-valve turbodiesel. In base form, with a Holset HX40 turbocharger, common-rail fuel injection and Cummins modified electronics, the "Salt Quake" diesel pumped out 393 hp and 600 lb-ft of torque. Nice place to start, huh? From there, Tackett and crew fabricated new intake and exhaust manifolds, extensively ported the cylinder head, modified the common-rail injection system, and opened up the exhaust.
From Holset came a new turbocharger, the HY55, with variable geometry technology. This consists of a sliding ring nozzle that varies the velocity of the exhaust gas entering the turbine side of the snail. This allows the turbo to maintain boost levels while controlling turbo shaft speed, which improves power output and virtually eliminates turbo lag.
The turbo can produce as much as 50 psi of boost, but that also generates high intake temperatures to nearly 500 degrees F. To fight the heat, Tackett designed a high-flow air-to-water intercooler system using twin Cummins intercoolers that are fed by dual electric water pumps and an ice-water tank located in the truck's bed.
With all the modifications made, the engine went back on Banks' dyno (which was specially built for this project, by the way) and produced 700-plus horsepower and more than 1,200 lb-ft of torque.
What sort of transmission can handle that sort of output? Banks used a prototype New Venture Gear NV5600 six-speed manual transmission designed to be used behind gasoline-fed V-10s and standard Cummins diesels. The trans was blueprinted by NVG and fitted with a top-mounted integral shifter, so no linkage was required. Between the engine and the trans is a billet-steel flywheel and a custom-made, 12-inch, dual-disc clutch with organic and Kevlar friction material on the discs.
We first saw the Sidewinder project under construction in January 2002, and it was well underway at that point. Yet the tremendous amount of work required to modify the truck to go 200 mph meant Banks, Tackett, and the rest of the Sidewinder crew put in nearly a year's worth of long hours and late nights before it would be ready to test at Bonneville. Finally, in October, the team hauled the Sidewinder east to Wendover and the Southern California Timing Association/Bonneville Nationals Inc. (SCTA/BNI) 2002 World Finals for its record runs.
Click to download this article and see all the cool photos »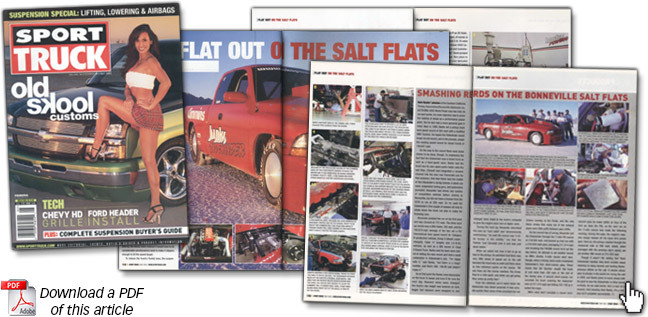 ---
Be sure to visit the Sport Truck website »