Truckin'
Issue 12, 2012
Once again Banks shows us the path to more power without choking the environment, this time on a 2008 Duramax LML.
We have seen plenty of diesel engine power adders that make large power numbers and provide truck owners with the ability to easily destroy drivetrain parts. With black soot pumping from an open 5-inch sewer pipe and a set of beefy tires up in smoke, the scene certainly lends itself to some manly entertainment. Unfortunately, that much available power usually causes an assortment or problems, including over fueling the engine and damaging the injectors, torching the turbo wth absurd EGTs, and breaking transmission internals incapable of handling the added stress of larger tires and nearly double factory power output. Towing becomes difficult too, since the torque becomes less linear as the tune ramps up towards redline. Add in the mandated emissions testing some states are adopting, and you have yourself a laundry list of unnecessary headaches. Click below to read the whole story and see how Banks Power avoids all of these problems—yet still delivers put-you-back-in-your seat power…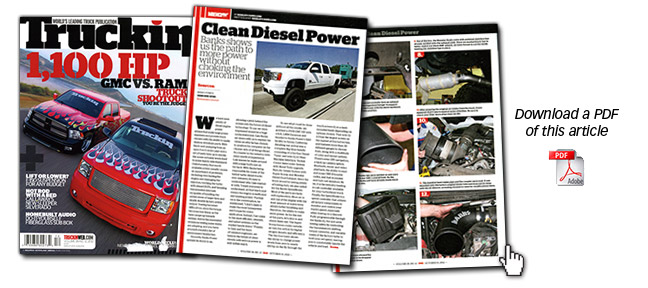 ---
Be sure to check out the Truckin' website!