Four Wheeler - A Primedia Publication
December 2001
Banks PowerPack system boosted the engine's output by more than 100 horsepower on this '95 F-250…
In some ways, Jason McKrill, of Elkhart, Indiana, is no different from anyone else. He's built his deep-red '95 F-250 to be a perfect reflection of what he thinks a great four-wheeler ought to be. Where he is different, though, is that it took him a series of experiments to finally find a stage that he's satisfied with. At least for now.
First of all, about that "International" banner across the top of the windshield. That's a clue to what lives under the big Ford's hood. It's a 444ci Power Stroke Diesel, an engine that is, for all its identification with Ford trucks, manufactured by International. It was fine when he first got the truck, Jason reports, but the more he drove it, the less it seemed like the big-block gas engines he was used to.
So on went a full Gale Banks PowerPack® Kit, which consists, at least in Jason's case, of a high-performance turbocharger housing, an intercooler, a high-performance chip for the engine control computer, and a new electronic shift module for the transmission. He also added International High-Output fuel injectors, and a 5-inch exhaust system. As a result the truck now dynos at 316 horsepower at 3,400 rpm at the rear wheels, up from a stock 176 at 3,000 rpm, Jason says.
Torque production also is way up—it's now 553 lb-ft at 2,700 rpm, up from 326 lb-ft at that same rpm.
With horsepower handled, Jason now was free to turn his attention to his truck's altitude. He started out by adding a 2.5-inch Tuff Country lift system and a set of 33-inch tires. Two years later he stepped up to a set of 35-inchers and a Skyjacker 6-inch lift system. With a set of 4.10 gears for each axle and a Detroit Locker in the rear pumpkin, the Ford was still Jason's primary work truck, and also was doing snow-plow service. But he kept it clean enough that he was displaying it at shows. Then in 1999 he attended the Fall Jambo at Indy. Seeing all the cool, high-altitude trucks there prompted him not only to add a set of 38-inch tires, it also got him thinking about more serious upgrades. He huddled with Mark Bontrager, at Barney's 4×4 in Nappanee, Indiana, and as a result of that consultation, added a Trail Master 3-inch body lift, an Off Road Unlimited reverse-shackle kit, a crossover steering system, also from ORU, and dual Skyjacker shocks with limiting straps at all four corners.
Now finally, it was time to go big with the Ford's axles. Though Jason and Mark installed a reverse-rotation Dana 60 front axle and a Dana 70 rear axle, the front diff remained open, and a Detroit Locker went into the rear. This time, gear ratios were bumped to 5.13:1 and disc brakes to match those up front were hung on the rear axle.
Finally, a set of 39.5-inch Boggers were mounted on 16.5×12 Weld Super Singles and bolted to all four corners.
It all worked well, but Jason was determined that his truck be beautiful, as well as effective. So he brought it home, took the suspension and axles completely apart. He stripped the undercoating off the big Ford's frame, smoothed out all welds and brackets, and had everything in sight layered with either fresh paint or Powershield metallic coating.
With the essentials complete, Jason began looking after the details. He added a set of Sidewinder electric hideaway steps, front and rear bumpers that were custom-built for him at Barney's 4×4, a Reese Class IV hitch, and a Warn M12000 winch.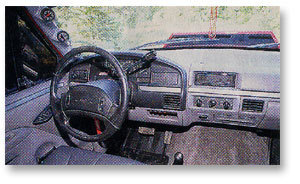 The interior of Jason's Ford looks deceptively stock until you recognize that the seats came from a Dodge, that a triple-pod of gauges lives on the A-pillar, and that hidden inside are 10 stereo speakers fed by a ground-shaking audio system.
Then he turned his attention to his Ford's interior, adding a set of leather-covered seats from a 2001 Dodge Ram, and a stereo system that includes a Kenwood head unit and Kenwood amplifiers that feed a mixed bag of 10 speakers by Kenwood, Clarion, and JL Audio. To keep track of what was happening under the hood, he installed a set of Banks gauges to measure boost, exhaust temperature, and transmission temperature, all in a pillar-mount from Auto Meter. And finally, with all that money invested—he won't divulge the total, but it's bound to be a bunch—Jason added an alarm system, complete with keyless entry.
Now Jason avoids using his truck, except when absolutely necessary, during the months when there are snow and salt on the roads around his home. But during the summer he not only uses it, he also shows it. We ran into him at the Lima Jambo, where he was doing just that. Chances are that if you attend the Midwestern jambos, you'll find him there, showing a truck that will be every bit as clean as it looks in these pictures. But the chances are just as good that Jason will continue his experiment, and his truck will be even taller than it is now, and wearing bigger tires. That's what comes from being experimental.
SPECIFICATIONS
GENERAL
Owner: Jason McKrill, Elkhart, Indiana
Vehical model: '95 Ford F-250ENGINE
Type: 444ci Power Stroke diesel
Induction: Turbocharged, with Gale Banks PowerPack® kitDRIVETRAIN
Transmission: E4OD
Transfer case: B-W 13-56
SUSPENSION
Front: Skyjacker 6-inch-lift leaf springs, ORU reverse-shackle kit, two Skyjacker shocks per corner, ORU crossover steering, drop pitman arm, dual Skyjacker steering stabilizers
Rear: Skyjacker 4-inch-lift leaf springs, 3-inch lift blocks, custom spring hangers, 2 skyjacker shocks per cornerAXLES and DIFFERENTIALS
Front: Reverse-rotation Dana 60, open diff
Rear: Dana 70 with Detroit LockerWHEELS and TIRES
Wheels (in.): 16.5×12 Weld Super Singles
Tires: 39.5/18R16.5 Super Swamper Boggers
Get a PDF of the article (598K) »
Visit the Four Wheeler website »