Automotive legend has changed the face of the industry
San Gabriel Valley Tribune
July 2013
Gale Banks makes front page news, talking about racing, the military, and what it took to get where he is.
Gale Banks knows a thing or two about power.
And to say he's had a profound effect on the U.S. auto industry would be an understatement.
His Azusa-based company, Gale Banks Engineering, is known for designing and selling aftermarket turbocharging systems for gas- and diesel-powered cars, boats, RVs and high-performance pickup trucks.
Banks turbocharging systems have also been used to set land-speed records with a variety of street-legal vehicles. One of his systems even helped a Freightliner semi-cab fly up Pike's Peak in a record 12 minutes and 42 seconds, hitting speeds over to 100 mph.
Needless to say, Banks enjoys the roar of that engine.
"You can really hear Mike Ryan's Banks Super-Turbo Freightliner coming," the 71-year-old Bradbury resident said. "A supercharger feeds a very large turbo charger, so it creates a Super-Turbo. The air is forced into the engine, giving more oxygen and 2,400 horsepower. And our Straight-Shot injection creates an afterburner like effect by injecting methanoland water into the mix, adding another 400 horsepower automatically."
Impressive to say the least. But Banks' motivation runs deeper than setting speed records.
"My goal is to reduce the cost of truck operations by about 5 percent," he said. "I've been talking with Golden State Foods and Wal-Mart transportation. They say this would help reduce food costs. I'm using water and methanol for greater power and efficiency. It reduces emissions, too."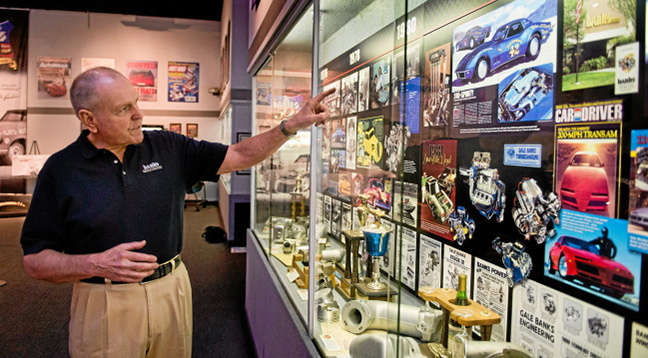 Gale Banks, owner of Gale Banks Engineering, gives a tour of his exhibit at the NHRA museum in Pomona on Thursday, July 22, 2013. Gale Banks is celebrating 55 years in business. The manufacturing and engineering company produces products and engines for high-performance cars and trucks, and for the military.
The 12-acre Gale Banks Engineering complex in Azusa includes five divisions — Banks Power, Banks Technologies, Banks Marine, Banks Racing and Banks Powertrain. The company produces a wide variety of aftermarket products, including power and efficiency systems, torque converters, intercoolers, twin-turbos and fuel injection systems, in addition to complete engines.
Banks and many of his products have been featured in myriad industry magazines over the years.
"Gale Banks has embraced the traditions that define the specialty automotive industry," said Chris Kersting, president and CEO of the Specialty Equipment Market Association. "His entrepreneurism, innovation and integrity fuel his business. Gale has been exceptional in taking his company's innovations to diverse markets beyond the enthusiast automotive niche."
Banks' Azusa facility also has engine test cells that allow the company's engineers to monitor various engines and turbocharger systems for power, fuel economy and emissions.
"Our emissions lab can run diesel testing that even the (California) Air Resources Board can't currently do," Banks said.
Banks also developed products that are designed to upgrade the U.S. military's fleet of Humvee vehicles. The products include a Sidewinder Turbo system with a speed brake and V-6 and V-8 diesel engines to replace the existing Humvee engines. One of the engines is smaller and weighs about half as much as the standard Humvee engine. It will eventually include a hybrud drive system for an extra power boost when needed.
Some of the Banks-equipped Humvees and other new vehicle designs are already being field tested by U.S. forces with positive results and the remaining options are also under consideration.
"Thirty percent of our business is in the development of engines and transmissions for military applications," he said. "The other 70 percent is our core market — working with motorhomes, pickup trucks, boats and Jeeps."
For more than 50 years Banks marine engines have propelled racing boats to national and world championships, and they were also chosen to power Military craft as well.
Banks' expertise in boosting the power of standard vehicles — both on and off the water — is legendary.
"I have ranchers in Wyoming and Montana sending me their Jeeps because they're underpowered in higher elevations where the air is thin," he said. "We just turbocharged a 2006 Jeep for $2,900. The turbocharger uses energy recovered from the exhaust gasses that otherwise would be wasted, driving a compressor that increases the power of the engine."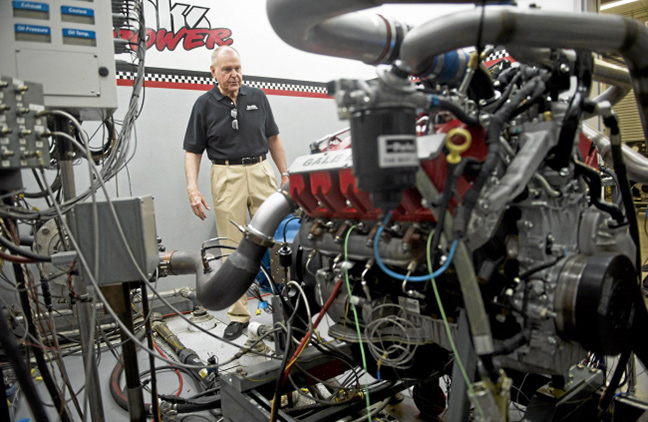 Gale Banks gives a tour of his Azusa business. He is celebrating 55 years in business. The manufacturing and engineering company produces products for high-performance cars and trucks.
Banks, who has an entire wing of the National Hot Rod Association museum in Pomona dedicated to his achievements, began his quest for power at the age of 14 with an engine teardown of his mother's 1931 Ford Model A. That resulted in an increase of more than 40 horsepower.
Two years later he was officially in the engine business, first in Lynwood and later in San Gabriel before moving to his current location at 546 S. Duggan Ave. in Azusa.
These days, Gale Banks Engineering is the company others come to for advanced research and development. Major automakers, including Chevrolet, GMC, Buick, Volvo and Pontiac, have relied on the company's expertise and capabilities.
Banks would be the first to admit that he's never viewed his work as a job, but rather as a calling. And great ideas? They can materialize at any moment.
"Sometimes I will wake up at 3 in the morning, and I have to write them down," he said. "If I don't I'll never remember the next day."
Those ideas have fueled a wealth of innovation and products that have helped to make cars, trucks, motorhomes and boats more powerful, more energy efficient — and far less polluting. The Gale Banks Auto Technology Exhibit at the NHRA museum documents his trajectory as a designer, builder and self-described "futurist."
Click below for photo gallery »


For car enthusiasts, Banks' speed records are especially enthralling.
He set his first in 1960 at the El Mirage dry lake with a modified 1953 Studebaker that clocked in at 189 mph. And he's been in the winner's circle countless times since, laying claim to such titles as the world's fastest passenger car, the world's fastest pickup, the world's fastest motorhome — and most recently, the world's fastest diesel drag racing truck.
On a recent sunny afternoon, car enthusiast Chuck Goodwin stopped in at the NHRA museum in Pomona and happened to spy Banks in the next room. After talking shop with the automotive legend for several minutes, he walked away shaking his head.
"I've known what he's done for most of my life, but when you see this timeline it really puts it all together," the 47-year-old Tracy resident said. "It makes you realize what kind of mind he has. … You get a feeling for the magnitude of what the man has created."
Banks, who also developed a power system for a low-emissions, high-mileage engine for Volvo, modestly attributes much of his success to the people around him.
"I keep myself in the game by hiring people who are so intelligent they scare the hell out of me," he said with a laugh. "You want to hire people who can take your job!"
---
Visit the San Gabriel Valley Tribune website »