Off-Road.com
November 2000
Product Review: Gale Banks Engineering's PowerPack System For The '94-'97 Ford 7.3L Power Stroke Diesel.
Recently I had the rare privilege of meeting a man that can only be defined as a true "Rocket Scientist." Not one of those Coke bottle bottom be-spectacled types that lurks in the basements at NASA or Area 51, and builds stuff you and I will never see unless we somehow gain "Top Secret" clearance. But a man that builds land rockets that mere commoners like ourselves can obtain.
Who cares about rockets that can land on the moon… I want one that can land in my driveway!
Gale Banks has dozens of racing victories, land speed records, and ground breaking technical innovations to his credit. As well as real world horsepower gains for us street racers, off roaders and RV'ers. From building the original turbocharged Buick Regal prototype that became the infamous Grand National, to world champion marine powerplants for the maker of the fastest, safest and most uncompromising power boats in the world, Reggie Fountain. On the salt flats at Bonneville Banks Records! his engines have powered the World's Fastest wheel driven automobile to 432 mph, the World's Fastest passenger car, a Pontiac Firebird, to 287 mph (A record that stood for over 10 years!), and the World's Fastest pickup truck, a GMC Syclone to 210 mph. Banks engines power military boats and have competed in won in virtually every motorsports venue. From the blue grooves of local circle tracks to the hallowed brick starting grid at Indy, his record of 42 years of excellence speaks for itself.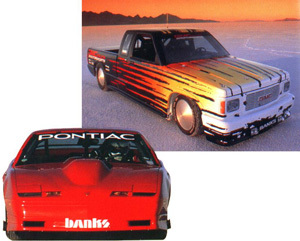 Gale Banks Engineering has designed prototype turbocharging systems for all of the big three automakers. Ford, Chrysler, GM, and even the foreign car companies all know who to call when they have needs for high performance airflow management. From the factory turbocharger options on AM General's Hummers and GM's 6.2L diesel pickups to Volvo's high end performance sedans, Gale has squeezed more horsepower out of more engines than any other single engineer.
Meeting a legend…
Tall, well dressed, and slender, Gale's looks belie his age. Maybe it's that twinkle in his eyes reminiscent of a 16 year old boy boiling his back tires to the cords in his first cherry busting, smoky burnout. You can see this is a man that truly loves his job. A huge, ear to ear grin spreads across his face as the conversation turned from the obligatory how do you do's to, what else… Going fast.
As we started talking gearhead stuff, I asked, "How long have you been in business?" With a big grin he replied, "42 years." Now I'm thinking, ok, this guy looks about 45, so that makes three left over (I'm a math genius you know).
Next question of course is, "Then this was a family business?"

Gale looked at me quizzically ala' the RCA Victor pooch and said, "No, just me, I started it myself back in '58, when I sold my first engine, a 289 cu. in. Studebaker V8 to Mike Brancato for the princely sum of 1100 bucks. That was a lot of money back then." Now I had the quizzical look. Doing the math again to be sure, I said, "Gale, you look about 45ish, how the hell were you building engines at 3 years old?"
He started to laugh and he told me he was 58, and sold that first engine at 16. "You must love your job," I said.,"Either that or found out where Dick Clark's secret fountain of youth is!"
With an education from prestigious Cal Poly, in both electronics and mechanical engineering and over 42 years of real world, hands on engine building and design. Gale knows his stuff and quite frankly, nobody does it better.
The Banks "Campus"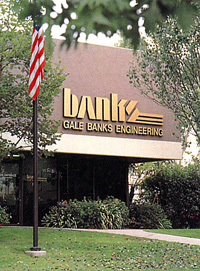 The Banks Campus The Gale Banks Companies are comprised of three distinct and specialized operational groups:
Gale Banks Engineering, which designs and manufactures a complete line of high performance products and systems for gas and diesel trucks, SUV's and motorhomes.
Banks Technologies, which drives electronics development for such components as engine and transmission management computers and performance testing equipment.
American TurboCar Corporation, where top secret "skunk works" experimental, concept and project vehicles are designed and fabricated.
Sprawling across two city blocks and nestled up against the San Gabriel Mountains in Azusa, California. The Banks Campus took me by surprise when I drove up. Despite the fact that Banks is a household name in gearhead circles. I had no idea the operation was this big and well organized. With over 160 full time employees working in a complex of eight huge buildings. This is an impressive facility. Organized down to the last detail, and spotlessly clean, it's easy to see that uncompromising quality isn't a just buzzword here, it's the way business is done. In fact the only clutter I saw was the mountain of pathetic stock exhausts, discarded in favor of a new high flow Banks System, stacked and waiting for their last trip… A one way journey to the scrapyard! Jeff White, who has worked for Gale for over 16 years gave me the grand tour. Jeff is the product manager Banks, and coordinates many of the projects here. The tour took a few hours. This is an expansive facility, with some of the wildest projects you have ever seen! From a 200mph 1968 Camaro street car and a Pro Stock Mercedes Benz SL dragster, to projects for the major auto companies so secret, if I told you I'd have to kill you… No expense has been spared, chassis and engine dynos, testing equipment, machine/tooling equipment, manufacturing and fabrication equipment, R&D departments, and the most important part of a company, it's people are all the finest in the world. You can feel the excitement in the air here, Gale Banks isn't the only one who loves his job… And it shows
---
Click on any photo for a blowup!

Top Secret Projects…
Design and Testing
Expert In House Installation
Manufacturing
Shipping and Customer Service
Be sure to stay tuned for next month's installment…
When my trusty '97 Power Stroke diesel equipped Ford F350 Crew Cab 4×4 gets the full Banks PowerPack system installed. And you get the nuts, bolts and hard performance numbers of what it will do for your truck!