MotorHome
September 2000
Road-test and dyno evaluation of Banks PowerPack for Ford 6.8L V-10 Class-A motorhomes
Note: This article represents information on the '97-05 V-10 Power Pack. Please contact a Banks Power Consultant for information specific to other years/configurations.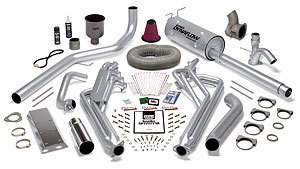 V-10 Power Pack®

Gale Banks' performance enhancements give Ford's big Triton engine room to breathe
When you own a Class A motorhome, any gain in fuel economy or performance is welcome. The new Gale Banks Power Pack® for the Ford 6.8-liter Triton V-10 engine can deliver a welcome kick in the performance pants for this popular power plant.
A 0.5-mpg improvement may not sound like much to a light-truck or sport-utility-vehicle (SUV) owner, but when you're driving your coach in the outer reaches of East Nowhere, the gas gauge is nearing empty and the next gas station is some 10 miles away, another 0.5 mpg can mean a lot. Likewise, shaving a few seconds off a 30-second 0- to 60-mph time may not win any races, but it is synonymous with better hill-climb ability and can mean the difference between merging safely and tangling with an oncoming semi.
Since the early 1970's Gale Banks Engineering has made a name for itself by improving the performance and fuel economy of everything from Class A motorhomes to half-ton pickup trucks. While performance and economy are often thought of as mutually exclusive goals, Banks' longstanding claim is that both can be provided with the Power Pack, a systematic approach to engine efficiency through improvement of intake as well as exhaust systems. By allowing the engine to breathe easier, efficiency is increased, which can translate into more power and torque, and improved fuel economy.
PowerPack® Parts & Pieces
Ford's V-10 is a popular and widely used motorhome engine. Banks works its magic by replacing the stock air-inlet duct with a Banks Ram-Air intake system consisting of a Super Scoop that draws in fresh air from a location just behind the grill, a formed metal transfer tube that replaces the stock plastic piece and a lifetime highflow Ram-Air filter with its own service kit. The result, according to Banks, is an improvement in airflow over the stock intake system.
To improve the exhaust side, the stock cast-iron "log" manifolds are replaced with Banks' stainless steel TorqueTube exhaust headers incorporating beefy 5/8-inch-thick flanges and tuned 1-5/8-inch primary tubes that merge into a five-tube, 3-inch collector featuring a device Banks calls a PowerPickle. According to Banks, the Power Pickle helps merge the flow from each primary tube into the collector and combines with a "rotational firing order" to scavenge the cylinders of exhaust gasses. Rather than changing the firing order of the engine, rotational firing order in "header speak" means that primary tubes of each header are arranged prior to the collector in the firing order of that bank of cylinders. This arrangement helps to "pull" the exhaust from the cylinders, rather than allowing it to escape under its own pressure. It's not a new concept, but it is a proven one, according to Banks.
Exhaust is then routed into a Banks Y-pipe that is shorter and straighter than the stock piece. The Y-pipe merges exhaust from both headers into a single 3-inch stainless-steel exhaust system, consisting of Banks' own acoustic-tuned Dynaflow muffler, a 3-1/2-inch Monster tailpipe and a 4-inch polished stainless-steel tip with right- or left-side exit available.
Finally, the stock EECV engine control computer's chip is enhanced with a Banks' OttoMind piggyback module, which mounts to an external port on the computer and recalibrates ignition timing parameters and air-fuel ratios to take full advantage of the intake/exhaust system modifications. Banks reports that this Power Pack system is 50-state legal per CARB E.O. no. D-161-57, and claims the setup is good for up to 50 hp and 65-lb-ft of torque, as well as an 8 percent improvement in fuel economy.
In the Lab
Banks invited us to the company's expansive facility in Azusa, California, to confirm these figures. Upon our arrival, engineering executive Peter Treydte took us around back to the computerized chassis dynamometer, where a 1999 Fleetwood Pace Arrow Vision awaited us. The testing, Treydte explained, would consist of three pulls to measure rear-wheel horsepower, followed by three simulated 0-60 and three 40-60 acceleration runs.
Next, we'd top off the fuel tank and embark on a 103-mile fuel-economy loop that would include a 6- to 7-percent grade that stretches skyward for four miles. The following day, the Banks Power Pack system would be installed, and the test would be repeated to determine the results.
In the dyno area, we were told that Banks initiates its testing at the top of the engine's rpm band (in this case, 4,600 rpm) with the transmission manually locked in third gear. The dyno then steps the engine down in 200 rpm increments to 1,800 rpm. Each step lasts 10 seconds, but only the second half of each step is recorded. According to Banks, this technique allows for the torque spike that occurs when the dyno makes each step: stabilizing the figures before recording them results in more accurate readings. Further, stepping the engine down rather than up "heat soaks" the engine, more closely representing the heavy load situation a motorhome may encounter when pulling a long grade.
Inside, the Pace Arrow looked like a mobile science laboratory. On the floor was a data-logging system that records a variety of inputs and can sample data 1,000 times per second—from coast to coast if necessary. Behind the driver's seat, we positioned a junction box from which the computer took all of its samples.
First we brought the engine up to 4,600 rpm, then mashed the accelerator to the floor until the pull was completed. After three pulls, we recorded the average: 181.9 hp at 4,408 rpm and 299 lb-ft of torque at 1,999 rpm.
Next, it was time for the acceleration testing. Based on the weight of the vehicle, aerodynamic considerations and a variety of other parameters, the dyno can accurately simulate 0- to 60-mph, 40 to 60, even standing 1/4-mile tests. As a rule, we do acceleration runs outdoors under real-world conditions, but that's not always practical. Dynamometer testing is sometimes preferred in metropolitan areas because a stretch of road long and straight enough to get a 20,500-pound coach up to 60 mph can be difficult to find. In addition, the dyno eliminates any variables, such as road undulations, wind gusts and, of course, traffic. The three 0-60 runs on the dyno yielded an average of 32.5 seconds. Subsequent 40-6- testing resulted in an average of 17.5 seconds.
Road Trip
On the highway, we were careful to keep the speed at exactly 60 mph (where possible) to maintain consistency. At a green bridge that marks the beginning of the 6- to 7-percent grade, the Pace Arrow was given full throttle to maintain 54 mph in third gear at 3,000 rpm. Roughly one mile later, at the predetermined landmark, the transmission downshifted into second gear, and speed dropped to 51 mph at 4,400 rpm. And by the top of the grade that pace had slowed to 49 mph at 4,300 rpm. When we arrived back at the Banks facility, the Pace Arrow had been driven 103.1 miles and had consumed 14.432 gallons of regular unleaded fuel for an average of 7.1 mpg.
Modified Coach Testing
Once the Power Pack had been installed, the Pace Arrow was back on the dyno. The results, to say the least, were impressive. Rear-wheel horsepower increased all the way through the engine's operating range, with a peak figure of 229.6 hp at 3,800 rpm (average over three pulls) and a best gain of 53 hp at 4,000 rpm. Torque likewise improved to 351 lb-ft at 2,809 rpm, with a best gain of 70 lb-ft at 3,600 rpm.
With such impressive horsepower and torque gains, you would expect a noticeable reduction in 0- to 60-mph and 40- to 60-mph timed acceleration runs—and the Banks Power Pack system delivered. The 0- to 60-mph times dropped an average of 6.4 seconds, while 40 to 60 times improved by 3.9 seconds.
When we got back on the road to repeat the fuel-economy loop, the first thing we noticed was the noise level. Inside, there's virtually no change in sound level or quality, and that's good for keeping the coach interior quiet. Outside, the exhaust creates a more authoritative, muscular sound quality, but it's still within the realm of the civilized exhaust performance.
Back on the grade, the Pace Arrow managed 62 mph wide-open at 3,450 rpm in third gear, and slowed to 58 mph at 3,200 rpm by our landmark, but did not downshift. By the top of the grade, we had dropped to 56 mph at 2,900 rpm, but the transmission remained in third gear.
Staying in a higher gear at a lower rpm reduces fuel consumption, and it showed. At the end of our 103 mile loop, the Pace Arrow had consumed 13.4 gallons of fuel for an average of 7,687 mpg, an improvement of 0.543 mpg, or 7.6 percent. (For more complete test results, see the charts.)