Gale Banks on Motor Trend Radio
Gale Banks joins the guys at MOTOR TREND RADIO to talk about new engines, cool gadgets, emissions, the military …

Gale Banks was a guest on MOTOR TREND RADIO Saturday, July 21st. The show is hosted by Alan Taylor and is broadcast every weekend through 82 affiliates nationwide.
Gale, Alan along with co-hosts Ed Justice, Jr., Dick Messer and Josh Hancock covered a variety of subjects including the Banks iQ, traditional power products for trucks, SUVs and motorhomes, along with the new series of Gale Banks diesel engines including the 630T V6 3.0L diesel, 866T V8 6.6L diesel and the Sidewinder Turbo system for the 6.5L diesel in military wheeled vehicles as with the HMMWV ("Humvee").
The topics then turned to today's smokeless diesel engine technology and the addition of emissions legal Banks Power products. The myth "if it's not smoking, there's no power" was discussed…and exposed.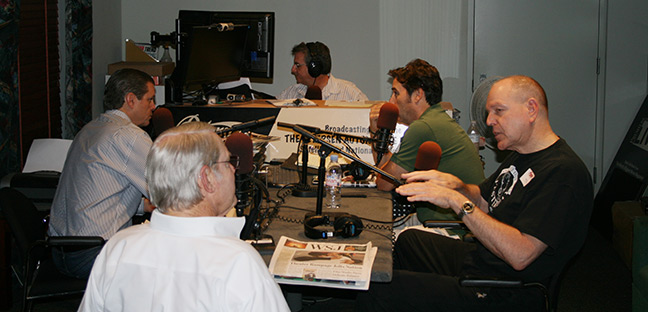 Shown here from left are Ed Justice, Jr., Dick Messer, Alan Taylor, Josh Hancock, and Gale Banks.

click here to hear!
---
About Motor Trend radio: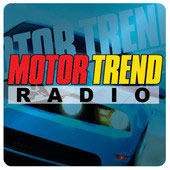 MOTOR TREND RADIO brings the world's #1 automotive authority, Motor Trend Magazine, to the airwaves! In 2010 Motor Trend Magazine celebrated 60 years of experience and unmatched editorial coverage with a loyal following of over 8 million readers. Motor Trend Magazine has been available in print, online, on mobile phones, and now on MOTOR TREND RADIO.
MOTOR TREND RADIO is a pedal-to-the-metal, live three-hour show devoted to the latest new car news and test-drive reports along with hot off the presses Truck Trend and Motor Trend (MT) Classic segments. This weekly program is packed with the latest auto show coverage, trusted industry experts, celebrity drivers, and prominent newsmakers.
Automotive expert, Alan Taylor, challenges the auto world by test-driving the latest models from every leading automaker worldwide. On the show, Alan shares his expert opinion on new technology, and the handling and performance of each car and truck. With bustling banter, listener call-ins and helpful hints geared to optimize your vehicle's performance, you'll receive insightful commentary that you can trust.
Award winning host, Alan Taylor, is a 30-year broadcast veteran and a true automobile aficionado. For years, Alan has been a featured automotive expert to millions on ABC, CBS, CNN, FOX, NBC, the SPEED Channel and many others. Alan lends his expertise on many car and truck related topics, including: Interviews with auto buffs and collectors like Jay Leno, Tim Allen and many others.