CK Truck Magazine: LokJaw
This article about LokJaw originally appeared in CK Truck Magazine, and was written by Fuelish Media. Best known for specializing in performance products for both consumers and military use, the folks at Banks recently embarked on a completely new venture that made people think the team had gone mad! The common types of vehicles they work on are built to either break speed records or haul heavy loads with ease. So, building a slammed '66 Chevy C20 that has a weathered body is a bit different to say the least.
Starting in the 1950s, Banks has made major leaps in performance technology through real-world testing. In 1989, Banks broke five-speed records with the development of the turbocharged GMC Syclone, which topped out at 210 mph to make it the "World's Fastest Pickup." As Banks made a push to further diesel technology, the Sidewinder S10 dragster project set the quickest and fastest ¼-mile of 7.77 E.T. at 180 mph in the Top Diesel Class at the NHRDA World Finals on September 25-26, 2010 in Topeka, Kansas with driver Wes Anderson.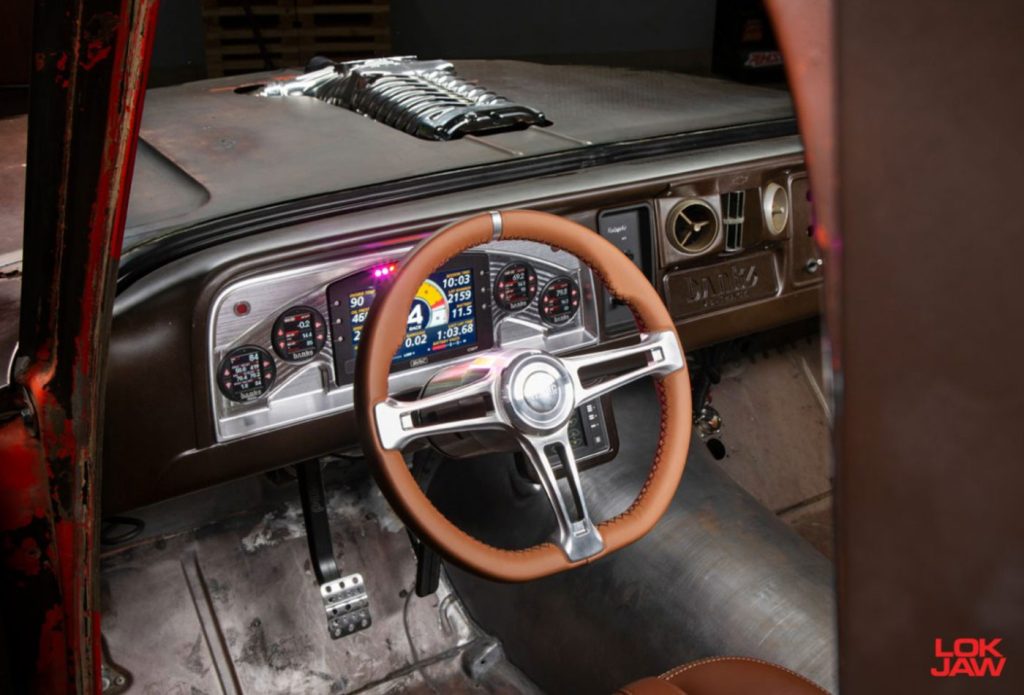 The Banks team bought this '66 Chevy C20 for only $1 plus some registration fees. Since everyone at Banks is a gearhead, leaving it stock was never an option. Instead, they devised a plan to replace the Mr. Goodwrench 350 (Chevy small block V8) gas engine with a special diesel package and swap the chassis to make this truck sit lower than ever. As you can see, this truck is definitely something different from previous Banks projects.
The Foundation
Starting with the foundation, the team turned to the folks at the Roadster Shop, who have re-engineered numerous older vehicles such as this one. The truck is a bit different from the rest. The chassis is stronger to accommodate the Duramax-based engine and withstand its torque. Starting with custom front spindles from the famed off-road house, KibbeTech, it has 8-lug hubs to help support the heavy engine. Out back is a custom Strange Engineering full-floating 9-inch 8-lug rear end with 35-spline Hy-Tuf axles and Eaton Detroit Truetrac limited-slip differential. Topping off the suspension is a set of airbags, shocks, BigRed valve block, and RidePRO E5 air management system from Ridetech.
Wheels
The truck rolls on a set of one-off 22-inch Sparc Industries billet wheels. Each one cut from a solid block of aluminum. You may notice they have fins, which are not just for aesthetics as they aid in heat dissipation and aerodynamics. These striking rollers are also wrapped in Nitto Invo tires for the ultimate in high-performance traction. Bringing it all to a halt is a set of Wilwood TX6R 16-inch disc brakes with their massive clamping power.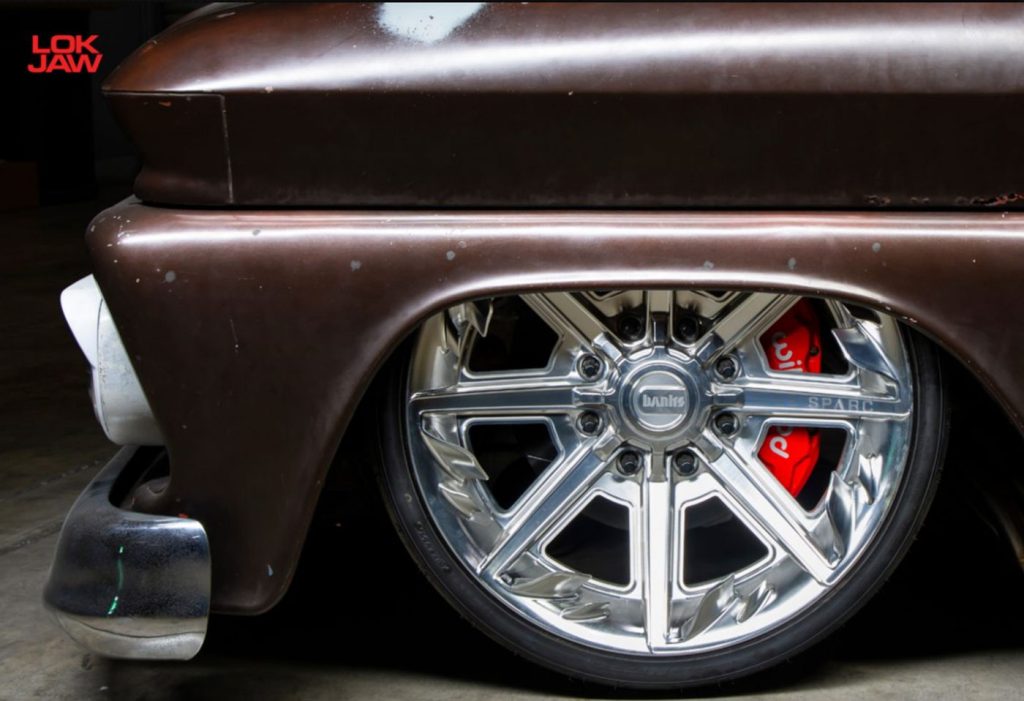 LokJaw showcases the new Banks R866SC power package (Banks' turnkey engine), developed for transplants into older vehicles and marine applications. The package consists of a Duramax L5P 6.6L diesel engine with heavy modifications. A proprietary camshaft, valve spring package, and pushrods, along with an in-house-designed wet sump oil pan fit the engine like a glove. Banks' unique relationship with GM allows them to inject their parts into the production line at DMAX. Final assembly, calibration, and dyno testing is performed at Banks' engine plant in Azusa, California. 
The Engine
The engine package on this truck is force-fed by a Whipple gen-5 3.8L twin-screw supercharger with an air-to-water intercooler. It also has a twin-ram air intake system that benefits from some trick metal work by Empire Fabrication. The intake system utilizes a '60 model grille. That has a set air scoop in lieu of the factory high beam lights. Behind the new openings is a set of airboxes with 9-inch air filters. Additionally, two carbon fiber nitrous bottles are plumbed into the Banks-built intake manifold for an extra kick in the pants.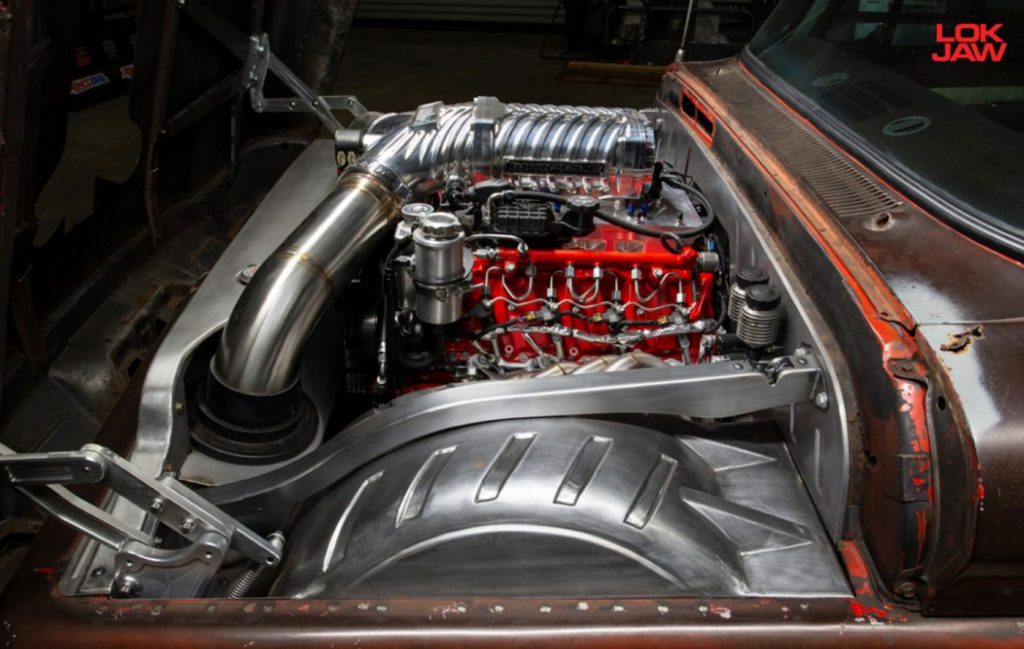 Exhaust
Exhausted gases move through a set of custom stainless steel long-tube headers, fabricated by Dragos Toma at Candela Manufacturing. However, the consumer version of the engine will ship with new cast Banks exhaust manifolds. Following the exhaust flow leads to the massive 5" stainless steel Monster Exhausts with ob-round SideKick tips. A MoTeC M142 ECM and PDM30 power distribution module control the system. Featuring a custom tune to maximize the power to the ATS-Diesel custom Allison 1000 transmission via Powertrain Control Solutions' GSM push-button shifter and paddle shifter. 
The Pilot
The task of piloting this truck is done from a set of TMI Products' premium bucket seats that match their replacement door panels. Turning is handled by a Sparc Industries steering wheel connected to a Flaming River column. Above it is a MoTeC C127 dash display with four Banks' iDash DataMonsters, all set in a custom billet bezel. Creature comforts of this truck include the Vintage Air SureFit climate control unit that maintains a cozy temperature inside the cab.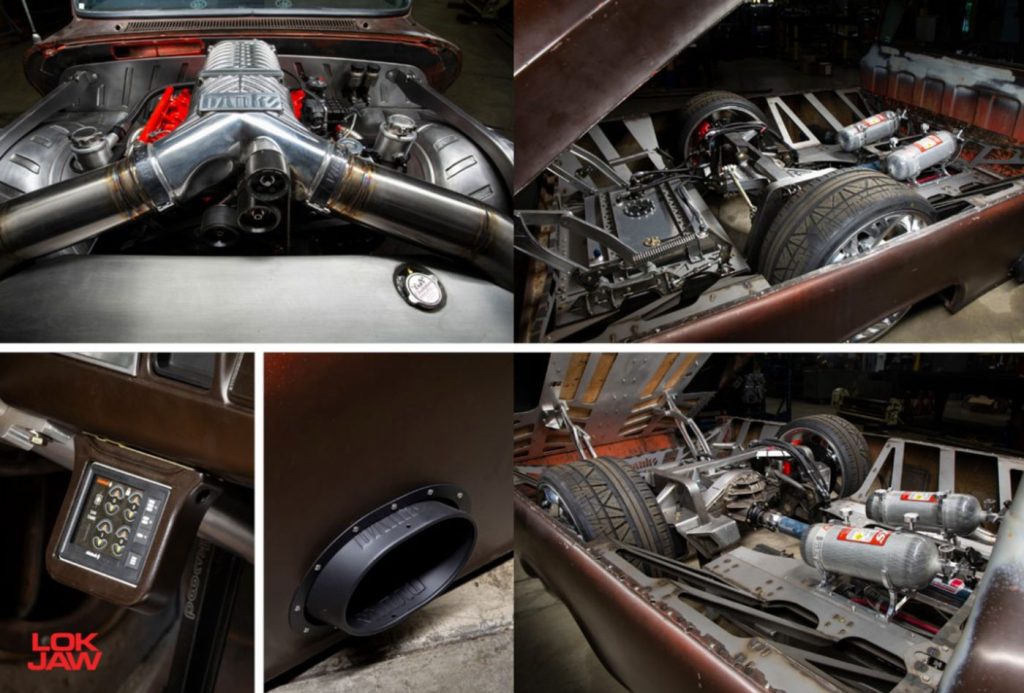 Part of this truck's excitement is the fact that it opens up to reveal all the inner goodies you normally don't see on completed builds. LokJaw has a front tilt hood and bed crafted in-house by the masters at Banks. Thanks in large part to Matt Gamble's extensive knowledge of CAD and the fabrication skills of Erik Reider. Other mods that make this truck stand out are the front and rear wheel tubs by Empire Fabrication.
Many have questioned why a performance-based company would build such a truck and to answer the skeptics, we ask why not? Hot rodding is a form of self-expression and this C20 goes to serve those who simply want to see something wild.
Banks Power '66 C20
Banks R866SC V8 Duramax L5P 6.6L diesel 
Gen 5 3.8L Whipple supercharger with air-to-water intercooler
Empire Fabrication twin intake and airboxes with 9-inch air filters
ZPE/Griptec supercharger pulley
Roadster Shop Spec Series chassis
Wilwood TX6R 16-inch disc brakes
Strange Engineering 9-inch 8-lug rear end with 35-spline Hy-Tuf axles and 
KibbeTech spindles
Ridetech airbags, shocks, Big Red valve manifold, and RidePRO E5 air ride suspension control system
MoTeC C127 monitor, M142 ECM, and PDM30 power distribution module
Banks iDash DataMonster OBD monitor/data logger
Allison 1000 automatic, six-speed, built by ATS Diesel
PCS Paddle Shifter Kit, Gear Select Module Kit with Polished Inline Horizontal Remote Configured for CAN bus 
Eaton Detroit Truetrac differential
Nitrous Supply carbon fiber nitrous bottles
Champion radiator
Custom billet gauge bezel
Powertrain Control Solutions' GSM Push Button Shifter kit
QA1 carbon fiber driveshaft
Braille i31S Intensity lithium battery (3,100 CCA)
Aeromotive Brushless Spur Gear 20 Gallon Fuel Cell with Variable Speed Controller, Extreme Flow 10-m Microglass Fuel Filter.
245/30ZR22 and 295/25R22 Nitto Invo tires
22×8.5 and 22×10.5 Sparc Industries one-off 8x180mm billet-aluminum wheels
Tilt hood and bed 
Vibrant HD clamps and stainless tubing throughout
Setrab transmission cooler
5" stainless steel Banks Monster Exhaust with SideKick tips 
Empire Fabrication wheel tubs, core support, driveshaft tunnel, roll pan, and sheet metal work
'60 model grille with air scoops for intake
TMI Products bucket seats and custom-molded upholstered door panels
Sparc Industries steering wheel 
Flaming River steering column
Vintage Air SureFit climate control unit
FLO AirRide modular billet air tank
Mechman Elite Series 370-amp billet alternator