Adding 104 hp to a 1999 Ford F-250 7.3L
After totaling the infamous "Banana Ram", a lifted yellow RAM 6.7L show truck in a roll-over accident in Daytona early this summer, Ryan Mayer set out to find another truck to build. The Ohio-based self-taught mechanic found a 1999 Ford F-250 with a 7.3L Power Stroke. To most people, the truck was too far gone to save. But not to Ryan. His job is building show trucks—on camera.
After completely dissembling the truck, his first job was to paint it an almost iridescent pink pearl. Yes, you read that correctly. Ryan builds head-turners—lime green, banana yellow, iridescent pink—you get the point. 
Because Ryan drives his trucks thousands of miles to shows around the country, he needs improved towing power and reliability. So, he ordered up a full Banks PowerPack.
Two decades after its first release, the PowerPack for the 7.3L is still Banks' most popular system for the '99 and up Power Stroke. Although the 7.3L is an outstanding, dependable engine, owners know all too well how anemic it is. The PowerPack solves that by adding a whopping +104 hp and +224 lb-ft.
The system includes a Banks TransCommand module, Ram-Air intake system, Intercooler upgrade, QuickTurbo turbine housing, turbocharger compressor wheel, BigHead wastegate actuator, Monster turbine outlet pipe, Monster Exhaust system, and all necessary hardware.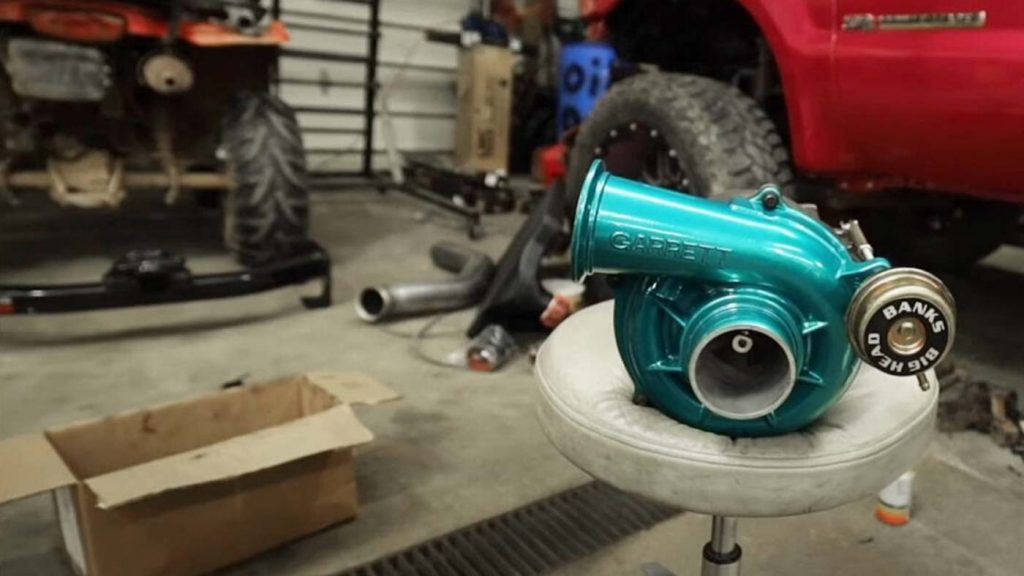 But Ryan's not one just to install his go-fast equipment as-is. He's into custom colors in a big way as you'll see from the compressor housing below. Green, yellow, purple, black, and pink, all applied by hand and baked in an oven in his garage. Follow his progress here.