New Garrett Turbos from Banks Power
Banks is now an authorized dealer for brand new Garrett Turbocharger systems.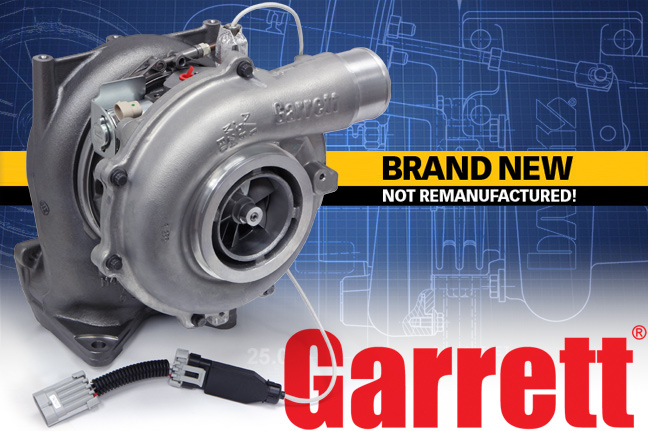 Genuine Garrett PowerMax turbo kits are now available for your truck directly from Banks Power. These are 100% brand new units, not remanufactured or rebuilt. They're ideal for replacement or as an upgrade. There is no core charge, you keep your original turbo.
A Garrett PowerMax turbocharger is a must have for anyone who wants to get more out of their truck. Designed for increased compressor flow and boost response, these turbochargers significantly increase turbine efficiency and improve engine performance from idle launch through peak torque.
Designed as a "drop-in upgrade," the turbos retain use of factory components such as engine electronics, mounting pedestal and require no additional modifications to your factory exhaust system. By utilizing a larger compressor wheel these turbochargers will increase your maximum power range and support additional horsepower. Turbo systems are currently available for 2003-07 Ford 6.0L Power Strokes, 1999.5-2003 Ford 7.3L Power Strokes, and 2004.5-2011 GM 6.6L Duramax applications. (As an option, in addition to the PowerMax turbos, we also offer brand new stock replacement turbos for Ford 6.0L trucks.)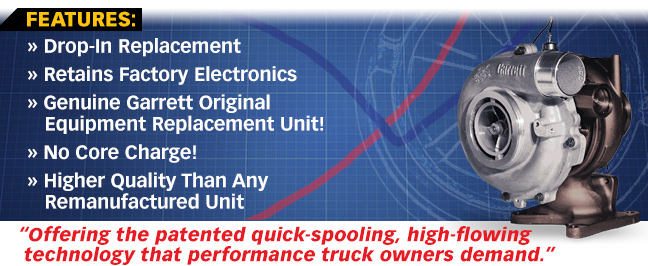 Why go with a brand new Garrett turbo? Because remanufactured turbochargers are proving to have repeated failures. This is caused by the reuse of the variable geometry vanes, and from reusing parts that Garrett's engineers have made changes to for better operation and greater durability.
Why deal with the core and a lower quality replacement unit? Get the Best for Less today! We have these in-stock and ready to ship to you with everything you need for a trouble-free installation.

These Brand New Original Equipment turbochargers are only available through authorized Garrett aftermarket warehouses. And that's Banks Power! Give us a call, tell us about your project, and we'll help you determine how to get the most bang for your buck.