Diesel Performance article from SEMA
Diesel: the performance option embraced by enthusiasts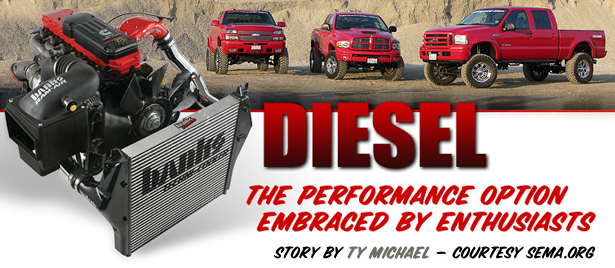 With modern diesel vehicles becoming cleaner, quieter and more powerful, the performance diesel market is expected to take off in the coming years. The heavy-duty pickup truck market is already dominated by performance-seeking enthusiasts who opt for the diesel package, but it is the light-duty vehicle segment that will see a surge in diesel buyers.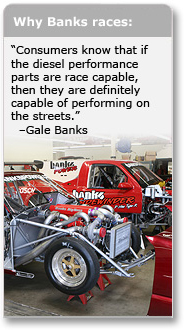 Gale Banks, a major player in the world of diesel performance, predicts that "…over the next 15 years, the diesel market share of cars and 1/2-ton pickups will reach 16% to 18%." Gale Banks Engineering set a groundbreaking diesel pickup land speed record of 222 mph back in 2002 and showcased its latest diesel drag racer, dubbed the Sidewinder® D-Max Type-D, at the 2006 SEMA Show. The company is now racing one of its latest diesel creations, the Sidewinder® D-Max Type-R, in endurance competitions. The advantage of racing a diesel, Banks said, is superior fuel economy, which results in less fuel fill-ups, and the fact that diesels produce high horsepower at lower rpm relative to gasoline engines. In fact, one of the best marketing tools a performance diesel company could employ is to use its parts in race vehicles-either building its own diesel race vehicle or placing its parts in someone else's diesel racer.
"Setting records using diesel engines is definitely good for business," claimed Banks. Consumers know that if the diesel performance parts are race capable, then they are definitely capable of performing on the streets. Diesel is now growing its position in the public view as a performance-capable alternative. In addition to land speed records, consumers are being exposed to performance diesel through mainstream media.
As consumer awareness of the fuel-saving benefits of diesels continues to improve, so will consumers' adoption of diesels. Consumers are now finding that they can obtain performance in their vehicles without sacrificing fuel economy. "Frugal new-vehicle buyers are attracted to the diesel option because it offers guilt-free performance," said Gale Banks.
Related links:
Tech article: Diesel-The Performance Choice
Tech article: Diesel Evolution
Tech article: Understanding Today's Diesel