Product Evaluation: Banks PowerPack
Trailer Life
February 1998
Ford Power Stroke 7.3L turbo-diesel trucks
New bolt-on components make the Ford diesel-powered pickups stand up and roar
Since the trend toward larger, heavier trailers with more slideouts and luxury options began, owners call on today's diesel pickups to tow more weight than ever ­and they want to go uphill faster!
Gale Banks Engineering of Azusa, California, which has built RV performance-enhancing products for years, recently introduced a new system designed for the Ford Power Stroke diesel engines, which are very strong performers in their own right, that dramatically increases horsepower and torque and still manages to improve fuel economy.
Banks produces two products for the Power Stroke diesel: a PowerPack® and a Stinger System. The Stinger comes with a low-restriction air cleaner, turbine-outlet pipe, Monster tailpipe and tip, plus the exclusive OttoMind electronic module, which provides calibration software for the engine computer. All exhaust pipes are stainless steel. There's also a boost gauge to monitor turbo output and a pyrometer to measure exhaust-gas temperature.
PowerPack includes the above, plus Banks' Quick-Turbo turbine housing and an aftercooler (also known as an intercooler). The Quick-Turbo is designed to improve throttle response by accelerating the turbine blades faster. As air goes through the turbocharger, it picks up heat from being compressed. An aftercooler is a heat exchanger that removes heat from the intake air after it is compressed by the turbo and before it reaches the combustion chambers.
When diesel engines are worked hard, combustion chamber temperatures rise to levels near the manufacturer's specified maximums. This can be monitored with an exhaust-gas pyrometer (temperature gauge) and may be limited by backing off on the accelerator pedal. Higher boost pressures also raise the temperature of intake air; aftercoolers help reduce internal engine temperatures by cooling the incoming air. Cooler air is also denser, with more oxygen molecules in a given volume. This results in less heat and more power. According to Banks personnel, aftercooler was carefully sized to provide maximum temperature drop for the intake air charge along with minimum restriction to the radiator.
In addition to the Power Stroke products, Banks offers both products for all factory Ford diesel pickup truck engines. These kits consist of much of the same equipment as mentioned above. Banks reports gains of 27-hp and 5-percent fuel economy with these systems.
Testing
The project vehicle is a 1997 Ford F-250HD crew cab with the Power Stroke diesel, automatic transmission, 4.10:1 axle ratios and four-wheel drive. We tested acceleration, hill-climb speeds, horsepower, torque and fuel economy. Each test was done first as a baseline with the stock vehicle and afterward with the Banks PowerPack installed.
The test coincided with a heat wave, with temperatures hovering in the high 90s and low 100s during the testing. Fuel-economy and hill-climb tests were conducted with the air conditioner running (hey, we're not gluttons for punishment!). Rear-wheel horsepower was checked on a chassis dynamometer and results were corrected using SAE standard methods, which standardize for variations in test conditions, such as barometric pressure, temperature and humidity. The torque converter was locked up electronically during the dyno test; this reduces the heat buildup and parasitic power loss.
Vehicle manufacturer specifications use engine dyno measurements, which are taken at the flywheel and are considerably higher than chassis dyno results. A substantial amount of power is consumed by the transmission, transfer case (4WD only), driveline and rear axle.
Aftercoolers rely on a large flow of cooling air passing over them to be most effective. Hence, they don't work as well on a chassis dyno as they do out on the highway. It's also worth noting that there are no universal industry standards for chassis dynos and results vary considerably between different units. Therefore, dyno readings are good for before and after comparisons for percentage values of changes, but results of tests conducted on different dynos are not directly comparable.
We drove a 108-mile loop that included mostly freeway driving with sweltering runs up the 6-percent grade of Southern California's 4,190-foot-high Cajon Pass. The cruise control was set at 60 mph to approximate the speed most people tow trailers. This provided us with a relative indication of fuel economy and hill-climb performance while hauling a combination weight (including trailer, driver and passenger) of 17,480 pounds. During the hill climb, we recorded the lowest speed (43 mph) while stock. With the PowerPack, we floored the go pedal to see to what speed the rig would accelerate.
Acceleration tests were run both solo and with the trailer. Zero-to-60 mph standing start and 40-60 mph passing acceleration runs were measured. Acceleration with the PowerPack was hindered by excessive wheel spin; with better traction, 0-to-60 times and acceleration distances would have been shorter. However, this was a test and the resulting wheel spin would not occur under normal driving conditions.
Results
After driving the stock truck and trailer combination, the PowerPack made the truck accelerate and cruise like half the weight of the trailer had been removed. Even with about an extra 1,000 pounds hitch weight loading the rear tires, power improved so much that wheel spin became a problem and it was necessary to "feather" the accelerator pedal the first few yards to avoid smoking the tires.
Despite the weight of the trailer, the modified truck accelerated briskly through the gears. Once underway, passing and merging were much easier and quicker. Hill climbs were likewise more enjoyable; we could even accelerate on a 6-percent grade! At the bottom of the pass we "floored it" and watched the speedometer climb to an incredible 69 mph (don't try this at home) while other tow vehicles labored up the grade displaying their hazard flashers.
Coolant, oil, transmission and exhaust gas temperatures, even on this scorching day, remained at or very near the stock temperatures. Exhaust backpressure decreased from 2.7 psi to 0.8 psi, which helps the turbo develop a higher peak boost from 15.0 psi stock to 22.5 psi with the PowerPack. The aftercooler dropped the intake temperatures nearly 200 degrees F. This helps contain exhaust-gas-temperatures (EGT) despite the extra boost and fuel. The higher road speed forces more air through the radiator and transmission coolers and these temperatures were likewise about the same as stock, even with the extra power.
The combination of heavy trailers and increased power can play havoc with a stock automatic transmission. Banks includes its TransCommand module, which firms upshifts and improves towing performance of the E4OD transmission, with the PowerPack. A TransCommand was in the test truck and it seemed to work well; shifts under load were firm enough to eliminate excess slippage and unladen shifts were smooth and comfortable.
As with all aftermarket performance equipment, modifications to the stock configuration can put the vehicle's warranty in jeopardy. If a stock component failure is caused by the modifications, warranty coverage may be denied on affected items. However, the vehicle manufacturer must be able to prove that the failure was the direct result of the aftermarket product before denying warranty.
At presstime, California Air Resources Board (CARB) certification was still pending. When CARB successfully completes testing, an exemption order (EO) number will be issued that makes the system "smog" legal in all 50 states. Check with Banks for the latest update.
Summary
We saw major gains of more than 114-hp and 227 lb-ft at the rear wheels, a 38 percent improvement in 0-60 mph acceleration and 45 percent from 40-60 mph while towing with a 10 percent improvement on the fuel-economy loop.
Banks PowerPack delivered the goods, with gobs of additional power throughout the range of driving conditions. We found the components to be well designed, nicely made and they worked well together. Banks offers a limited lifetime warranty against defects in material and workmanship.
Suggested retail price of the PowerPack as tested is $2,939 for manual transmission models. Automatic transmission-equipped vehicles require the TransCommand, which is $259 more. Prices are plus shipping and tax where applicable. Installation at Banks is estimated at 12 hours ($720); however, an experienced home mechanic should be able to complete the installation using the accompanying instructions. Stinger kits start at $995
Banks PowerPack Test Results
1997 Ford F-250 Power Stroke
| | | | |
| --- | --- | --- | --- |
| | | | |
| Acceleration, Solo: 0-60 mph | | | |
| Acceleration, Solo: 40-60 mph | | | |
| Acceleration, Towing: 0-60 mph | | | |
| Acceleration, Towing: 0-60 mph | | | |
| Fuel Economy, Towing: | | | |
| Hill-Climbing Speed: (max. speed, 6% grade, towing) | | | |
| Rear-Wheel Horsepwer: Peak (3,000 rpm) | | | |
| Rear-Wheel Horsepwer: Best Gain (2,400 rpm) | | | |
| Rear-Wheel Torque: Peak | | | |
| Rear-Wheel Torque: Best Gain (2,400 rpm) | | | |
| Peak Boost: | | | |
| Exhaust Backpressure: | | | |
| Air Cleaner Vacuum: (at the same horsepower) | | | |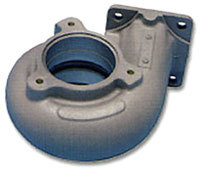 Banks' PowerPack® Quick-Turbo turbine housing is designed to improve throttle response time (decrease lag time) by accelerating the turbine blades.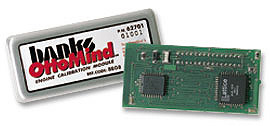 Included in the PowerPack® and Stinger System, the OttoMind module provides calibration for the engine computer.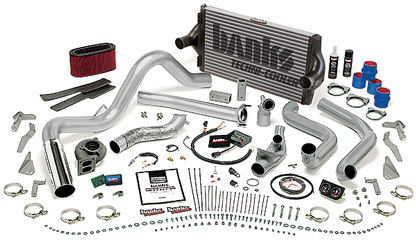 The PowerPack® kit is made up of everything you see, which includes the Stinger System.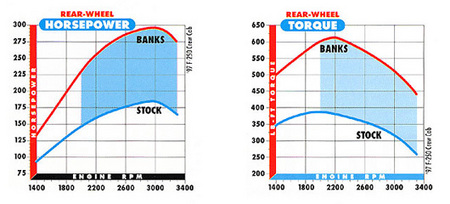 These two graphs show the dramatic differences in horsepower and torque between the stock Power Stroke engine and the same engine equipped with a PowerPack®.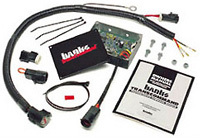 Required by automatic-equipped vehicles. Banks' TransCommand module (above) firms upshifts and improves towing performance of the E4OD transmission.