We have put together these Technical Articles in order to help you understand what your vehicle needs to perform. From the air entering your intake to the exhaust exiting the tips, we explain the benefits of improving the performance of your vehicle. Take a look at the various technical articles and take in the knowledge that our engineers have shared.
Why Big Density Makes a Big Difference
Why Big Density Makes a Big Difference Banks Techni-Cooler™ system removes restrictions, reduces pressure drop from the boosted air, and significantly cools the air for greater density, oxygen content and power. The Techni-Cooler creates cooler, denser air, and Banks' High-Ram intake, with its larger size and less restrictive shape, does a far better job than the ...
Read more about this post
Why Diesels Make So Much Torque
For those used to gasoline engine torque numbers, diesel torque verges on the unbelievable. Most competitors at Bonneville aren't street legal, and most arrive on a trailer. Project Sidewinder drove in pulling a trailer! The Banks Project Sidewinder, a Dodge Dakota pickup fitted with a modified Cummins 5.9L (359-cubic-inch) in-line six-cylinder diesel, made 1300 lb.-ft. of ...
Read more about this post
Why EGT is Important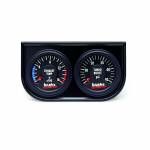 Keeping an eye on exhaust gas temperature can save big money The exhaust gas temperature (EGT) pyrometer can be one of the most important gauges on a turbo-diesel-powered vehicle. It can warn the driver of situations that are potentially damaging to the engine, and it can also be used as a guide for optimizing fuel economy. Diesel ...
Read more about this post