We have put toghter these Technical Articles in order to help you understand what your vehicle needs to perform. From the air entering your intake to the exhaust exiting the tips, we explain the benefits of improving your vehicles performance. Take a look at the various technical articles and take in the knowledge that our engineers have shared.
FMEA: What is it and what benefit does it provide the customer
FMEA: What is it and what benefit does it provide the customer? Banks' electronic products offer customers exclusive ActiveSafety™ redundant design. ActiveSafety is an easier way of saying what Banks engineers refer to as Failure Modes Effects Analysis, or FMEA for short. This paper explains what FMEA is, how it makes our products different and what ...
Read more about this post
Ford-Diesel.com Quizzes Gale Banks
Highlights from the February, 2001 interview, in which Gale answered the top tech questions on diesel-truck owners' minds. Ford-Diesel.com: What did Ford change in the turbo on the 1999.5-up Power Strokes? What is "compressor surge," and how can it be fixed on these trucks? Gale Banks: There are a few notable differences between the turbo design of ...
Read more about this post
Future Fuel
What will power our vehicles in the days ahead? The gas pump has been a common fixture on the American scene for nearly 100 years. Do not expect it to disappear in the immediate future, but look for more diesel pumps to appear at local service stations. It seems we can't look at news or read a ...
Read more about this post
Gas or Diesel?
When Buying a New Truck, SUV or Motorhome, You'll Have to Make an Important Choice. Which is better, gas or diesel? It's a question confronting more and more new vehicle buyers in the light truck, SUV, and motorhome marketplace. And soon, it may be a question for car buyers too. Whether you opt for the more ...
Read more about this post
How a Turbo Wastegate Works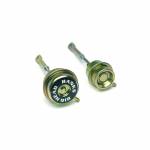 The common turbocharger wastegate would seem like the height of simplicity, but high performance can add complications. BigHead vs. Stock actuators Let's begin by describing what a turbo wastegate is. A wastegate is essentially a device that bypasses some exhaust flow around the turbine section of a turbocharger to control maximum boost. A wastegate is usually controlled ...
Read more about this post
How Air Flows
Understanding why air behaves the way it does. This diagram indicates laminar flow through a conduit. The length of the arrows represents the relative speed of the fluid in the conduit. The fastest flow is at the very center of the conduit, and the slowest flow is adjacent to the conduit walls. If the conduit is ...
Read more about this post
How An Exhaust Brake Works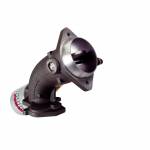 Why exhaust brakes are so effective on diesel-powered vehicles. Diesel engines control engine speed and power output by throttling the amount of fuel injected into the engine. A diesel has no air throttle. Because it has no air throttle, a diesel engine offers virtually no engine braking when the driver lifts off the accelerator pedal. There ...
Read more about this post
How Banks Power Works – It's all about Airflow
With your engine starved for air, a tremendous amount of power traveling through the power-train is unnecessarily wasted before it gets to where it matters—your vehicle's rear wheels. In the confines of a stock motorhome or truck, your gas or diesel engine's inherent power is limited by factory restrictions in the intake and exhaust. With your ...
Read more about this post
Making Your Motorhome Better Than New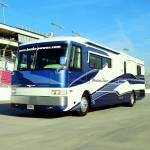 By removing intake-and-exhaust restrictions that limit an engine's power potential, Banks Power products liberate horsepower and torque. As this typical motorhome accelerates up a hill, its power requirement increases. Note that there is a loss of available power as the coach approaches each gear change. With Banks PowerPack® installed, there is more power at every point ...
Read more about this post
Nitrous Oxide & the Diesel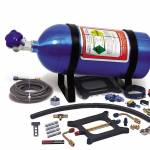 Nitrous oxide has long been a favorite of hot rodders for gasoline engines, but it can work for diesels too. If you're a hot rodder, you almost certainly know about nitrous oxide injection and the instant power it can make in a gasoline engine. But just in case you're not familiar with "squeeze" or "running on ...
Read more about this post