Two new videos showcase latest technology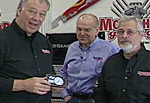 Gale shows the guys at Motorhead Garage some new abilities and options for the Banks iQ, then he demonstrates how the Banks SpeedBrake drastically improves braking performance.
Check out these two videos that show Banks is more than just trucks!
The folks over at Motorhead Garage on Fox Sports Net have aired two episodes recently that featured the Banks iQ and the Banks SpeedBrake. If you've been wondering if these products are for you, these videos will assuredly help you decide.
Watch the Banks iQ video…
Watch the Banks SpeedBrake video…
Have any questions left unanswered? Give one of our Power Consultants a call. Tell 'em what vehicle you're driving, and they'll tell you what you can expect to gain from these products. Call toll free 1-800-601-8072.