Supercharging and Turbocharging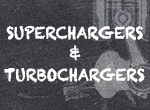 Tech Talk #3: In this "Life After Wide Open Throttle" seminar Gale covers the ins and outs of forcing air into an engine.
Have you been following the Twilight Tech Talk series? The first two were a big hit with everyone from high school students to college professors and from seasoned gearheads to folks just getting into the world of automotive performance. Now it's time for "Life After Wide Open Throttle," the third episode from the series. Watch and learn about "density machines" and all things forced induction—what it is exactly, how to use it properly, and how to measure it scientifically.
Gale talks about the different types of forced induction and the pros and cons of each, plus he sheds light on the concept of "intake air density" and how knowing what it is it is more important than knowing what your boost is. Find out answers to questions like, what is the fuel requirement at a 12/1 air fuel ratio? And if you double your boost pressure do you double the intake density? Should you go roots or screw? And just what is the worst supercharger ever made? Watch and find out.
This episode is for old school hot rodders, young tuners, and pretty much anyone who isn't satisfied with stock power levels.
Tech Talks are held in the Gale Banks Automotive Technology Exhibit inside the NHRA museum, located at the Fairplex in Pomona, 1101 W. McKinley Ave., Bldg. 3A, Pomona, Calif. 91768. Enter at Gate #2 (west of the Sheraton Hotel). For more info, call 909/622-2133 or visit museum.nhra.com.
---
Catch all the seminars here:
| | | | | | |
| --- | --- | --- | --- | --- | --- |
| Tech Talk #1 | Tech Talk #2 | Tech Talk #3 | Tech Talk #4 | | |
| | | | | | |