Banks iQ Travel Case Speaker System
Add a whole new dimension of enjoyment to your Banks iQ with a protective case that has built-in speakers!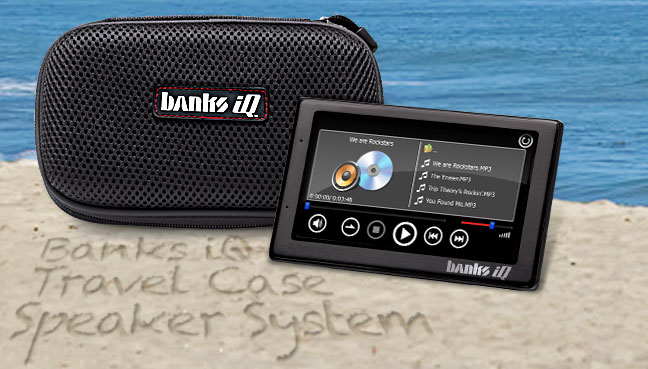 A custom-designed travel companion for your Banks iQ, the new Travel Case has built-in stereo speakers to provide clear, undistorted sound even at higher volumes. It's the ideal portable speaker system to compliment your iQ, securely storing and protecting your electronic device when you're on the go. Fully compatible with other devices such as MP3 players, computers, and cell phones, the Banks iQ Travel Case is designed to operate for 15 hours on two AA alkaline batteries. Fits in your briefcase, or can be carried using a handy clip-on shoulder strap.
The Banks iQ is a fully portable dashboard PC that opens a window into the vital inner workings of your vehicle's ECU, letting you see what's beyond your dashboard gauges. You can set audible alarms, read and clear trouble/diagnostic codes, log data, and measure horsepower and acceleration. The Banks iQ also plays music and video files, games, and allows you to review Microsoft® Office documents. Comes with a bright 5-inch touch screen and dash-mount system. Read more about the Banks iQ here »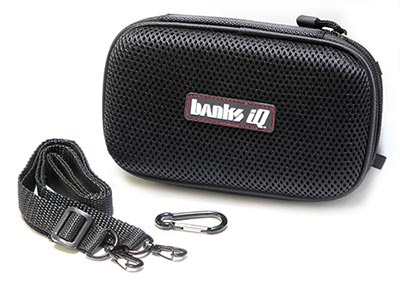 • The hard shell case provides physical protection for the Banks iQ.
• Clear, undistorted sound even at higher volumes.
• 15 hrs on 2 x AA alkaline batteries (not included).
• FCC, EMC/CE and RoHS tested and approved.
• System includes travel case with integrated speakers, detachable carrying strap, and carabiner clip. (Banks iQ sold separately)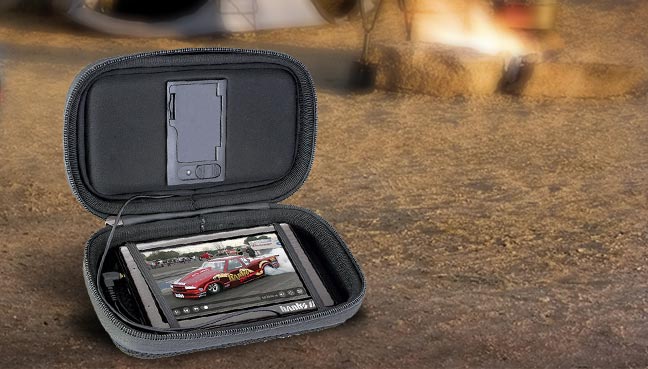 Get it now! Call 800-601-8072 or BUY IT ONLINE »