---
When it Comes to Racers…We Roll Our Own!
A friend asked for a race car sponsorship recently, but we usually don't do that. When it comes to race cars, trucks or boats…it's more fun to build and race our own! And, that way, if we do it wrong, win a race or set a record, it's our own doing. When it comes to fuel, ... Read more about this post
Blowin' Smoke Rings on Pikes Peak!
Waaaay to much water/meth and here's what you get…A Banks Super-Turbo Detroit blowing smoke rings on a tuning run up the mountain! What's cool about this is you can see the time between the cylinders firing as Mike Ryan comes off the turn under full throttle. It's a Meet Mr. Wizard moment! The photo is visual ... Read more about this post
There's an Experiment Going on in Dyno Room 1 and it's Not the Piece of Foam Dancing Around on the Dyno Room Floor!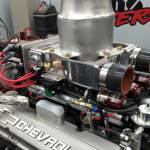 We're doing some baseline runs in order to tune the WOT (wide open throttle) curves on our 427 V8 SBC (Small Block Chevy). This will ultimately be the Banks Twin-Turbo SBC that is going into something special that Hot Rod Magazine is working on to celebrate the 60th anniversary of the SBC. Right now we are ... Read more about this post
Ok Folks, It's Time For a Turbo History Lesson!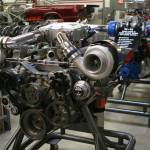 Here's our Banks twin turbo layout that was developed in our 67 Chevy panel truck, The White Tortilla. This picture is a slightly later version which used an R4 AC compressor which we added in 1977. The front drive is Banks as well and used V-belts. There was no Vintage Air and no flat belts ... Read more about this post
Fifty-six Years of Hanky Panky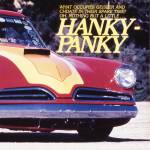 Here's the Geisler-Vail & Banks, 53 Studebaker, on setup day at the 2016 Grand National Roadster Show! The SCTA gave us the premier spot directly across from their display. The Stude is ready to run with a fresh 258″ Banks Blown, gasoline SBC, fresh off the dyno. I'll bet that Raymond Lowey has been spinning in ... Read more about this post
Banks Power Does Motorhomes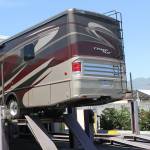 Often when people think of Banks Power, they think of power improving products for diesel and gas trucks, Jeeps and even Volkswagen cars. Truth is we also offer some of the best power improvers for Class A and Class C motorhomes. Looking to improve the power and fuel economy of your big home on wheels? We ... Read more about this post
The Fight against The EPA´s Ban on Race Rigs Gains Steam!
All of the trucks seen above started life as regular truck, off the assembly line. Converting a rig for racing is less costly than building one from the ground up and keeps the sport affordable for all. After the overreach of the EPA proposal to ban the conversion of street cars and trucks to race only ... Read more about this post
Air Mods On the Move
Today is a happy day for some folks. We're shipping out a few pallet loads of air improvements. If you're waiting for your intake and/or exhaust kit, it should soon be there. The quickest way to improve your vehicles power potential is to let it breath. A Banks Power intake and exhaust system is the best solution ... Read more about this post
2,000 hp in 1980… Were You Even Alive?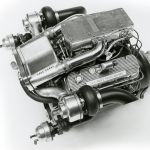 Yep, that's 36 years ago and we had been turbocharging for over 10 years at that point. Even though there was no roadmap we somehow found our way. The engine, based on one of our twin turbo marine builds is a 430″ Mark IV BBC sporting iron, open chamber, LS7 heads. Thanks to the inventive genius ... Read more about this post
#TBT…We Went to Pikes Peak With an Agenda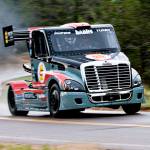 The Banks 866T V8 Turbo Diesel powered Oshkosh JLTV, the tactical vehicle of the future, testing at altitude, God knows where. Using turbocharging we wanted to go fast and learn how to make big power, with No Air. At 14,000′ we refined our turbo control knowledge, then we applied it where it really matters. The military. Read more ... Read more about this post